Our Guide To This Fall's Most Innovative Opera
This article is more than 4 years old.
Avatars. Drunken lumberjacks. Sorceresses and illusionists. Fake doctors, dead gods and Hollywood serialists. Just another opera season in Boston.
Boston opera lacks a proper stage for the grand stuff, but that doesn't stop a dozen or so intrepid companies from staging operas, semi-staging operas, concert-staging operas — or just setting up shop in the back room of a bar. You can spend three hours with these characters, or just 10 minutes. Opera presentations in this town are nothing if not versatile.
Here's a look at what's coming up:
Odyssey Opera's 'La Reine de Saba' | Sept. 22 | Jordan Hall
The 200th anniversary of French composer Charles Gounod's birth will likely pass unnoticed by most, but not by Gil Rose's Odyssey Opera. Now in its sixth season of presenting "Where did they find those things?" operas, Rose's troupe stages two of Gounod's works — "La Reine de Saba" and "Le Médecin Malgré Lui" (Nov. 9 and 11 at the Huntington Avenue Theatre).
"Saba" details the love triangle pivoting around the Queen of Sheba, her betrothed Solomon, and the court architect Adoniram. Kara Shay Thomson sings the queen's role, Dominick Chenes is her lover, and Kevin Thompson her eventual husband, King Solomon.
---
'PermaDeath' | Sept. 27-29 | Emerson Cutler Majestic
Stage life, virtual life and life life veer toward each other in composer Dan Visconti's "PermaDeath," the latest world premiere from the inventive White Snake company. It's a cyber battle on the gaming console, with mythological characters, human characters and digital characters. The production involves app developers, animation designers, CGI directors and concept artists — just to give some idea of the confluence of art-forms going on here.
Daniela Candillari will be in the pit, with soprano Maggie Finnegan singing the role of 20-year-old gaming champ Sonny. Soprano Amy Shoremount-Obra, mezzo Sarah Coit and baritone Josh Quinn join her onstage for the production.
---
David Lang's 'true pearl' | Oct. 4 | Isabella Stewart Gardner Museum 
It's not opera, but it's close. At the Gardner Museum, the incredible, Grammy Award-winning vocal octet Roomful of Teeth teams up with contemporary music specialists Callithumpian Consort for one performance of David Lang's "true pearl." That's one live performance, ever. The work is destined to be a "headphones only" experience, a site-specific work written in response to five major tapestries.
---
Boston Opera Collaborative's 'Opera Bites' | Oct. 26 - 28 | Longy School of Music
The epitome of it all this fall may be the Boston Opera Collaborative's ridiculously popular Opera Bites, seven 10-minute snippets set up cabaret-style at Longy School of Music. The morsels this year come from Eva Kendrick, Marti Epstein, Rachel Peters, Scott Wheeler and Jonathan Bailey Holland — some of opera theater's most innovative composers.
Seven works — six commissions and one American premiere — get realized by the Boston Opera Collaborative team. With top-flight singers, directors and stage designers, the idea is to get in and out quickly. The presentations are meant to be palatable — in every way (there are snacks).
---
Opera On Tap Boston | Oct. 27, Nov. 10 | The Burren in Somerville
A bar stool and a piano are good enough for the appropriately named Opera On Tap Boston, who bring snippets of singing and plenty of fun to the musical world. The Boston chapter is only one of more than a dozen across the country — keep that in mind if you're on the road.
This fall, Boston presentations have evenings in the back room of The Burren (including a Nov. 10 set called "Nasty Women of Opera"). A fancier dinner gig at Stellina on Sept. 23 takes listeners to Milan with "Evening at La Scala." No dress code, no "when do I clap?" rules. Just show up and listen.
---
Anthony Roth Costanzo | Nov. 7 | Celebrity Series 
This season gives Boston a chance — but good luck getting a ticket — to hear one of the great rising opera stars in the world. Countertenor Anthony Roth Costanzo makes his Celebrity Series debut in recital on Nov. 7 in Longy's Pickman Hall, singing older works by Handel and Purcell, with newer works by Philip Glass and Gregory Spears.
For a taste of fun, and a sample of this incredible voice, here's Costanzo's send-up of Gershwin's "I Got Rhythm":
---
Boston Lyric Opera's 'Schoenberg in Hollywood' | Nov. 14–18 | Emerson Paramount Center
No stranger to blending technology with the opera stage, composer Tod Machover tackles an unlikely history this fall in the world premiere of "Schoenberg in Hollywood." Machover — academic head of MIT's Media Lab, and director of the Opera of the Future Group — investigates the improbable but true story of Schoenberg, the leader of the Second Viennese School, who actually did flee to Hollywood to escape the Nazis.
Part of the Boston Lyric Opera's "Dissenters & Rebels" season, "Schoenberg in Hollywood" stars English baritone Omar Ebrahim, as the inventor of the 12-tone system in the land of sunshine. David Angus conducts the production, which was originally stage-designed by the late Braham Murray, esteemed artistic director of the Royal Exchange Theatre Company, who passed away in July.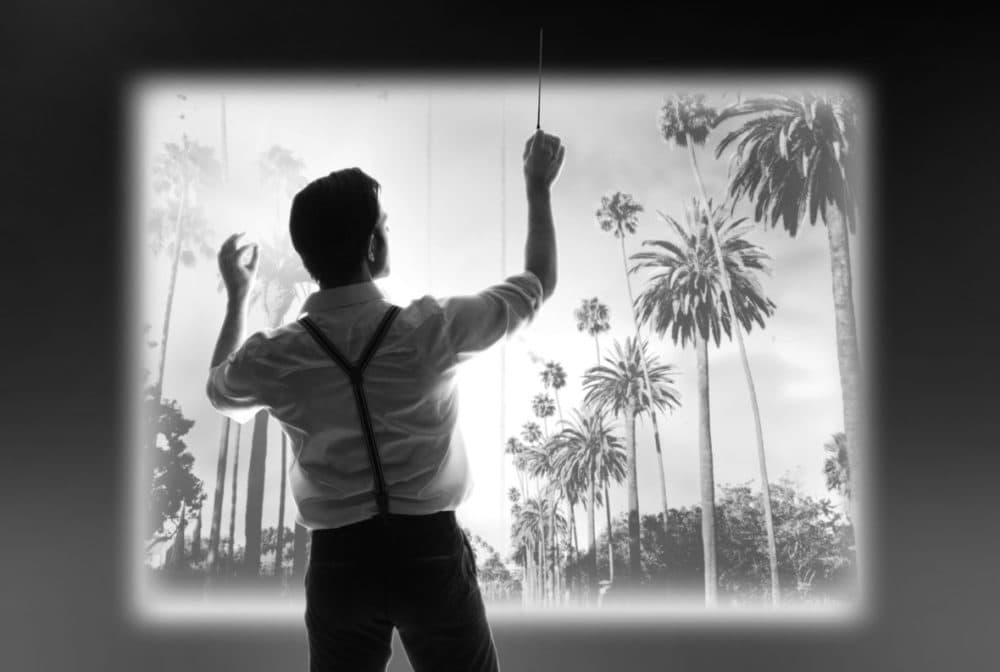 ---
Boston Early Music Festival's 'Alcina' | Nov. 24 - 25 | Jordan Hall
It is heartening somewhat to know that in the earliest days of opera — in the Medici court of the early 17th century — Francesca Caccini was an important composer. Her "Alcina" — a fantastic tale of warriors tasked with liberating captives transformed into trees and plants — stands as perhaps the first opera by a woman composer, and one of the first operas, period.
"Alcina" is this year's staging from the Boston Early Music Festival, first at Jordan Hall and then moving to New York's Morgan Library. Soprano Shannon Mercer sings the title role, joined onstage by tenor Colin Balzer and mezzo Kelsey Lauritano. As always in BEMF productions, co-artistic directors Paul O'Dette and Stephen Stubbs oversee staging and musical direction.