The Boston Latino International Film Festival Is An Escape From The Immigration Tropes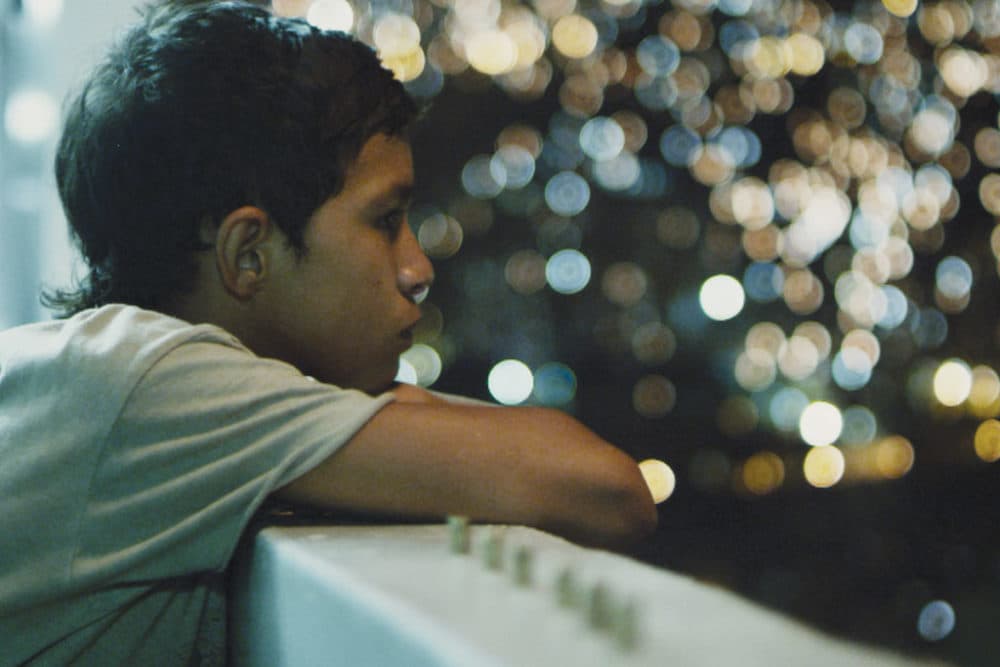 This article is more than 3 years old.
For Latinos, the news cycle these days can be a dizzying assault on our humanity. Children in cages, threats on our citizenship, the president denying the deaths of thousands of Puerto Ricans, deportations.
While these stories are important to report, they're often the only representations of Latinos in mass media. "I think a lot of times people think Latino films ... always seem to be about immigration and struggles," Sabrina Avilés, the director of the Boston Latino International Film Festival recently told me. "I think while those are important … we should [also] show the richness of our culture."
Since 2002, the local film festival has brought Bostonians films from Latino creators, devoid of caricatures or immigration tropes that often lace mainstream American films featuring Latinos.
The festival's programming director Isabel Davalos said that a lot of what influences her decisions on films is her own experience as a filmmaker. "We give value to women and female directors and what we have gone through to get to where we are today." Seventeen of the 28 films featured in this year's fest were directed by women.
This year's four-day festival also commemorates the one-year anniversary of Hurricane Maria with four films and a commemorative poster. "The simple gesture keeps us constantly aware of the challenges for the hurricane ravaged island," said Avilés.
The 16th annual Boston Latino International Film Festival will take place at four venues  from Sept. 27 to 30. The venues include Emerson College's Paramount Center Bright Screening room, Harvard University's Tsai Auditorium, Brandeis University's Wasserman Cinematheque Screening Room and North Eastern University's West Village Complex.
Here are five films we're excited to watch:
"Ser Grande (When I Grow Up)"
The trailer for "Ser Grande (When I Grow Up)" shows adolescent Puerto Ricans who are finding themselves as they navigate through their teens. Director Karen Rossi follows the questions (and sometimes lack of answers) about social, emotional and sexual identity of children on the precipice of major life change. The film will be shown on Friday, Sept. 28 at 12:30 p.m.
---
"La Familia"
"La Familia" is a narrative film that takes place in Caracas, Venezuela. The film follows Pedro as he roams the streets with his friends and finds himself in trouble after he seriously injures another boy. His father decides to flee with Pedro and hide. After being on the run, the father realizes he is unable to control his son. The film is an exploration of budding manhood in the confines of praternal reach. Directed by Gustavo Rondón Córdova, the film will be shown on  Friday, Sept. 28 and Sunday, Sept. 30 at 7:30 p.m. and 4 p.m. respectively.
---
"Los Viejos (The Oldies)"
"Los Viejos (The Oldies)" is a documentary film that follows three elderly, Cuban musicians. The men share stories of struggle, love, life and passion for the art of music. Ultimately, the film is a mediation on the expectation to age gracefully. A Q&A session with Director Rosana Matecki will take place after the film plays on Friday, Sept. 28 and Saturday, Sept. 29 at 8 p.m. and 7 p.m. respectively.
---
"Rubén Blades Is Not My Name"
This hopeful documentary focuses on the Panamanian singer-songwriter and the way his life influenced his music. Directed by Abner Benaim, the film seeks to find the root of Blades' love and obsession with song. The quest leads to an unlikely place. The film is directed by Abner Benaim and will be played Saturday, Sept. 29 and Sunday, Sept. 30 at 9 p.m. and 4 p.m. respectively.
---
"Nuyorican Básquet"
In 1979, the National Puerto Rican Basketball team changed the sport. Like any superb film that revolves around sports, this is more than just about the sport. It's a deep dive into Nuyorican identity — at once Puerto Rican and completely New Yorker. The film is directed by Ricardo Olivero Lora and Julio César Torres and will be played on Thursday, Sept. 27 and Sunday, Sept. 30 at 7:30 p.m. and 1 p.m. respectively.