WBUR Poll: Warren Holds A Big Lead In Her Senate Re-Election Race
Six weeks out from Election Day, U.S. Sen. Elizabeth Warren appears in strong shape in her re-election campaign.
A WBUR poll out Tuesday (topline results, crosstabs) finds the Democratic incumbent receives the backing of 56 percent of likely voters in Massachusetts. Republican nominee Geoff Diehl has the support of 30 percent of likely voters. Independent Shiva Ayyadurai is at 5 percent, and 6 percent of likely voters say they're undecided.
Warren's lead is similar to that found in a poll released last week from the Boston Globe and Suffolk University, which had her up on Diehl by 30 percentage points.
Three weeks after comfortably winning the Republican nomination, the WBUR survey finds Diehl remains unknown to a majority — 54 percent — of likely voters.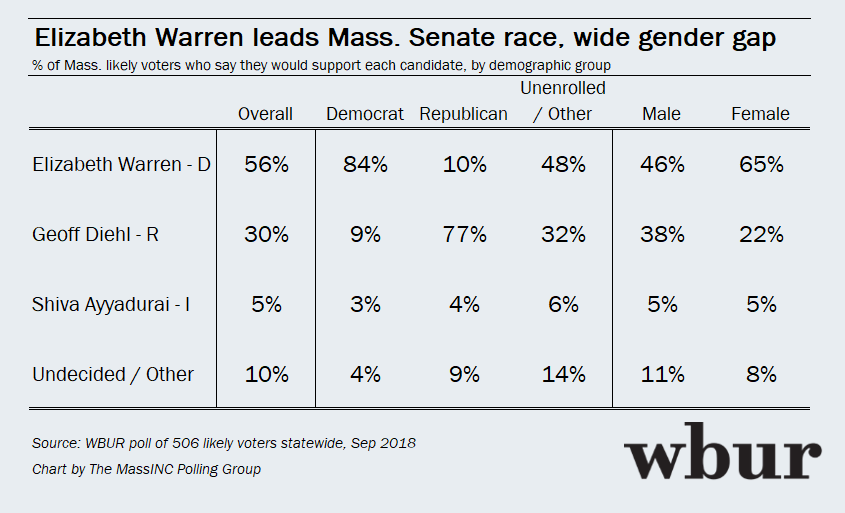 Just 10 percent of Massachusetts voters are registered Republicans. Most voters in the state are unenrolled.
Eighty percent of likely voters have never heard of Ayyadurai, who previously was in the GOP primary race before opting last year to run as an independent.
Warren is viewed favorably by 54 percent of likely voters, and viewed unfavorably by 39 percent. As with other polling, there's a large partisan gap underneath that topline figure, as 81 percent of Democrats view Warren favorably, compared with just 12 percent of Republicans.
Unenrolled likely voters in Massachusetts are split on Warren, though there's a large gender gap among that cohort. Thirty-four percent of unenrolled men view her favorably, compared with 56 percent of unenrolled women.
The Massachusetts senator is considered a leading potential candidate for the Democratic presidential nomination in 2020, and within the last two months has released a few significant legislative proposals, including a broad anti-corruption and government reform bill.
Warren has been a fierce critic of President Trump. Diehl, a state representative from Whitman, co-chaired Trump's 2016 campaign in Massachusetts.
Just 29 percent of likely voters in Massachusetts have a favorable view of Trump, per the WBUR poll.
The live telephone survey of 506 likely voters, conducted by the MassINC Polling Group, was conducted Sept. 17 through Sept. 21. It has a margin of error of 4.4 percentage points.