BuzzFeed Report: Fake Facebook Accounts Used To Bolster Senate Candidate Shiva Ayyadurai
04:44
Play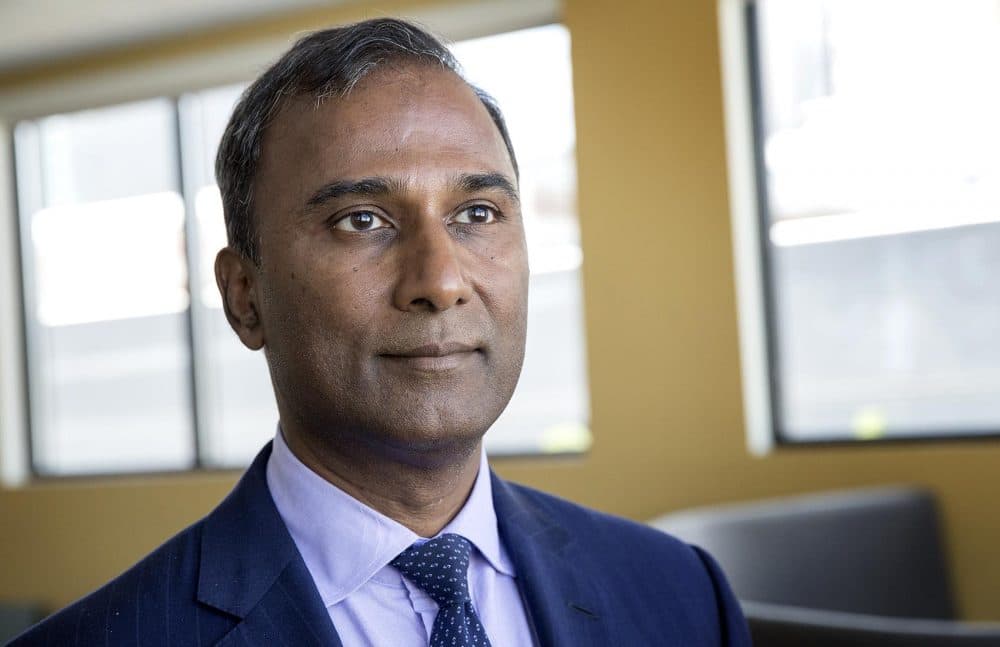 This article is more than 3 years old.
Shiva Ayyadurai, an independent candidate challenging Sen. Elizabeth Warren in her bid for re-election, is labeling a report from BuzzFeed News that details the apparent use of fake Facebook accounts to build his support as "fake news."
According to the report, Facebook recently took down multiple fake accounts that appeared to support Ayyadurai.
BuzzFeed contributor Nina Jankowicz, who wrote the story, joined Morning Edition to discuss it. She is a global fellow at the Wilson Center's Kennan Institute in Washington, D.C.
Editor's note: This transcript has been lightly edited for clarity.
Bob Oakes: As I understand it, you found several Facebook accounts for apparent supporters of Ayyadurai. Tell us about it.
Nina Jankowicz: Normally I research Russian disinformation, and I was familiarizing myself with the discourse in a couple of key Senate races in order to keep an eye out for potentially malign foreign behavior.
I came across an account called Donna Trumper, which is, of course, a very strange name. And when I did a reverse Google image search on that account profile picture, I was able to find the real account that that picture was connected to and then by looking at this account activity on a bunch of pro-Trump, antiwar and Facebook groups and pages. I uncovered this small but fairly powerful network of fake accounts that was campaigning on behalf of Ayyadurai. Of course, I can't say where these accounts were controlled from or who controlled them, but they appear to be in existence solely to campaign for this candidate.
I think I have to ask. Do you suspect that there are Russian accounts?
No I don't. They seem to be focused again only on promoting content that came from Dr. Ayyadurai. And I think they were also connected with one of the campaign volunteers because they would often log in and log out, seemingly from these fake accounts to one of the campaign volunteer's accounts, which were also taken down because he was in violation of the terms of service for spamming and the creation of multiple Facebook accounts which is against terms of service.
So Facebook eliminated the accounts — why did they tell you they did that? What did you hear from them?
They told me they took these accounts down for violation of terms of service including misrepresentation and spamming and they wouldn't say how many accounts they took down. I know of at least 10 accounts and pages that were eliminated but they may be part of a larger network.
Well what about Ayyadurai? Is there evidence suggesting that he or his campaign is responsible? Did he tell you anything about that?
He denies the allegation that his campaign may be involved. When I asked him directly at a campaign event in September, he immediately got rather agitated and called me a racist for even asking this question — which I think is a legitimate question for anyone to ask of a political candidate claiming to be the only authentic candidate in the race. He says that he does not run his Facebook account, that he only runs his Twitter account — which, again, I feel is a bit suspect, considering he has a verified Facebook account with over 40,000 followers and he claims not to know who runs it.
We heard from Ayyadurai in a written statement, a kind of blunt statement: "Fake News media Buzzfeed which relies on 1.85 million fake Twitter followers to commit fraud and sell advertising has published fake news as it knows that Frank Licata was banned for being a Trump supporter." I'm wondering what your response is?
My response is that's neither here nor there in terms of the article that we're talking about. Any large social media presence is going to attract bots, trolls and fake accounts. Twitter is a totally different beast than Facebook and creating four fake personas in order to dupe supporters of Trump or anti-Warren folks on Facebook into the guise of support for your campaign is exactly what these accounts were doing.
So then one of the takeaways for you, Nina, is that fake social media accounts are once again active here in the fall campaign including this U.S. Senate race here in Massachusetts.
Absolutely. Fake accounts are going to plague us for a long time and I think it's important that the American people and all users of social media know that you not only can't believe everything you read online, but you shouldn't believe everyone that it's coming from.
This segment aired on October 3, 2018.