Question 3 Seeks To Repeal Transgender Public Accommodations Law
Resume
Should the law that prohibits discrimination on the basis of gender identity in places of public accommodation be removed from the books? That's one of the questions that will be placed in voters' hands in the coming weeks.
The law under consideration mandates that it's illegal to deny service to transgender people in hotels, stores, restaurants or other public places.
It was overwhelmingly passed by the Legislature and signed by Gov. Baker, and has been in effect for just over two years.
"When that law went into effect in 2016, it changed my life," says Kelly Jenkins, a transgender woman living in Massachusetts.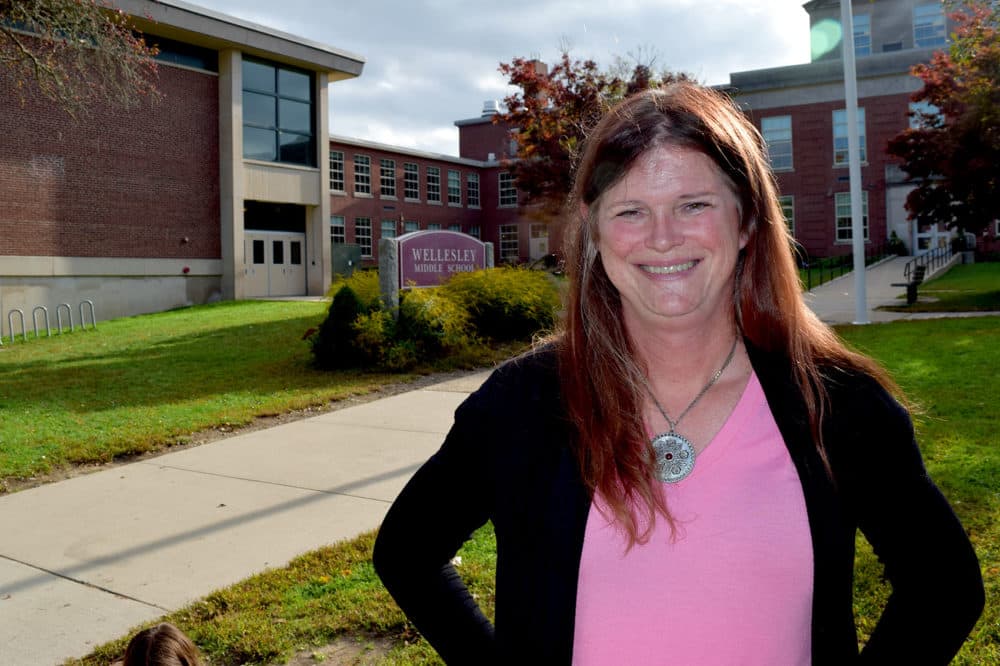 "I've been refused service in a restaurant simply for being transgender. I've been asked to leave a place — 'asked' is the polite word. I've been told to leave a place for using the women's restroom," Jenkins said.  "And those things have a lasting impact on me that I still had with me when I moved up here to Massachusetts."
Jenkins moved here from eastern Tennessee back in 2014, two years before the transgender public accommodation law was passed. She's been working as a teaching assistant at Wellesley Middle School for the past three years, and expects to have her own classroom next year. The law empowers Jenkins to be what she calls her "authentic self."
"I'm still nervous that I'm going to be discriminated against but I know I have this law and this state — that it protects me and it gives me the ability to do my job and feel fairly safe, so that I can go out there in the world and make a difference and teach these children,"she said.
Jenkins says she knew she made the right decision to come to Massachusetts when she arrived for her job interview and spotted a giant rainbow flag inside the school. Her co-workers, including Ilene Sharpe, say Jenkins' is an asset to the school.
"She's a great teacher. She's a phenomenal colleague. She's collegial," Sharpe said.  "She's willing to share — parts of herself and her story with our staff, and with students in a classroom studying gender identity and expression."
Sharpe questions claims by those who say they oppose the law because of a safety risk created by its requirement that transgender people can use restrooms and locker rooms consistent with their gender identities
"Acting in an appropriate and respectful manner, no matter what restroom you're in, is important," Sharpe said. "And I don't see it as an issue that transgender people are more dangerous than people who are not transgender."
Still, opponents of the law argue that safety and privacy are at risk, and have produced TV ads warning of their concern.
"I believe that it is a danger to all women and children in the commonwealth of Massachusetts," said Debbie Dugan, who chairs the group Keep Massachusetts Safe, which is backing the repeal effort.
"It's not about discrimination. It's truly about safety and privacy in these public spaces where women are partially dressed," Dugan said. "They're either changing in or out of a swimsuit or they are changing, trying on clothes at a Macy's for instance, or they've gone into a public bathroom to use or a locker room for our daughters."
The desire for privacy and safety, Dugan says, is "common sense."
A recent study from the Williams Institute at the University of California, Los Angeles finds that Massachusetts' public accommodations laws, including the one in question, do not affect the number or frequency of criminal incidents in restrooms, locker rooms or changing rooms.
There are some concerns on both sides that voters may be confused over how to cast their ballots, since the wording of the referendum is not entirely clear.
A "yes" vote keeps the transgender public accommodations law on the books. A "no" vote repeals it.
This segment aired on October 16, 2018.