Forecast: Dry Until Weekend Nor'easter
This article is more than 4 years old.
After two days with intermittent showers and thunderstorms, we have a couple of sunny afternoons, though they will be quite chilly.
This week will be one of the coldest this year so far, as compared to the average since April.
High temperatures this afternoon will struggle to get into the mid-40s and the wind will still be noticeable, but will taper down through the day.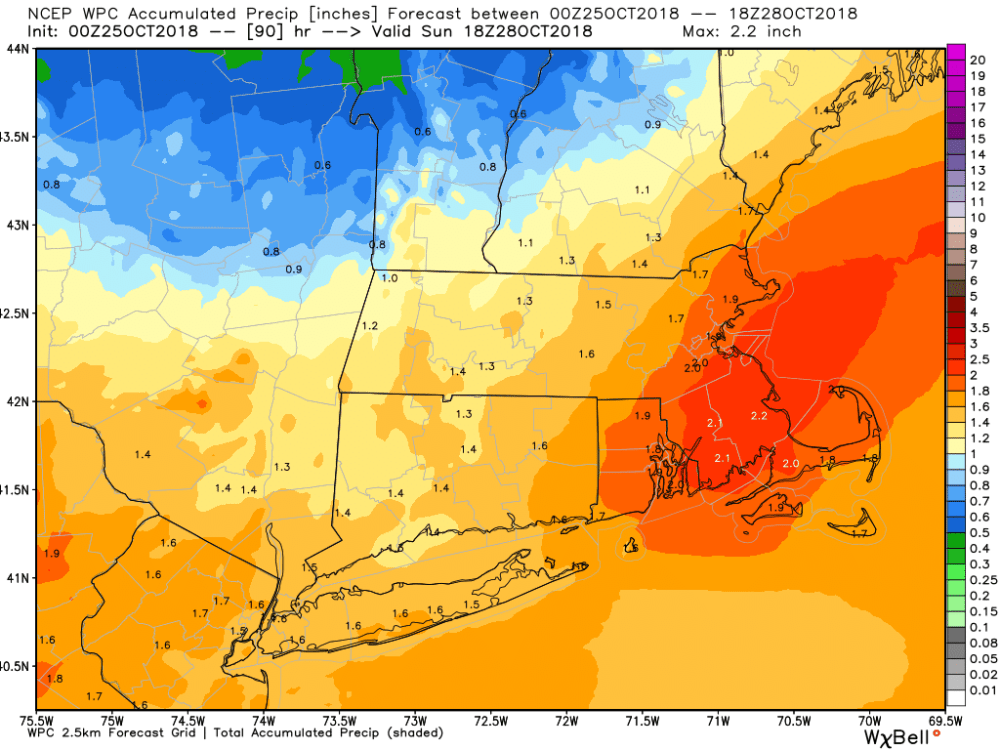 The main forecasting issue is going to be a nor'easter coming up for Saturday. Whether or not the rain ends by the middle of the afternoon on Saturday, the day is basically a wash out. Even if the steadiest rain is over, it will have been so wet and windy that nothing's going to dry out.
Field games will be most likely cancelled or postponed and those of you hoping to get in a late round of golf this time of the year should forget about it. The best chance for a dry few hours with daylight will be just before sunset.
A storm system will develop along the Mid-Atlantic coast and then move northward through New England. There's actually enough cold air at the beginning of this for some snow across northern New England.
There could be some coastal flooding Saturday afternoon. Temperatures will remain in the 40s during Saturday. With gusty winds off the water and the leaves still on the trees, there could actually be some power outages, especially along the immediate coastline. The winds will also take down some percentage of the foliage in what has not been a great season overall anyway.
There may be additional storminess early next week with more rain, but temperature should start to moderate a bit towards seasonable norms.
You can follow my updates here and on Twitter @growingwisdom.
---
Thursday: Generally sunny and chilly. Highs in the mid-40s. Cold start.
Thursday Night: Clear and cold. Lows 26-34.
Friday: Mainly sunny, with a high near 46.
Saturday: A storms brings rain and wind with chilly temperatures in the 40s.
Sunday: Clouds, a few showers, chilly. Highs in the 40s.
Monday: Still unsettled. Highs 50-55.