Laverne Cox Urges Mass. To Vote Yes On Question 3, To Send Message To Nation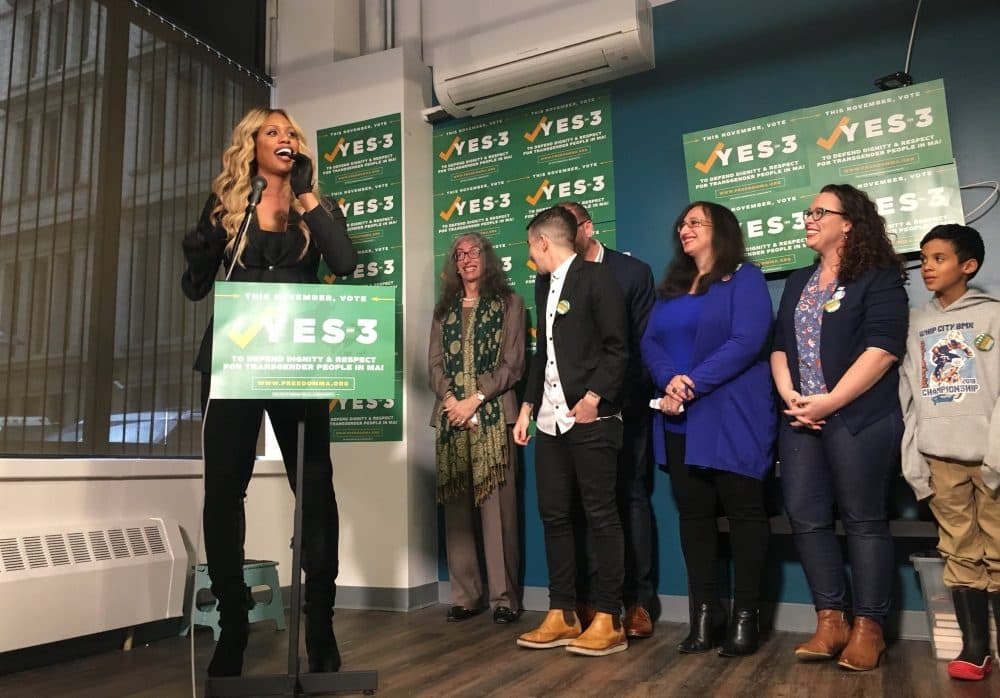 This article is more than 4 years old.
As the federal government weighs changes to legal definitions around sex and gender, a vote to uphold a Massachusetts law aimed at protecting transgender people from discrimination would send a message to the nation, actress Laverne Cox told a group of educators, transgender students and parents Wednesday.
Cox, a transgender activist and actress known for her role in the Netflix series "Orange is the New Black," urged Massachusetts voters to "choose love today, and not fear" and vote yes on Question 3 on November's ballot.
"Massachusetts has an opportunity to send a message to this administration, has an opportunity to send a message to the rest of the country that this is not who we are as Americans, that this is not who we are as human beings, that we respect the humanity of everyone," she said.
Cox, one of the speakers at a rally the Yes on 3 campaign held in downtown Boston focused on transgender youth and educators' support for the law, called the ballot question "a reminder to me that the fight is never done, that even when we think we have our rights there are still people out there who want to take them away."
Signed by Gov. Charlie Baker in July 2016, the law bans discrimination based on gender identity in places of public accommodations, including hotels, parks and restaurants, and allows transgender people to access sex-segregated locker rooms and bathrooms that correspond with their gender identity.
Massachusetts Teachers Association President Merrie Najimy said the law helps transgender students feel safe, accepted and included at schools.
"If a student feels silenced and disenfranchised, we all lose," she said.
Boston Teachers Union President Jessica Tang, and Beth Kontos, president of the American Federation of Teachers Massachusetts, also spoke at the event, held at the Boston Alliance of LGBTQ+ Youth Community Center. Tang, who said she is the first openly queer head of the BTU, said the vote will have "national implications."
Speakers referenced a New York Times report from the weekend that said the U.S. Department of Health and Human Services is looking to establish, under the federal civil rights law Title IX, a legal definition of sex as either male or female, based on the genitals a person is born with.
"We have a lot of different concepts right now," President Donald Trump told reporters in Washington, D.C., Monday, according to a Time video. "They have a lot of different things happening with respect to transgender right now, you know that as well as I do, and we're looking at it very seriously."
Asked about the idea after an unrelated event this week, Gov. Charlie Baker said he planned to oppose it if it moves forward.
"I've said before that I'm opposed to the administration's positions on a variety of issues associated with the LGBTQ community," Baker told reporters Tuesday. "And this one is something that — they haven't promulgated anything yet, so far there's news reports on internal memos — but if they promulgate something for comment, we're obviously going to comment against it and explain why, and do some of the work we've done before, which is to reach out to governors and to other elected officials, Democrats and Republicans, who we believe will have a similar point of view to ours and work hard to get that idea overturned."
At Wednesday's Yes on 3 event, Human Rights Campaign President Chad Griffin said the Trump Administration is attempting to "erase protections for transgender people at the federal level."
"When cynical politicians license discrimination, they send a dangerous message that transgender people are less worthy of dignity and of respect," Griffin said.
Opponents of the transgender public accommodations law, who argue women's safety and privacy could be put at risk in bathrooms, gathered sufficient signatures in 2016 to put the question before voters in this year's election. A yes vote is to uphold the law, and a no vote is to repeal it.
A UMass Lowell poll released Oct. 10 found 74 percent of likely voters in favor of the current law, compared to 22 percent who said they would vote to repeal it.
The Special Legislative Commission on Lesbian, Gay, Bisexual and Transgender Aging, co-chaired by Sen. Barbara L'Italien and Rep. Danielle Gregoire, circulated a letter Wednesday urging a "yes" vote, and the Massachusetts Business Roundtable announced its support in its most recent newsletter.
Ashton Mota, a 14-year-old from Lowell, said that when people find out he is transgender, they no longer view him as "a promise for the future" but "an issue that needs to be handled."
"Today, my transgender community needs you. I need you," Mota said. "Transgender youth throughout Massachusetts need to know that they matter, that we are worthy of protection, affirmation and celebration."
Alexandra Chandler, a Haverhill Democrat who became the state's first openly transgender candidate when she ran in her party's primary in the Third District earlier this year, drew laughs when she described herself as a "recovering trans kid, too — I just outgrew being a kid, not the trans part."
"When we look at the youth of this country, they get it," Chandler said. "They get it in overwhelming numbers."