Columbia Gas Pledges To Promote Energy Efficiency In Affected Merrimack Valley Homes
Play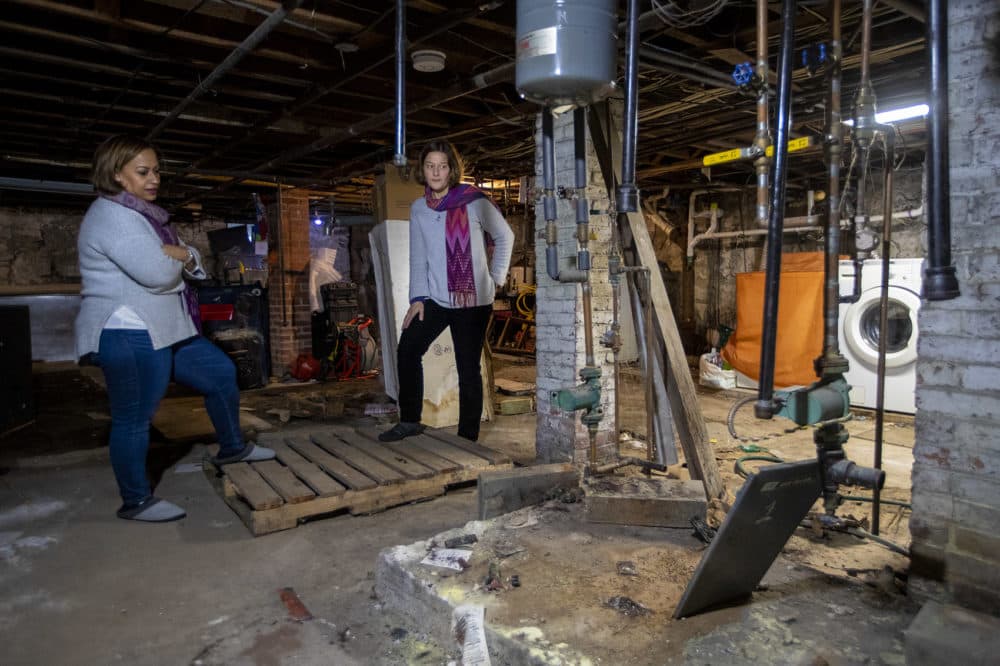 This article is more than 4 years old.
Lawrence resident Sadia Jiminian lost her heat, hot water and stove as a result of the Sept. 13 gas explosions and fires, and spent weeks cooking on a hot plate, an induction stovetop, a crock pot and an electric skillet.
"I've been creative," she says with a laugh.
Jiminian wanted to replace her condemned appliances with energy-efficient models, but says Columbia Gas didn't give her the option. She received a flyer from the utility, for instance, showing the choices for a replacement clothes dryer and stove on offer. Neither was energy efficient.
Jiminian says she felt pressured to take what she can get. Like when a truck showed up — unannounced on a Sunday — with water boilers for her triple decker that were not energy efficient, and a lower quality than the ones she had before.
"My husband told them, 'Take that stuff back,' " recalls Jiminian. "'We don't want that, and we're not putting that stuff in our house.' [If] you're not on top of it you don't know what you're getting."
Jiminian, who's now living in a hotel for the time being, has since been promised energy-efficient appliances for her home. And Columbia Gas on Monday announced a targeted effort to replace condemned appliances in the approximately 8,000 Merrimack Valley homes affected by September's gas explosions and fires with energy-efficient models, where possible, at no cost to customers.
Columbia Gas and state officials also announced intentions to launch a "weatherization and energy efficiency campaign in the affected area," according to a press release.
"We are working to bring the residents of this valley energy-efficient and ultramodern heating equipment that's going to reduce energy costs as well as the climate footprint of this community," says Pablo Vegas, chief restoration officer for NiSource, the parent company of Columbia Gas, in an interview. Vegas also says that the new effort should simplify and improve the energy-efficiency upgrade process for customers.
Jiminian says she supports Columbia's new effort, but is skeptical that they'll follow through.
"I hope they keep their word, I hope they're not just saying it to say it," she says. "We'll see."
Columbia Gas will install Mass Save-eligible appliances in affected homes if two conditions are met, according to the announcement:
First, the house must have the appropriate exterior ventilation and inside piping for energy-efficient systems, and the professional installing the gas equipment will decide the best equipment to install given the specific circumstances.
Second, the installation of energy-efficient products must not "dramatically slow down the process of providing heat and hot water to customers."
Last Tuesday, Columbia Gas finished replacing main gas lines on streets, and service lines connecting main lines to homes. The utility says it plans to replace natural gas ranges and dryers by Dec. 16, and is repairing natural gas furnaces and boilers so all customers have heat and hot water by Dec. 16. It plans to replace these repaired furnaces and boilers with energy-efficient models next spring.
Columbia Gas will pay for purchasing and installing "like-for-like" high-efficiency equipment for customers who had high-efficiency equipment before the Sept. 13 event. If customers had standard-efficiency equipment, there will be no cost for purchasing or installing Mass Save-eligible, high-efficiency equipment, although there may be costs to the customer for necessary changes in pipes or ventilation. The cost of the equipment will be covered by the claim on damaged equipment, Mass Save rebates and, if needed, additional Columbia Gas resources.
Vegas says Columbia Gas will work with consumers next spring to help them make more extensive upgrades, if necessary.
The weatherization and energy-efficiency campaign will help customers take advantage of existing programs to upgrade their insulation and air-sealing, to  make their homes more energy efficient.
The announcement comes more than six weeks after the gas explosions and fires in Lawrence, Andover and North Andover, and under pressure from the state attorney general's office, as well as Merrimack Valley residents who have been frustrated in their attempts to get energy-efficient appliances installed in their homes.
Some religious leaders see this an issue of environmental justice. Susan Almonó, who ministers to the congregation of Grace Episcopal Church in Lawrence with her husband, the Rev. Joel Almonó, was one of 19 Merrimack Valley faith leaders who signed an Oct. 9 letter to Gov. Charlie Baker and the CEOs of Columbia Gas and NiSource, asking, among other things, for energy-efficient replacement appliances.
"As we rebuild, what are we rebuilding for?" asked Susan Almonó, during an interview in late October. Grace Episcopal Church is a member of Interfaith Power & Light, a group whose mission is to "be faithful stewards of Creation by responding to global warming through the promotion of energy conservation, energy efficiency, and renewable energy," according to its website.
"There are a lot of statistics about Hispanic and black communities having higher asthma rates and other health impacts of pollution, and if we are rebuilding a system with standard-efficiency equipment then we can count on the fact that we are going to continue to have a lot of these health impacts," Susan Almonó said. "Why don't we build a better system while we can?"
Almonó says that she is pleased with Monday's announcement from Columbia Gas, and calls it an "excellent start." She says she hopes that the utility will also streamline installation and weatherization process for residents, and offer daily progress reports and third-party inspections.
"Columbia Gas has told the community so many things over the last month and a half or so," says Almonó. "We do want to be careful in reviewing exactly what Columbia Gas is proposing, and make sure that they're held to it."
This segment aired on November 5, 2018.