Mass. Native Killed In Afghanistan Is Remembered As 'A True Patriot'
Play
This article is more than 4 years old.
At the Massachusetts Fallen Heroes Memorial in Boston's Seaport District, there's a flag at half-staff and a wreath with Sgt. 1st Class Eric Michael Emond's name on it.
Emond, a Massachusetts native, was among three American servicemen killed Tuesday by a roadside bomb in Afghanistan.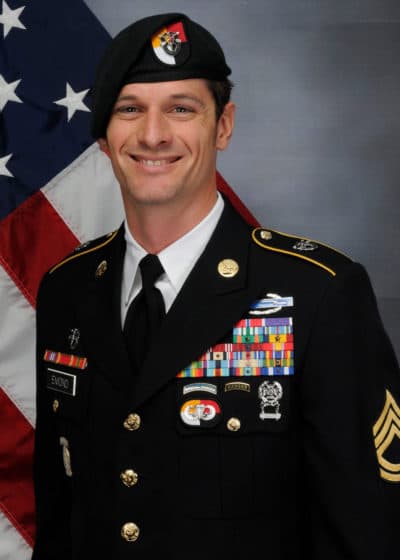 "He was a pretty humble guy. He probably wouldn't want any of us to highlight his military career or his service," says Dan Magoon, an Iraq war vet who started the nonprofit Massachusetts Fallen Heroes with Emond. It's an organization that helps Gold Star families and memorializes soldiers from the state who've died in conflict since 2001.
"That's going to be our priority and our focus," Magoon says, "to honor him in all the ways possible."
Magoon says Emond loved his country. The 39-year-old served seven tours of duty over 21 years of military service as a Marine and later in the Army Special Forces. He earned Bronze Star medals and two Purple Hearts.
On Facebook, former classmates from his high school in Fall River remembered him. One wrote that Emond "was a true patriot."
Former classmate Trott Lee met Emond before high school. They lost touch, but Lee says he's saddened by the loss.
"All the memories come back," Lee says. "He was just genuinely a good kid. If I were to see him today, it'd be like old times."
Next year, Memorial Day weekend, Emond's name will be etched into the monument he helped make possible.
It's a reminder that there are still wars going on in Iraq and Afghanistan.
Emond is survived by his wife and three children.
This segment aired on November 29, 2018.