2 Seriously Injured In Massachusetts School Bus Crash
This article is more than 4 years old.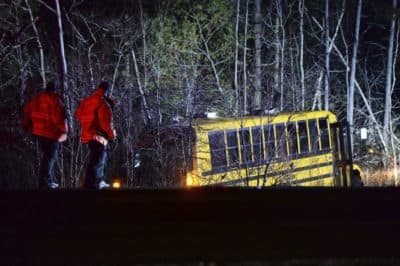 Authorities say a school bus carrying adults and children went off the road and crashed into the woods in Massachusetts, sending several people to the hospital with injuries.
Massachusetts State Police say two adults suffered serious injuries in Saturday night's crash in Berkley. Police say the 23 other passengers were taken to the hospital for minor injuries or for precautionary reasons.
Police say the driver of another car involved in the crash was arrested for drunken driving. The driver's identity was not released.
Police say it's not yet clear whether the driver's impairment caused the crash. The driver was not injured.
Police say the children and their parents were returning to Tiverton, Rhode Island after visiting La Salette Shrine in Attleboro.
The condition of the injured was not immediately clear Sunday.