It Was Just About Boston's Rainiest Fall On Record
This article is more than 4 years old.
The last three months made up just about the rainiest fall ever recorded in New England.
The September through November period was the wettest ever recorded at the Blue Hill Observatory in Milton, according to climate scientists at the University of Massachusetts Amherst.
It was the fourth-rainiest autumn on record in Boston, according to the Northeast Regional Climate Center. The city had more than 18 inches of rain over the period, which is 160 percent of normal rainfall.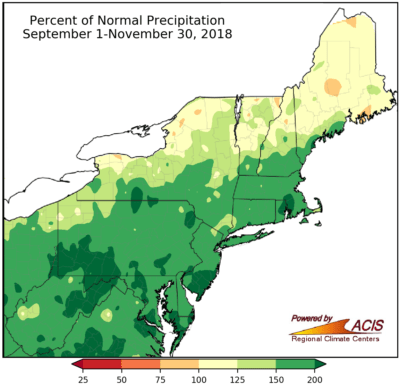 Boston saw more than 9 inches of rain in November, which is more than double a normal November.
It was the second-wettest fall ever recorded in Worcester and in Providence.
Michael Rawlins, of the Climate Science Research Center at UMass Amherst, says all that precipitation could mean trouble come spring.
"Should we receive average snowfall over the winter," he said, "then it's very likely that we'll see issues with basement flooding, river flooding, septic system failures potentially, so, what would be best is if we had a very benign winter."
WBUR meteorologist David Epstein has said it may be a snowier-than-average meteorological winter, which began on Saturday (Dec. 1).
Rawlins says the region will likely get more wet autumns as a result of climate change. The National Climate Assessment, out late last month, said "further increases in rainfall intensity are expected" for the Northeast.
Massachusetts has received slightly more precipitation, on an annual basis, over the last century, while Boston has remained fairly steady:
November was a colder-than-normal month in the Northeast at large, and in Boston. But overall the autumn was warmer than normal in Boston.
With reporting by WBUR's Benjamin Swasey and the Newscast Unit