Today's Weather: Chance Of Flurries, Still Cold
This article is more than 4 years old.
Today will mark the 11th day without any measurable precipitation in the Boston area. There will be a little weak system bringing a period of snow to western areas and there could be a coating to perhaps half an inch in a couple of isolated spots. You can see on the predictive radar below that there is the chance for a little bit of snow highlighted in blue.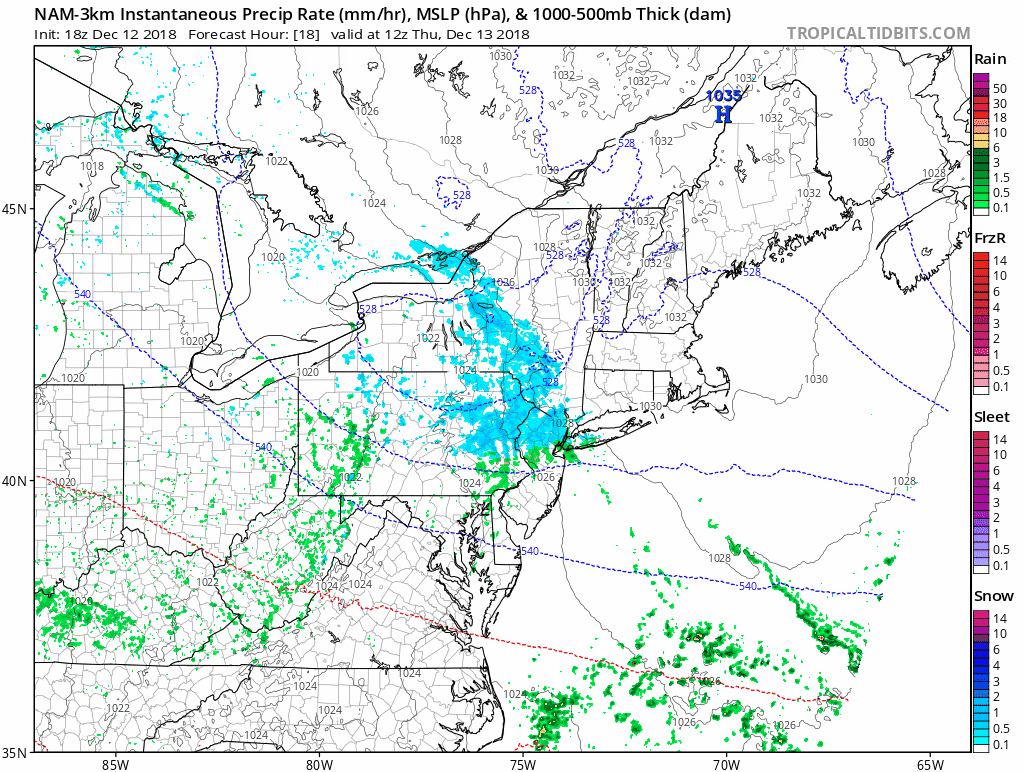 Yesterday's snow showers never really materialized across Cape Cod and the Islands so we will have to wait and see whether today's form across western sections. This isn't a big system by any measure but just be aware if you are traveling west of I-495 this afternoon.
Around Greater Boston there could be a snow flurry this afternoon as that system falls apart moving towards the coastline. This means there will be more cloudiness as we had into the evening hours. Tonight marks the peak of the Geminid meteor shower and hopefully we will end up with enough clear sky to be able to see it. This particular meteor shower can produce fireballs which are off and low to the ground and can illuminate the entire sky. There was a report of one a couple of days ago in northern New England.
Friday looks like a dry, with temperatures getting into the 40s. A weather system moving up from the south will bring a bit of rain to the area and this will continue into the first part of Saturday. Sunday looks reasonably dry with a blend of clouds and sunshine but we will have to keep an eye on another storm developing offshore. If the storm takes a track closer to the coast it would mean a bit more unsettled weather for us on Sunday and early Monday. Much of next week presently looks dry if you are planning on traveling in the pre-Christmas rush.
You can follow my updates here and on Twitter @growingwisdom.
---
Thursday: Sunshine and unseasonably cold. A few hours of snow showers west of I-495. Highs 32-37.
Thursday Night: Clearing and chilly. Lows 17-24.
Friday: Milder with highs in the low to mid-40s. Plenty of sunshine then some clouds.
Saturday: Mild and with some periods of showers mainly early. Highs 45-50.
Sunday: Seasonably cool with clouds and shower possible. Highs in the low 40s.
Monday: Sunshine and clouds highs in the low 40s.
Tuesday: Colder weather high only 35-40.