Today's Weather: A Mix Of Rain And Snow For Tuesday
This article is more than 4 years old.
Today's weather looks relatively tranquil, with abundant sunshine and chilly temperatures. Tomorrow and Wednesday, the forecast becomes a little bit more complicated as two areas of low pressure affect the region. The temperature is going to be marginally cold enough for snow during this time period, but there may be enough accumulation to cause a few slippery spots Tuesday morning and perhaps again on Wednesday evening as cold air returns.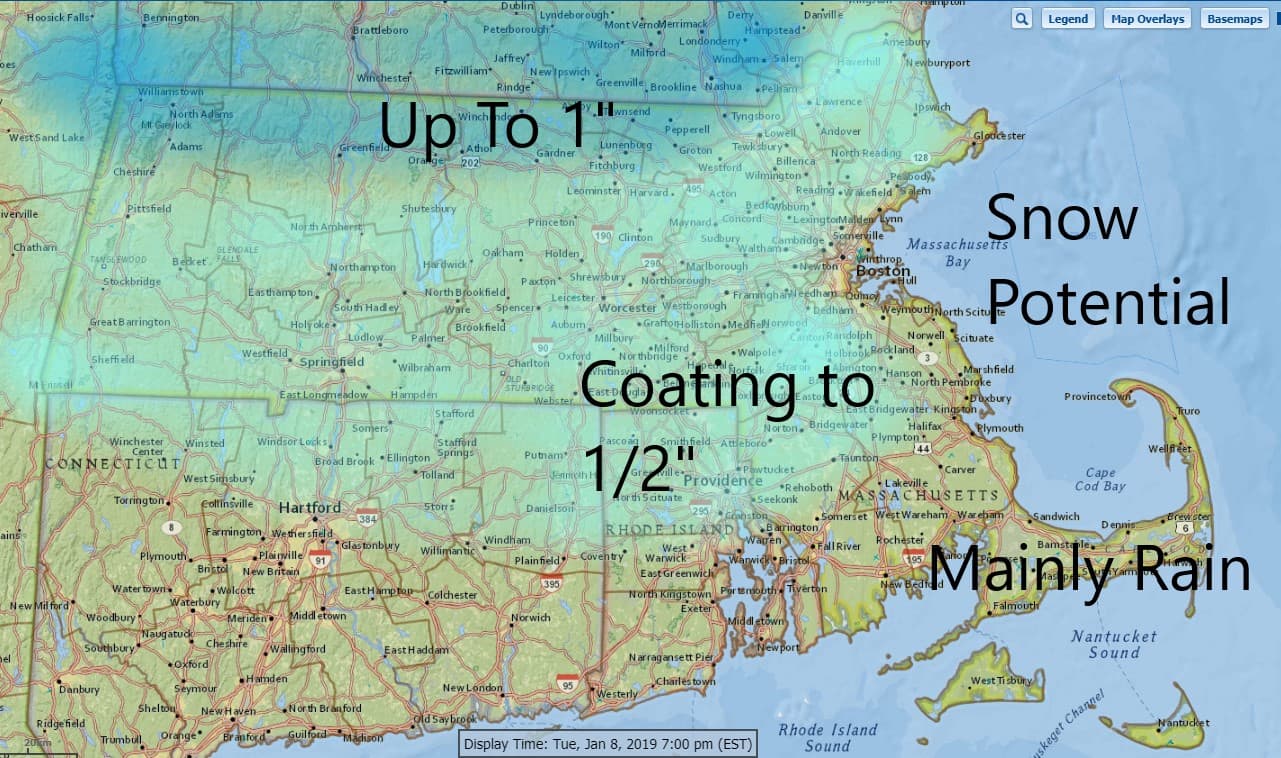 Snow should push into the Boston area sometime just before sunrise on Tuesday and then mix with and change to rain. If you look at the loop below you'll see the blue area which is the snow forecast to move in but then it's followed by the green area which is the rain. At the end of this loop you'll notice another area of blue pushing eastward from New York. This is the second possible area of snow that may come through Wednesday evening. The first push brings a coasting to one inch around greater Boston but it's also not going to surprise me if we see even less.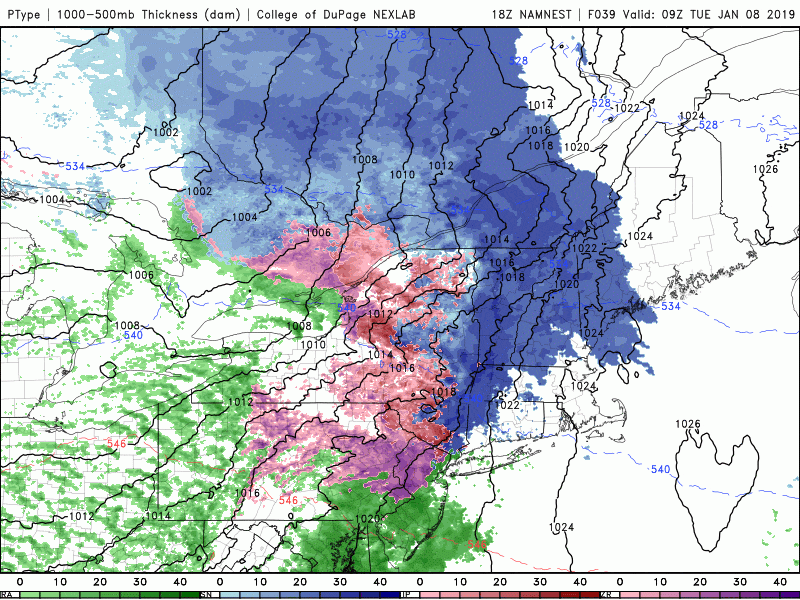 These types of systems can throw out a few surprises, but generally don't turn into anything more than a nuisance. We of course haven't even seen half an inch of snow officially at Logan Airport so even if we got that much would be the heaviest snowfall of the season.
It turns dry and colder for the end of the week in one of the coldest we've seen since Thanksgiving. The pattern continues to undergo some changes and there may be more cold and snow later this month so stay tuned.
You can follow my updates here and on Twitter @growingwisdom.
---
Monday: Sunshine giving way to increasing clouds. Highs in the upper 20s to lower 30s.
Monday Night: Clouds giving way to some snow by morning. A mix over Cape Cod. Lows 23-32.
Tuesday: Early snow and mix precipitation changing to rain. Some light  accumulation early. Highs in the upper 30s to lower 40s.
Wednesday: A few showers, mild. Highs 40-44.
Thursday: Clouds and a few breaks of sunshine. Blustery. Highs in the mid-30s.
Friday: Sunshine and a few clouds. Cold. Highs in the 20s.
Saturday:  Cold and dry.