Townsend Police Sgt. And Wife Killed After Wrong-Way Crash In N.H.
This article is more than 2 years old.
A longtime police sergeant in the north-central Massachusetts community of Townsend and his wife were killed Thursday night when a driver going the wrong way crashed into the couple's vehicle, according to New Hampshire State Police.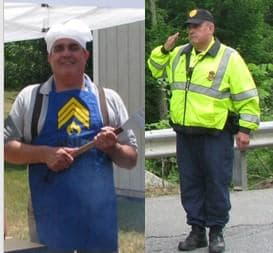 "It is with great sadness that I am sharing news of the tragic death of Sgt. John Johnson and his wife [Heidi Johnson] in a car crash," Townsend police Chief Richard Bailey said in a statement on the department's Facebook page. "Sgt. Johnson has served the Townsend community since 1978. Please take time to remember this fine officer and his family."
Police said a pickup truck was traveling eastbound on the westbound side of Route 101 in Epping, New Hampshire, at about 11:40 p.m. Thursday. The driver had made a U-turn somewhere in the area of Exit 7. The truck crashed into a westbound car, and a westbound driver unable to see the crash ran into the pickup.
Police said 58-year-old John Johnson and 57-year-old Heidi Johnson, both of New Ipswich, died at the scene. The driver who crashed into the pickup, 23-year-old Andrew Neeper, of Raymond, New Hampshire, was taken to a hospital for treatment of non-life-threatening injuries.
The pickup driver, identified as 31-year-old Ryan Kittredge, of Derry, New Hampshire, suffered serious injuries and was taken to Boston hospital.
According to police, Route 101 westbound at Exit 7 was closed for several hours as an investigation was conducted.
Townsend Deputy Chief James Sartell told WBUR that Johnson retired as a sergeant in July 2018 but was kept on reserve. According to Sartell, Johnson was appointed as a full-time Townsend police officer in 1985.
Sartell said Johnson served the department for 40 years and regularly served the community at the annual senior picnic.
"John called himself the 'grill sergeant,' and he wore a little campaign style hat," Sartell recalled. "He had to have been there for four or five hours flipping literally hundreds of hamburgers and grilling the hot dogs. So, just a great guy."
Sartells says his department is offering grief counseling and is vowing to support Johnson's family however it can.
Police are asking anyone that witnessed the crash or knows further information regarding the collision to contact Trooper Daniel Quartulli of the New Hampshire State Police CAR Unit at 603-223-8993 or at daniel.quartulli@dos.nh.gov.
Material from the Associated Press was used for this report.
This article was originally published on January 11, 2019.