Today's Weather: Mild And Wet
This article is more than 4 years old.
A low pressure area moving up into Canada will pull some seasonably mild and moist air into the region today. This means that we have quite a bit of rain as well as some gusty winds in the forecast.
After the cold weather of the past several days, we can even think of this as an official January thaw, although the length of time isn't that long. There will be enough melting along with the rain and fog, so certain places will completely lose their snow cover. Temperatures have been going up all night and already many areas are in the 40s. With a southerly flow of air continuing throughout the day, readings will reach into the 50s as rain become steadier and even heavier.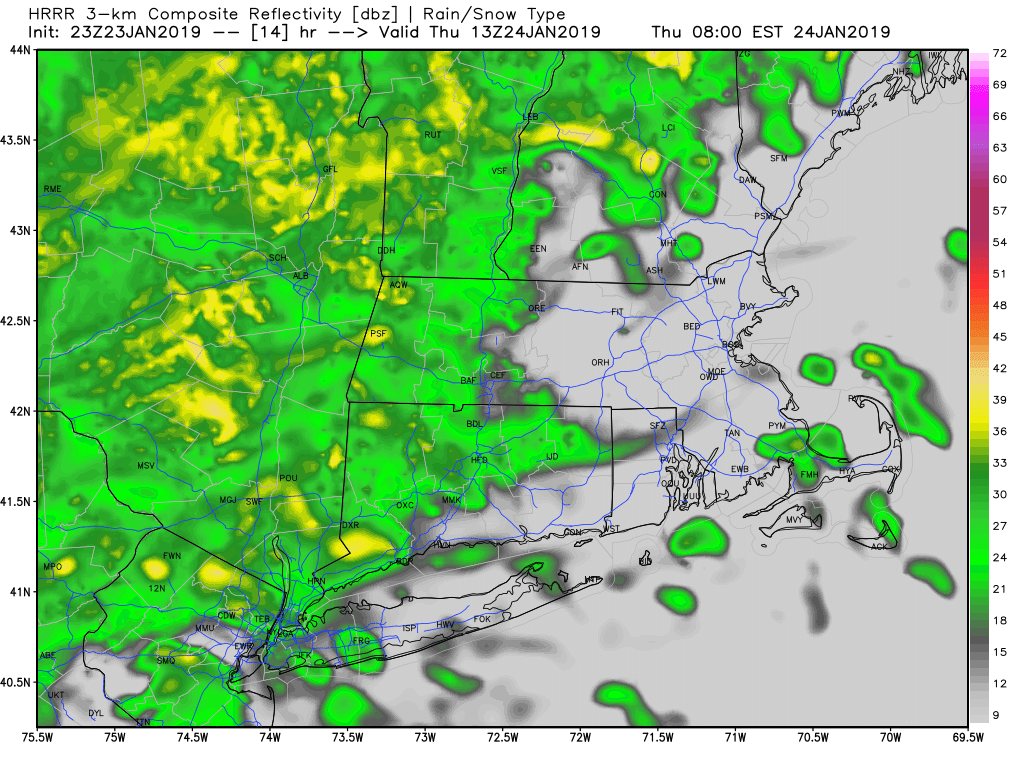 There is a wind advisory posted, as winds could gust more than 35 mph. There can be some scattered power outages in these situations. The wind actually helps to melt the snow because it drives that milder air through the snow pack. It's been very cold so it's going to take a little while for this to happen. Late today, a frontal system will approach the region and usher in more seasonable air.
Tomorrow and Saturday feature colder weather with temperatures back into the 30s tomorrow and even in the upper 20s as we had for Saturday. A small system may bring a few snow or rain showers on Sunday but temperatures will be just about spot on average.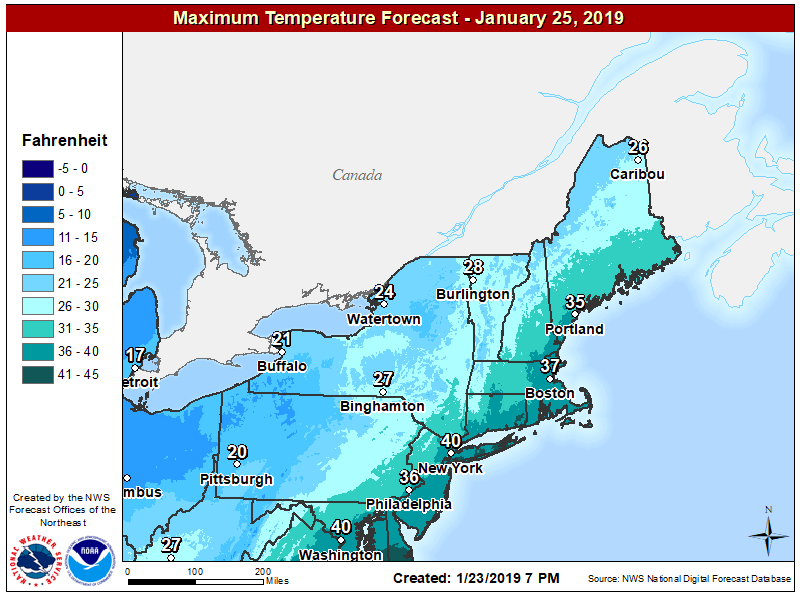 It's a pretty wild swing to have temperatures on Monday be some of the coldest we've ever seen for the date and then have Thursday be well into the 50s. The record highs are in the lower 60s so we're not going to get there, but it's still quite remarkable.
The next chance of a storm system comes on Tuesday but at the moment, it doesn't look like a snowstorm. It's still five days away so this can change. As I've alluded to, there should be a cold of shot of Arctic air behind that system. Meteorological winter ends Feb. 28 and amazingly we are going to get through the first two-thirds of it without much deep cold or deep snow. Of course, even though it's meteorological spring, March can bring some wintry weather so there's plenty of time.
You can follow my updates here and on Twitter @growingwisdom.
---
Thursday: Showers and mild. Highs in the 40s to mid-50s. Winds will be strong at the coast and could cause some scattered damage.
Thursday Night: Early shower then clearing. Lows 22-29.
Friday: Sun and clouds. Highs in the mid-30s.
Saturday: Chilly with lots of sunshine. Highs in the 20s.
Sunday: Sun and some clouds. Highs 36-42.
Monday: Partly sunny. Highs 34-39.