Today's Weather: A Cold Front Brings Seasonable Chill
This article is more than 4 years old.
After a slightly warmer than average weekend, a cold front passed through the area last night and temperatures are now at seasonable levels.
Meanwhile, the Midwest is suffering some nearly historic cold, with the northern tier of the region suffering below zero temperatures and dangerous wind chills. Arctic air tends to have a very sharp boundary, but we will get nicked by this cold air Wednesday night and Thursday before it retreats back up into Canada.

When Arctic air clashes with milder air in the atmosphere, small storm systems form, which can sometimes become quite large. Along the boundary between the Arctic air and the more typical January temperatures will be a storm system forming Tuesday.
The exact placement of the storm will determine whether we just see a few rain or snow showers or we actually see a bit of accumulation of snow, as the colder air works its way into the region tomorrow night and Wednesday. Presently, it does not look like a major issue, but this is definitely something we'll have to watch, as there's quite a lot of energy associated with the system.
I would say Boston is likely to receive a coating of snow, but if things worked out slightly colder some suburbs may go as high as 2 inches.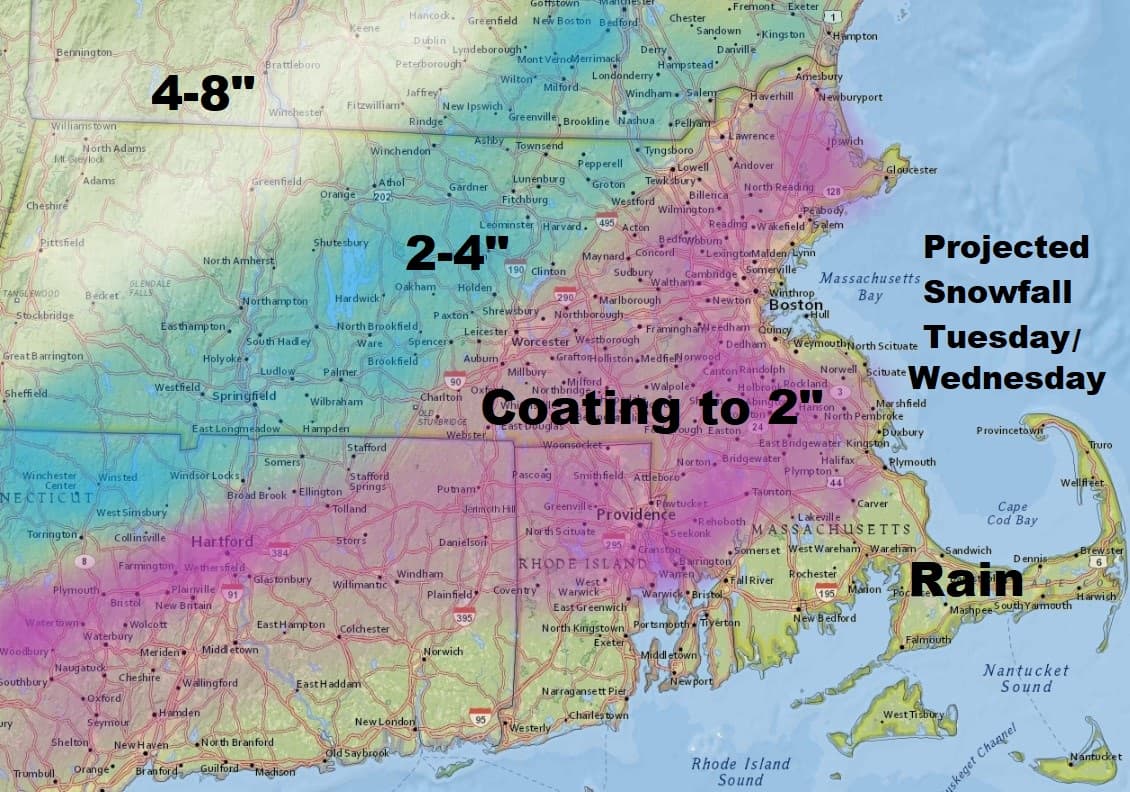 Temperatures today and tomorrow, as well as Wednesday, will be comfortable for January — but then the bottom falls out for Thursday, when readings will stay in the single digits and lower teens for most of the day. Overnight lows will get back toward zero.
As has been the case much of this year, the cold just can't last very long and already by Friday, we see a moderation in temperature. This will be followed by even milder temperatures this weekend.
You can follow my updates here and on Twitter @growingwisdom.
---
Monday: Sunny and chilly. Highs around 30.
Monday night: Clear then clouds roll in. Lows 20-25.
Tuesday: Cloudy, some rain and snow likely. Highs in the mid-30s.
Wednesday: A few rain or snow showers, then clearing and blustery. Highs 34-38.
Thursday: Very cold and sunny. Highs 5-15.
Friday: Sun and clouds. Highs in the mid-30s.