Weekend Weather: Clouds Return, But Temps Will Be Back Up
This article is more than 4 years old.
Some of the coldest air of the winter season is starting to lose its grip on the Northeast. Although temperatures today will still be 10-15 degrees below normal, it will feel a lot better than the teens we had had for highs on Thursday.
In addition, winds will be diminishing to less than 10 mph by Friday night.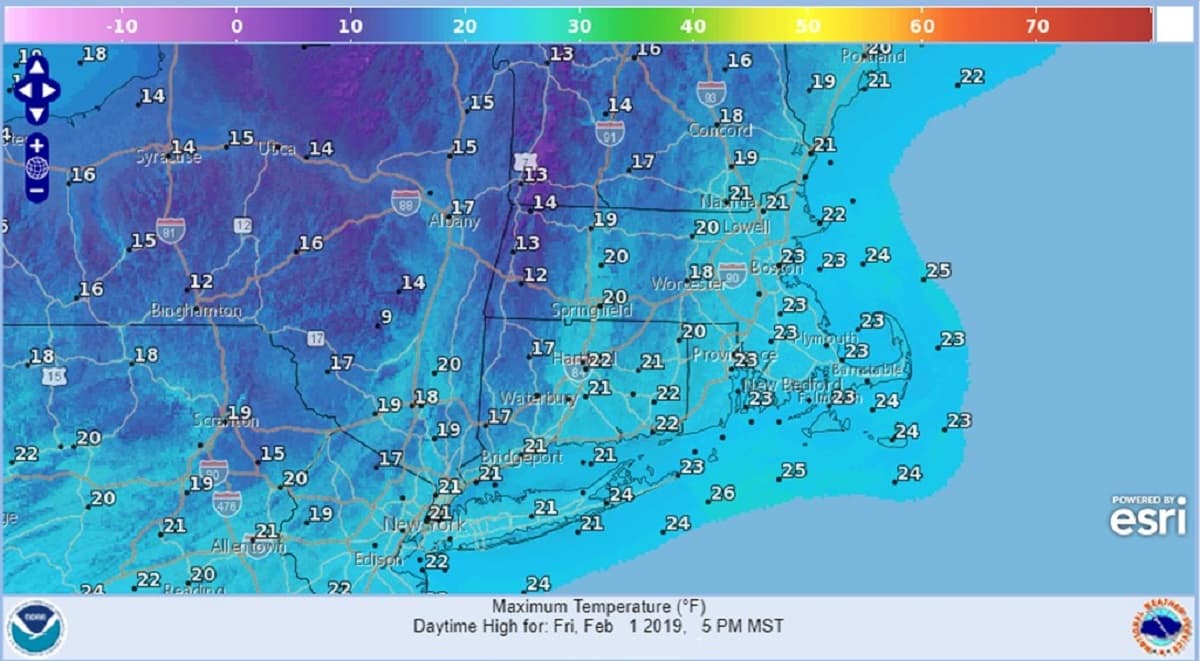 A weak storm will pass well to our south Friday with light snow to the Mid-Atlantic states. The northern extent of the cloud cover will reach southern Connecticut and Rhode Island but Boston will have lots of sunshine as highs reach the low and mid-20s.
Considerable cloudiness will be the rule over the weekend but with a few intervals of sunshine. As high pressure stays south of the region Sunday and Monday, our winds will turn southwesterly driving much milder air into southern New England. In fact, temperatures may rebound to near 50 by midday Tuesday. This mild spell will not last long as another cold front will cause temperatures to drop by Tuesday evening.
Friday: Mostly sunny. Winds diminish. High 24.
Friday Night: Mainly clear. Low 14.
Saturday: Some sun early, otherwise mostly cloudy. High 34.
Sunday: Clouds, some sun. Seasonably cold. High 38.
Monday: Clouds and some drizzle in the morning, breaks of afternoon sun and milder. High 46.
Tuesday: Morning clouds and showers then clearing and turning colder late in the day. Highs 50, then falling to the 30s.