Today's Weather: Near Record Warmth Possible
This article is more than 4 years old.
Yesterday felt a lot like spring. Today will, too, with readings getting well into the 50s, and perhaps 60s — if we see enough sunshine.
A southwesterly flow of air is continuing to bring spring-like temperatures into the Northeast. Our record for today is 65 degrees, set back in 1991. There's a chance we could tie or break that record if we were to get enough sunshine, but more likely is that we stay in the upper 50s and lower 60s.
Nevertheless, this is a great day to get outside and take your lunch with you — or head into downtown to watch the Patriots make their victory lap around the city. This will be the warmest duck boat parade the team has participated in, compared to the five previous Super Bowl wins.
A cold front will slip through the area during the overnight hours and usher in cooler air for Wednesday. I'm expecting plenty of sunshine, but temperatures will only be in the upper 30s — seasonable for this time of the year.
There is the chance of some icing late Wednesday night or early Thursday. This is a result of cold air getting stuck at the ground while warmer air overrides it.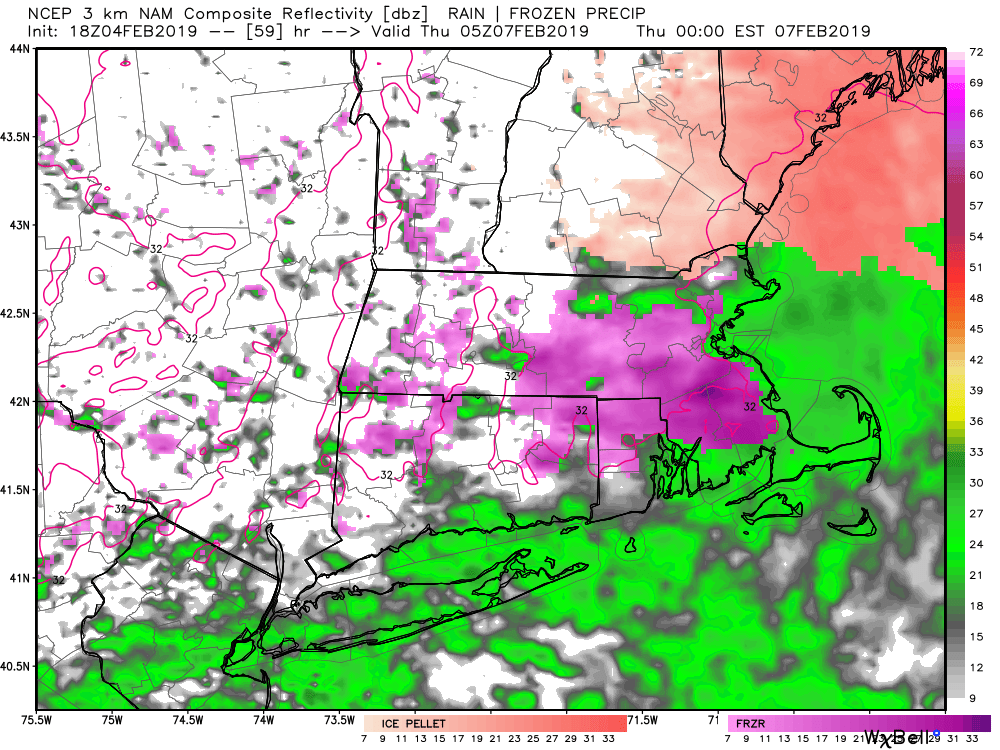 Thursday will end up being a very raw day with temperatures 35 to 40, and then we'll see some more wet weather on Friday but with milder temperatures — well into the 40s to mid-50s. The weekend looks chilly but dry. I don't see any snowstorms in sight and this is the snowiest time of the winter typically — it's kind of amazing.
You can follow my updates here and on Twitter @growingwisdom.
---
Tuesday: Clouds then some sunshine. Highs 55-65.
Tuesday night: Colder with some clouds. Lows 25-30.
Wednesday: Sunny and colder. Highs around the upper 30s.
Thursday: Early icing inland up north, then wet and raw. Highs in the 30s.
Friday: Still unsettled. Highs 50-56
Saturday: Colder, highs in the upper 20s with sunshine.