Today's Weather: Damp And Raw
This article is more than 4 years old.
A warm front is moving toward New England this morning, kicking off some freezing rain. It should taper off to plain old rain, but temperatures will stay in the mid to upper 30s, keeping it quite chilly.
By the time you read this most of the slippery spots will have been treated so the theme for today is damp weather. Watch for leftover icing in some pockets around Worcester county.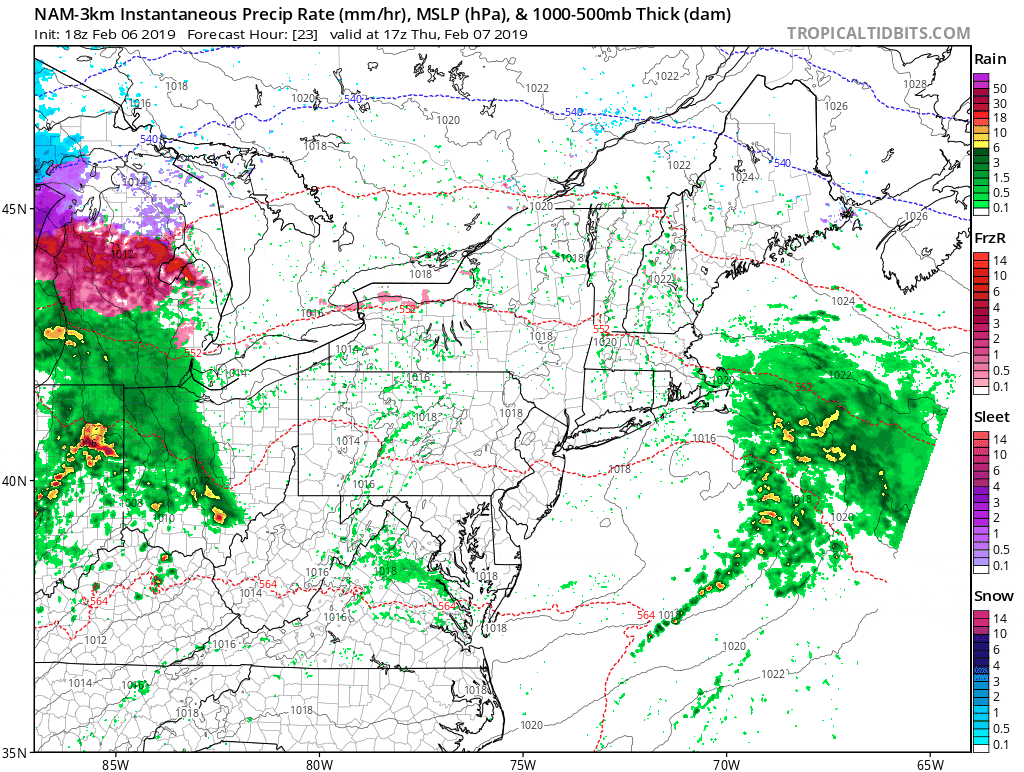 Another weather system moves west of the area on Friday with a period of rain in the morning. Once this ends, skies will partially clear and it's going to feel somewhat like spring again. I expect readings tomorrow afternoon to get into the low to mid-50s.
Colder air does come back for the weekend. Temperatures will be only in the low to mid-30s, but there will be a lot of sunshine. It'll be blustery Saturday but it's a nice weekend to head north and go skiing. Although our ground is bare around here, there's been plenty of snow up north.
There won't be any snow around here until the middle of next week at the earliest. That's when another storm system will head into New England, but it's unclear now if it means snow, or rain.
If there is no snow at Blue Hill through Sunday, that will be the first time without snow in the first 10 days of February ever recorded — remarkable.
You can follow my updates here and on Twitter @growingwisdom.
---
Thursday: Early icing inland and up north, then damp and raw. Highs in the 30s to near 40.
Thursday night: Drizzle with steadier rain towards morning. Lows 35-41.
Friday: Some morning showers, maybe a downpour, then clearing. Milder. Highs 48-54.
Saturday: Colder, highs in the upper 20s to lower 30s with sunshine. Quite blustery.
Sunday: Sunshine and chilly. Highs in the 30s.
Monday: Sun and clouds, a flurry. Highs 32-36.