Today's Weather: A Few Springlike Showers
This article is more than 4 years old.
Sunshine will fade behind thickening clouds today as temperatures rise well into the 40s and finally top out around 50 this afternoon. A frontal system to our west is producing a southerly flow of mild air ahead of it, and this is why temperatures are relatively warm today.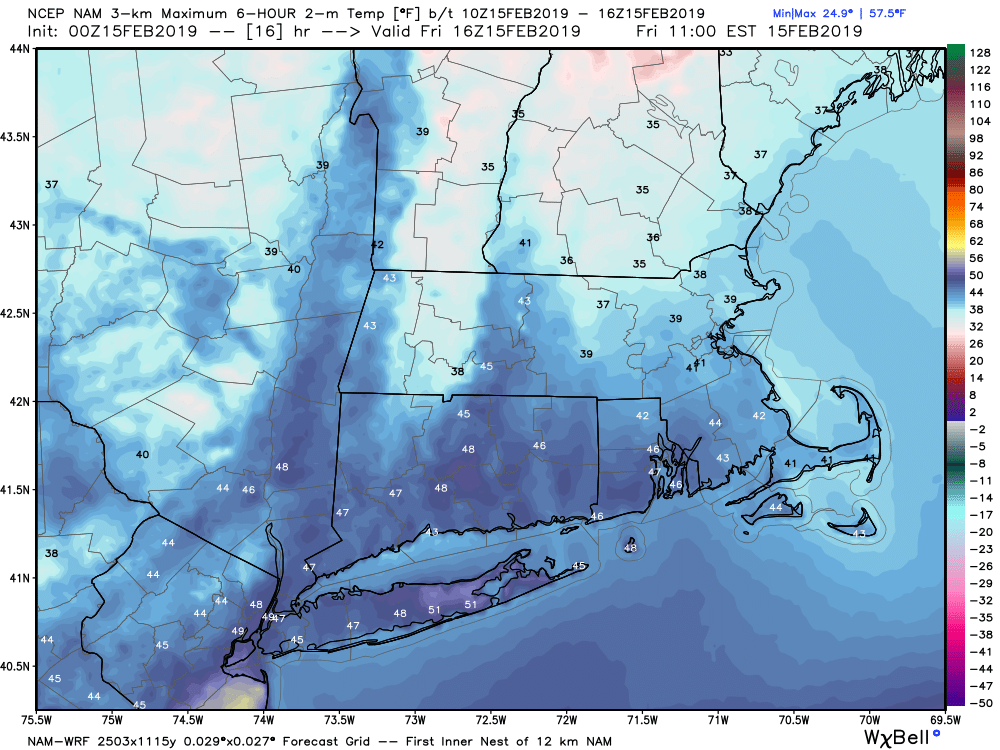 As this front passes offshore tonight, colder air will filter into the region, leaving us with a seasonable weekend in terms of temperature. Highs tomorrow will be about 10 degrees colder than today, averaging around 40 degrees and then it will be even a little bit colder on Sunday when temperatures stay in the mid-30s.
A couple of storms will pass to the south of New England Saturday and again on Monday because of the storm track being so far to the south. We don't have any chance of precipitation from either of these — as a matter of fact, after today's showers, things look dry until sometime on Wednesday when the next storm threatens.
Obviously, since that is five days away, a lot can change. The upcoming looks seasonably chilly with no real Arctic air coming down as we head into the second half of February. If we can make it through the rest of the month without any extreme cold, it becomes less likely that temperatures will be down in the single digits or below zero as we head into March.
If you're headed into ski country for the long holiday weekend or vacation week conditions are fantastic. There's been a lot more snow up in that area as compared to southern New England. While we have had a very mild winter here in Greater Boston, snowfall has been average or above-average from southern Maine all the way up to the northern part of Vermont New Hampshire and the rest of Maine.
You can follow my updates here and on Twitter @growingwisdom.
---
Friday: Mild with a few showers. Highs 45-50.
Friday night: Clearing and chilly. Lows in the 20s.
Saturday: Seasonable with sunshine and clouds. Highs in the lower 40s.
Sunday: Partly sunny and chilly. Highs in the mid to upper 30s.
Monday: Cold with sun and clouds. Highs in the mid-30s.
Tuesday: Chilly with some sun and clouds. Highs 30-35.