Today's Weather: After The Wind, There's Snow
This article is more than 4 years old.
The high winds of yesterday have now diminished but you'll notice the wind throughout your Tuesday. There is still a wind advisory posted. Some scattered tree damage is still possible.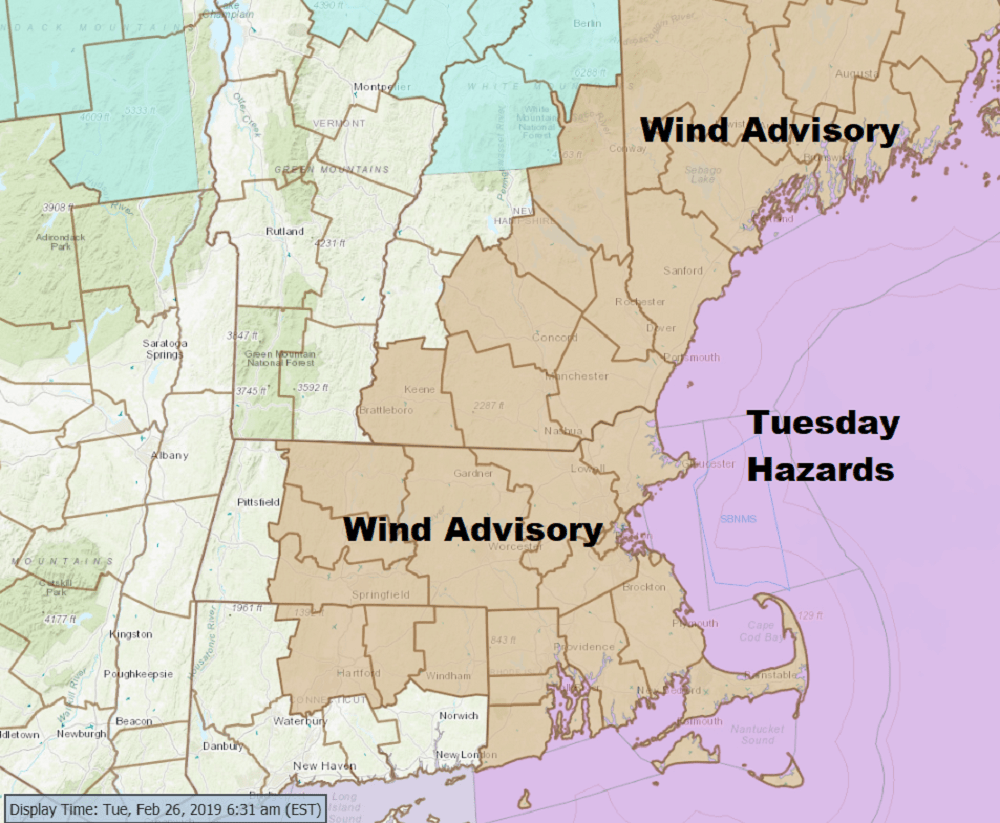 Skies will be partly to mostly sunny and temperatures are not going to get above freezing — they'll stay in the 20s all day. Along with the wind, the wind chills will be down below zero, especially this morning, recovering to the single digits to teens this afternoon.
We have a cold night ahead of us — perhaps the coldest night we're going to see until next winter. There's still some cold nights coming, but not nearly as cold as tonight.
Tomorrow we'll start sunny but clouds will increase throughout the day as our next weak system reaches the area Wednesday night.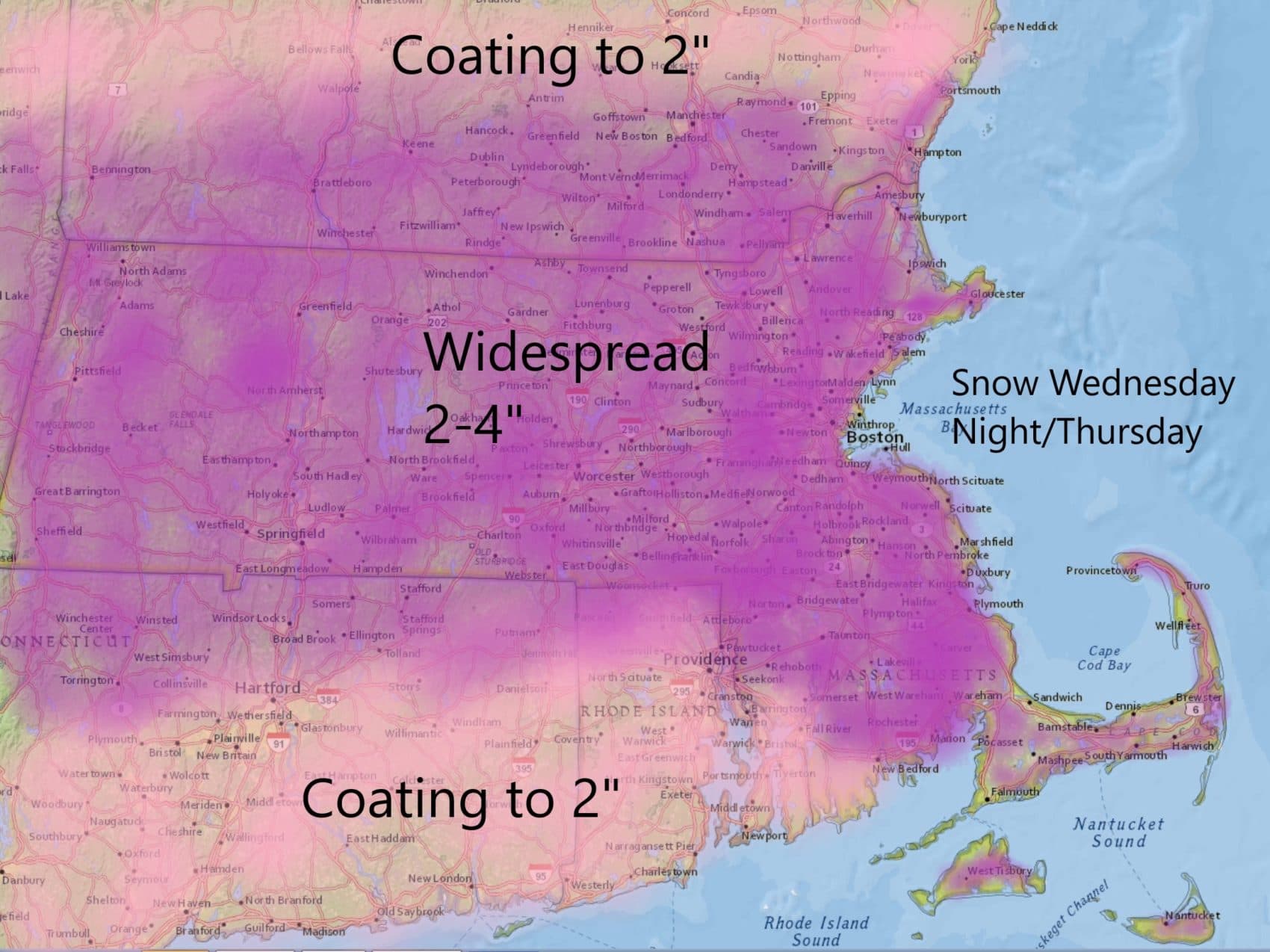 This is likely to bring light snow with subsequent light accumulation of about 2 to 4 inches in Greater Boston and MetroWest. The snow should start after the evening commute on Wednesday and will end about 12 hours later — just in time for the morning commute. It will linger longer over Cape Cod and southeastern Mass.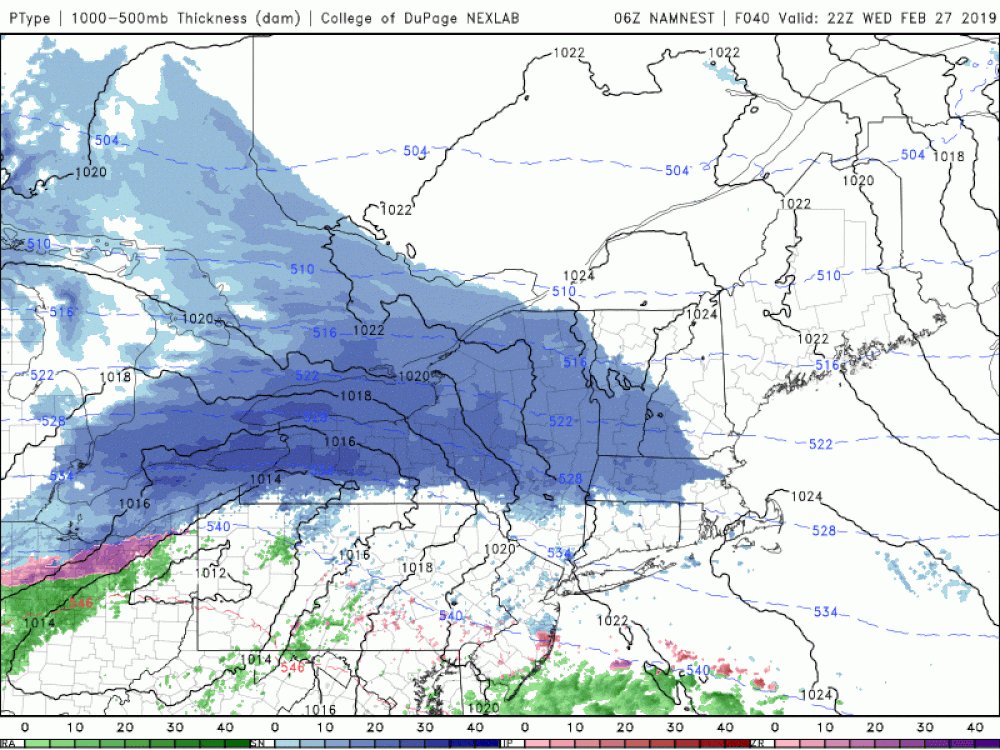 It's dry for the balance of Thursday and Friday, with the next storm arriving on Saturday, which looks right now to be rain. Colder air moves in for the second part of the weekend and early next week.
Unlike last March when we had multiple nor'easters and a lot of snow and cold, this March looks to be more typical.
You can follow my updates here and on Twitter @growingwisdom.
---
Tuesday: Sun and clouds. Cold with wind chill below zero in the morning. Breezy. Highs in the mid-20s.
Tuesday night: Still blustery and cold. Lows 8-16.
Wednesday: Partly sunny and chilly. Highs in the mid-20s. Snow starts around 7-8 p.m.
Thursday: Morning clouds and a flurry, then partly sunny. Highs in the mid-30s.
Friday: Sun and clouds. Highs 35-40.
Saturday: Mixed precipitation changing to rain. Highs 40-45.