Today's Weather: Cold Through Thursday
This article is more than 4 years old.
The combination of the recent snowfall and an Arctic air mass over the region will result in temperatures nearly 15 degrees below normal through Thursday. The normal high and low this time of year is 42 and 28, respectively. Our daytime highs will struggle through the 20s today and tomorrow with overnight lows tonight dipping to 10 in some towns by daybreak.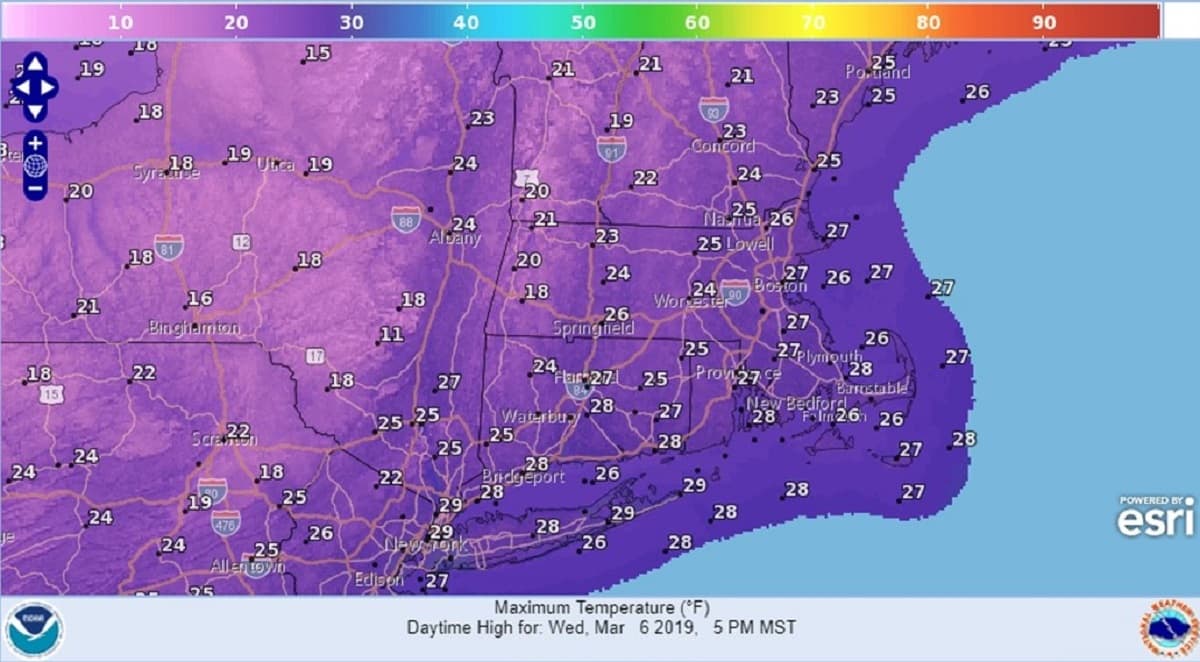 The very cold air will begin to lose its grip later in the week and into the weekend as
strong March sunshine moderates our temperatures. Although some periods of clouds will be with us from time to time through Thursday, we will remain precipitation free.
The weekend will start out splendid with high pressure over us on Saturday. Expect light winds, mostly sunny skies and temperatures rising to around 40 in the afternoon.
The next storm will rapidly approach on Sunday but track to our west into the Great
Lakes region. This path will keep Boston on the mild end of the system and although clouds will increase during the day, temperatures should rise to the mid-40s.
Some rain could be on our doorsteps by Sunday evening.
---
Today: Sunshine, some afternoon clouds. Breezy, much colder than normal. High 27
Tonight: Becoming clear overnight. Quite cold. Low 12.
Thursday: Morning sun, partly cloudy in the afternoon. High again 27.
Friday: Mostly sunny through some high clouds. Not as cold. High 35.
Saturday: Mostly sunny. High 40.
Sunday: Increasing clouds. Chance for rain by evening. High 45.