Weekend Weather: Saturday Could See Temps In 60s
This article is more than 4 years old.
It's mild across the area this morning with areas in the low-to-mid 40s. Over the next several days, southern New England will be on the edge of very mild air.
As the boundary between the cool and the mild air wavers, a few showers can occur. Eventually the cool air will win out later on Sunday along with a period of rainfall. Before that happens, readings should get well into the 60s, especially west and south of Boston tomorrow and perhaps early Sunday.
Outdoor activity will be best Saturday as the risk for any showers is almost zero. As the frontal system approaches Sunday an area of showers will push through.
While the risk of showers is greater on Sunday I'm not expecting much in the way of rainfall, just a couple of tenths of an inch — but this is enough to make everything wet and more difficult to work outside for those of you doing early spring clean ups.
After the showers and the front push eastward, cooler air will move in so the temperature may actually go down Sunday afternoon from west to east.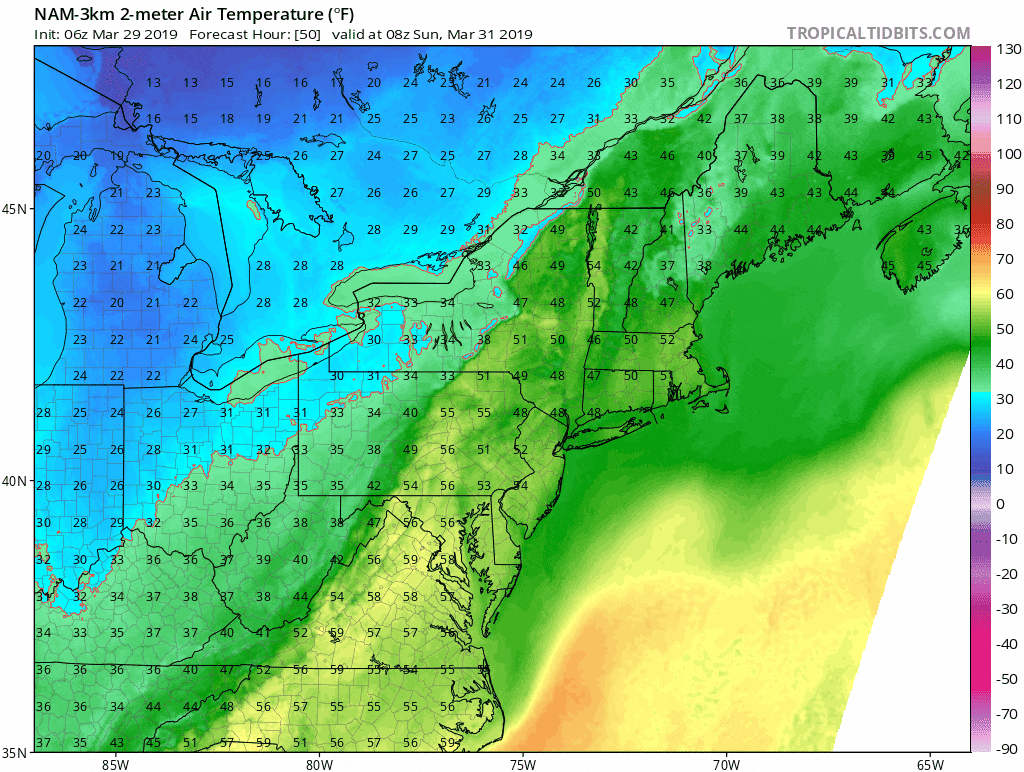 This will set the stage for a nice but chilly start to the work week. The next weather system will need to be concerned with is a coastal storm. The track of the storm will determine how much rain and wind we see.
You can follow my updates here and on Twitter @growingwisdom.
---
Friday: A sprinkle possible, but generally just a lot of clouds. Perhaps a few late morning or afternoon showers. Highs 53-58.
Friday Night: Clouds, a few sprinkles or a shower. Lows 40-45.
Saturday: Clouds, then a period of sunshine. Dry. Unseasonably mild. Highs 55-62 coast, 62-68 inland.
Sunday: Clouds, a few showers. Highs 55-60. Temperatures may fall later in the afternoon.
Monday: Sunshine returns, cooler. Highs 45-50.
Tuesday: Dry and seasonable. Highs around 50.