Today's Weather: Cooler And Rainy
The first day of summer — Friday, June 21 — is a little over a week away. But we're still searching for that summertime pattern. It's certainly not around today, as a storm tracks from the mid-Atlantic region across southeastern Massachusetts. It will bring a period of rain to the Boston area, with heavier downpours and thundershowers across Cape Cod and the Islands.
Temperatures will only be in the 50s and 60s, which is more in line with late April rather than mid-June.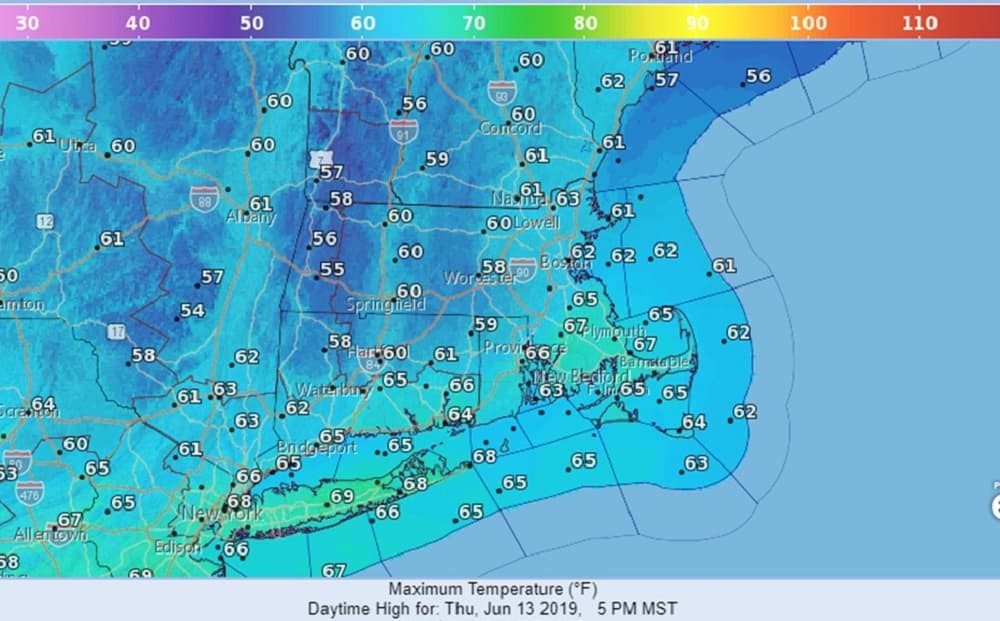 The atmosphere will be unstable Friday, so there will be lots of clouds and even a passing shower but most of the time it should be dry. Finally, high pressure will build in Saturday and provide a very nice day for the commonwealth, with a return to sunshine and temperatures approaching 80 once again.
The next front will rapidly approach us on Father's Day with the risk for more showers, especially during the afternoon. This front will waver across southern New England next week with several periods of showers and thunderstorms. Temperatures will continue to average below normal.
Dave Goldbaum is in for WBUR's David Epstein
---
Thursday: Cloudy with rain developing late morning. Becoming breezy. Temperatures in the 50s to mid 60s.
Thursday Night: Showers ending, staying mostly cloudy. Low 53.
Friday: Clouds, some sun, breezy. Chance for a passing afternoon shower. High 73.
Saturday: Mostly sunny and pleasant. High 78.
Sunday: Becoming mostly cloudy. Afternoon showers. Highs in the mid-70s.
Monday: Mostly cloudy with the chance for showers. Highs 75-80.