Weekend Weather: A Spectacular Saturday Followed By A Wet Sunday
Looking back at our rainy Thursday, accumulations ranged from 0.6 inches here in Boston to as much as 1.33 inches on Block Island and 1.43 inches in New Bedford. Another statistic that is talked about every day that did not follow the typical diurnal cycle is the time of the high and low temperature. Normally, mid-late afternoon is the warmest time of the day, while the coolest around daybreak. Quite the opposite on Thursday with the official high of 62 at 12:18 a.m. and a low of 53 degrees at 12:29 p.m. Yesterday was for the birds, plucked right out of April.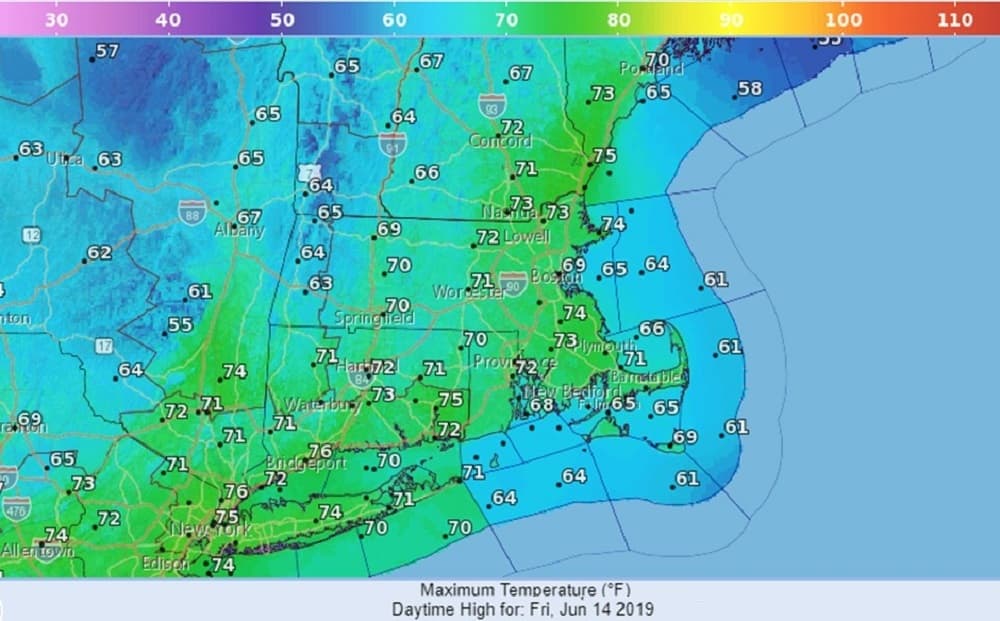 Thursday's storm will continue to move away, and although the atmosphere will remain a bit unstable today, we'll see some sun and milder temperatures. High pressure will nose into southern New England and influence our weather through Saturday. In fact, Saturday will be one of those top 10 days of the summer with temperatures near 80 and comfortable humidity. The nice weather will not last long as another front pushes in Sunday.
This front will cause some showers and maybe an isolated rumble of thunder but nothing very organized. Unfortunately, the front will stall just south of the area going into next week. With a west to east orientation, ripples of low pressure will give us numerous periods of showers with cooler than normal temperatures continuing.
Friday: Lots of clouds, some sun. Chance of brief afternoon shower. Breezy. High 73.
Friday Night: Partly cloudy to clear. Low 57.
Saturday: Mostly sunny, breezy and pleasant. High near 80.
Sunday (Father's Day): Mostly cloudy. Periods of showers, up to 1/4 inches of rain. High 70.
Monday and Tuesday: Mostly cloudy. Few showers. High 75.