Today's Weather: Showers Lead The Way To A Summer Pattern
I have to start by reflecting on yesterday because that weather was just so perfect. The sun is very strong this time of the year and in spite of it not being very hot, it felt quite warm in the sun.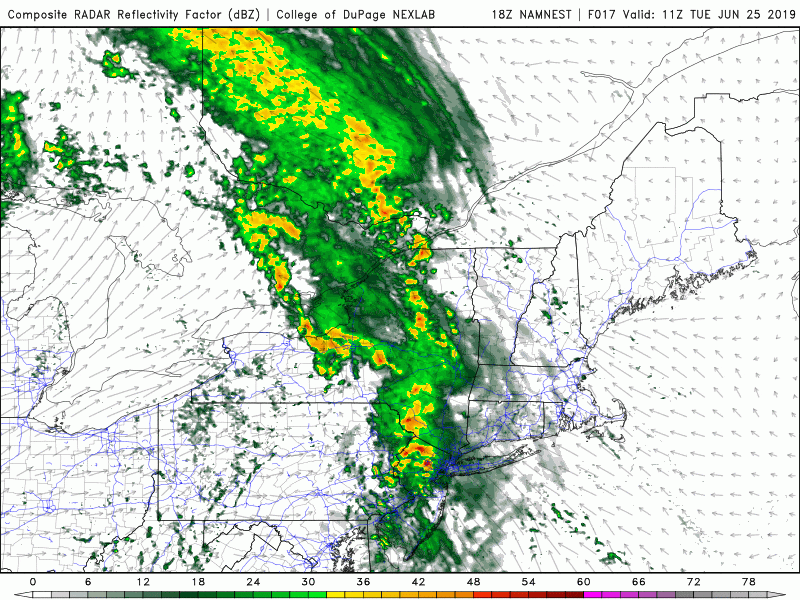 Also, even though we just had rainfall, many of my planters and containers needed watering. Remember, anything you are growing in containers can often need water once or even twice a day in the high heat this time of year.
Today will feature some natural watering, though, most of that coming this afternoon along with the chance of a thunderstorm. There could be some heavier downpours as well that could temporarily cause big puddles on the roads and slow things down.
The humidity is going to be increasing today and it will stay noticeable, although not oppressive, for the rest of the week. Once the warm front passes, temperatures will rise toward 80 tomorrow and then into the 80s on Thursday and Friday. I can't rule out a spot shower tomorrow, but it's basically a dry day.
Thursday also features a lot of sunshine with a pop-up thunderstorm very typical for a summer pattern. Friday is likely just as warm, but with less of a chance of any showers.
Saturday, it will probably still be very warm until a cold front sweeps the warmth out to sea, making way for cooler weather by the end of the weekend. The timing of the weekend weather is still up in the air, so just stay tuned for any latest forecast and changes.
You can follow my updates here and on Twitter @growingwisdom.
---
Tuesday: Showers, maybe a thunderstorm. Highs 70-75.
Tuesday Night: A few showers and storms the first part of the night. Warm and muggy. Lows 63-68.
Wednesday: Clouds, some sun. Low chance of a shower early. Highs 78-82. Muggy.
Thursday: Clouds and sun. More humidity. Warm. Highs 82-88; 76-82 on Cape Cod.
Friday: Sunny and warm. Highs in the mid- to upper 80s. Cooler 70s on Cape/Islands.
Saturday: Partly to mostly sunny. Humid still, but perhaps drier at night. 85-90. Cooler Cape/Islands
Sunday: Sunshine and clouds. May shower. Highs around in the mid 70s.