Today's Weather: Another Tranquil Summer Day With Temps. In The 80s
What a glorious day Monday was, and today looks pretty nice, too, despite some clouds in the morning.
High pressure continues to be in control this week. This means the chance of rain is slim to none for the next several days.
Humidity will continue to creep up a little bit each day. It's not going to become oppressive, but you'll notice it in the air, especially in the evening as temperatures cool. As the dew point and the temperature get closer and closer, we can really feel the moisture in the air. That's what happens at night, and it's one reason some may find it hard to sleep.
Boston reached 83 degrees Monday at 9 p.m. as the sea breeze died, while inland areas got well into the 80s all day. I expect a similar scenario again today. It is starting to get unusual that Boston, even Logan Airport, hasn't reached 90 degrees yet. If we make it past July Fourth without a 90-degree day it will only be the 15th time that has happened since 1872.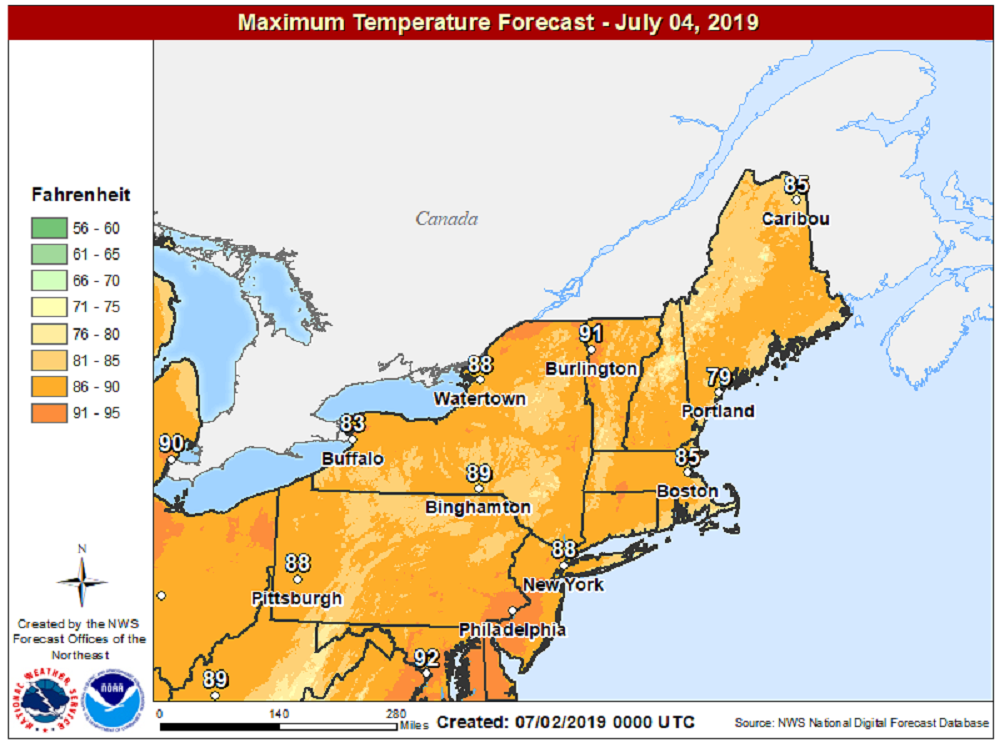 Remember, last summer was very hot, but so far the early part of the summer has been quite seasonable.
Friday and Saturday are the most humid days of this week. Temperatures will be well into the 80s with increasing chances for showers.
It's not going to be a washout this weekend, just a typical pattern at the end of a warm spell. These patterns very often end with a few showers.
If the front — which will eventually push the humidity out to sea — keeps moving, it should clear out for Sunday, and the humidity will drop. If things slow down, then Sunday will also feature a few showers. We'll have a better idea of things as the days progress later this week.
You can follow my updates here and on Twitter @growingwisdom.
---
Tuesday: Early clouds, quick sprinkle north and west, then sunshine. Highs 80-86. Cooler on the Cape and the Islands. More humid.
Tuesday Night: Mild. Temperature 63-68. Partly cloudy, patchy late night fog.
Wednesday: Sunshine and warm. Highs 85-90. 75-85 on Cape Cod.
Independence Day: Mainly sunny. More humidity. Warm. Highs 83-91; 76-82 on Cape Cod.
Friday: Partly sunny and warm. May shower late. Highs 83-91; 76-82 on Cape Cod.
Saturday: Partly to mostly sunny. An afternoon shower or storm. Highs 83-91; 76-82 on Cape Cod.
Sunday: Partly sunny. Risk of a morning shower. High around 80.