Today's Weather: It's Warm And Increasingly Humid; Heavy Rain For Some Saturday Late Afternoon
What a great Fourth of July yesterday was, with plenty of sunshine and warm temperatures. Today will feature another typical summer day, along with an uptick in humidity and a few more clouds.
We've been experiencing a dry stretch lately — actually, the driest since March. This will come to an end Saturday afternoon and evening as a cold front approaches.
If you have outdoor plans Saturday, we shouldn't experience any chance of showers for the first two-thirds of the day. However, after the early afternoon there will be a line of showers and storms to the West. This will slowly head for the coastline.
Showers could develop enough strength to produce thunder and strong gusty winds. There's going to be so much moisture in the air that if you do get a shower you can expect some torrential downpours. The rain may be heavy enough to cause some temporary street flooding, and in some places, the downpours may force you to pull over.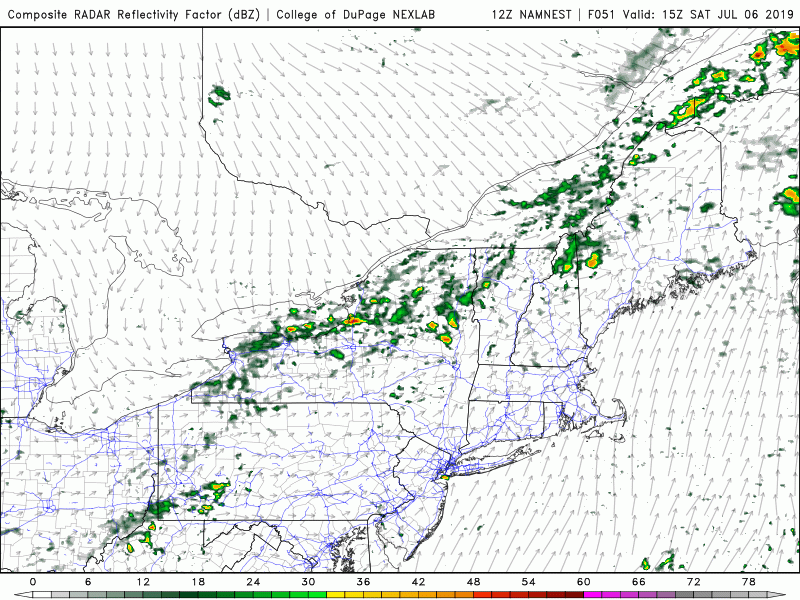 The speed of the front will determine just how nice or not conditions will be on Sunday. The best chance for getting a lot of sunshine throughout the day will be north of the Mass. Pike, and there is the opportunity for clouds and a couple of showers to linger along the south coast early Sunday. Areas in-between will watch that cloudline push slowly southward. If it starts out a bit humid on Sunday, it will end much drier as dew points start to fall.
The comfortably warm and dry weather should last into the first part of next week. After that more humidity and potential heat will arrive.
You can follow my updates here and on Twitter @growingwisdom.
---
Friday Night: Mild and muggy Temperature 66-73. Partly cloudy, patchy late night fog.
Friday: Partly sunny and warm. May shower late. Highs 83-91; 76-82 on Cape Cod.
Saturday: Partly to mostly cloudy. An afternoon shower or storm. Highs 83-90; 76-82 on Cape Cod. Very humid.
Sunday: Partly sunny. Risk of a morning shower. Drier. High around 80.
Monday: Sunshine and pleasant.  Highs withing a few degrees of 80.
Tuesday: Mainly sunny and warm.  81-86