Today's Weather: Dry, Warm Start To Work Week Feels Like Extended Vacation
It was a split weekend, with Saturday's high temperatures reaching well into the 90s, but it was a lot less humid and not nearly as warm yesterday, with temperatures mainly in the 70s to near 80.
Overall, we have a great week ahead. Readings this week will be in the 80s, and the humidity remains in check for the first half of the week.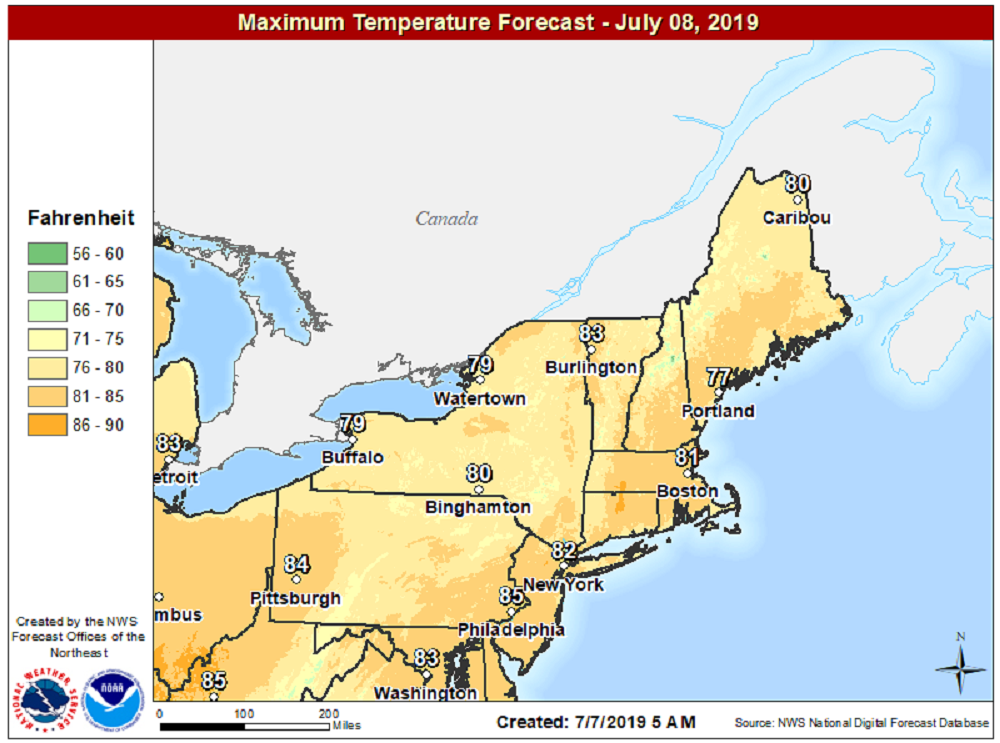 As we get toward Wednesday and Thursday, dew points will start to creep up and you'll begin to feel the moisture in the air once again. It will be comfortable for sleeping tonight and tomorrow, and most of us will be able to keep the air conditioning off at night.
Most of us have had adequate rainfall so far this summer and the next chance of showers will come sometime on Friday. These will be associated with a cold front that pushes offshore wake Friday and hopefully, set us up for another nice weekend.
You can follow my updates here and on Twitter @growingwisdom.
---
Monday: Generally sunny and warm. Highs 75-82. Coolest at the coast and Cape Cod.
Monday Night: Comfortable and dry. Temperature 58-65.
Tuesday: More sunshine and very warm. Highs 84-89.
Wednesday: Sunshine and warm. Highs 85-90. 75-85 on Cape Cod.
Thursday: Mainly sunny. More humidity. Warm. Highs 83-91; 76-82 on Cape Cod.
Friday: Partly sunny, quite humid. Scattered showers and storms. Highs 82-86; 77-82 on Cape Cod.
Saturday: Partly to mostly sunny. Highs 82-87; 79-84 on Cape Cod.
Sunday: Warm and dry.