Forecast: Friday Heats Up, Then Saturday Will Be Extremely Hot
Update: An excessive heat watch for Boston and most Massachusetts communities goes into effect Saturday 11 a.m. to 9 p.m. Boston has declared a heat emergency that begins Friday at noon through Sunday evening. The city urged residents to stay safe and released a statement with advice on how to keep cool during the extreme temperatures. 
---
Wednesday's thunderstorm activity was severe in a few locations, with tree damage and torrential downpours that caused some localized flooding. Here in Boston, we received just under half an inch of rain in a two-hour period.
The front that caused the rain and thunderstorms has been suppressed to our south. A couple waves of low pressure will continue to track along the stalled front. This will keep Boston on the "cool" side with clouds, showers and below normal temperatures today.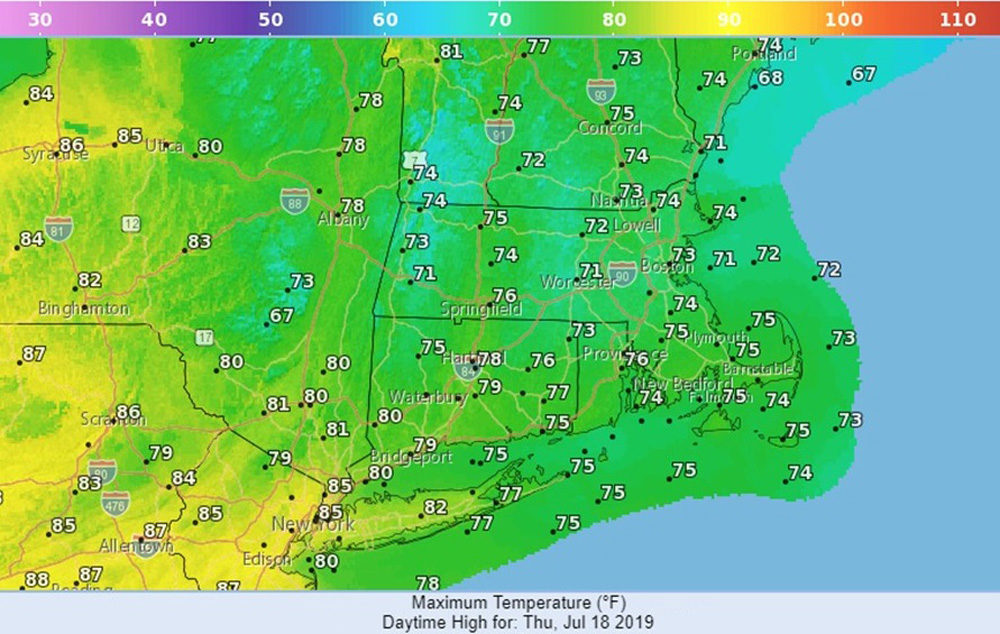 Once this low goes by, our winds Friday will turn toward the southwest and warmth will slide back into the region. Clouds will give way to sunshine Friday afternoon and temperatures will rebound into the 80s, with a rise in humidity.
Tropical high pressure will take hold for the weekend with lots of sunshine, high humidity and very little cloud cover. Temperatures Saturday and Sunday will be well into the 90s, with Saturday being warmest.
The National Weather Service has issued an excessive heat watch for Saturday, sweeping much of the region. It'll feel over 100 with the humidity, so take it easy and drink plenty of water if you're outdoors.
The next front may trigger showers and thunderstorms as early as Sunday night, cooling things off for early next week.
Meteorologist Dave Goldbaum is in for WBUR's David Epstein.
---
Thursday: Showers in the morning, staying cloudy in the afternoon. High 73.
Thursday night: Cloudy, comfortable. Low 66.
Friday: Morning clouds, then becoming mostly sunny and warm with increasing humidity. High 86.
Saturday: Mainly sunny, hot and humid. High 96.
Sunday: Hazy, hot and humid. High 93. Chance for thunderstorms at night.
Monday: Mostly cloudy. Few showers. Highs near 80.
Tuesday: Partly cloudy. Chance for a shower. Highs 75-80.
This article was originally published on July 18, 2019.