Today's Weather: The Heat Wave Is Over
The scorching heat wave has now ended. It was quite a weekend, with a combination of heat and humidity making it feel over 100 degrees for most of Saturday and Sunday.
The actual temperature never reached the century mark, but Logan Airport hit 98 degrees yesterday for the hottest day of the summer. It's quite likely that this ends up being the warmest weekend of the season and actually, this is one of the warmest weekends ever recorded in the city of Boston. Although no high temperature record was reached, the overnight lows were in record territory.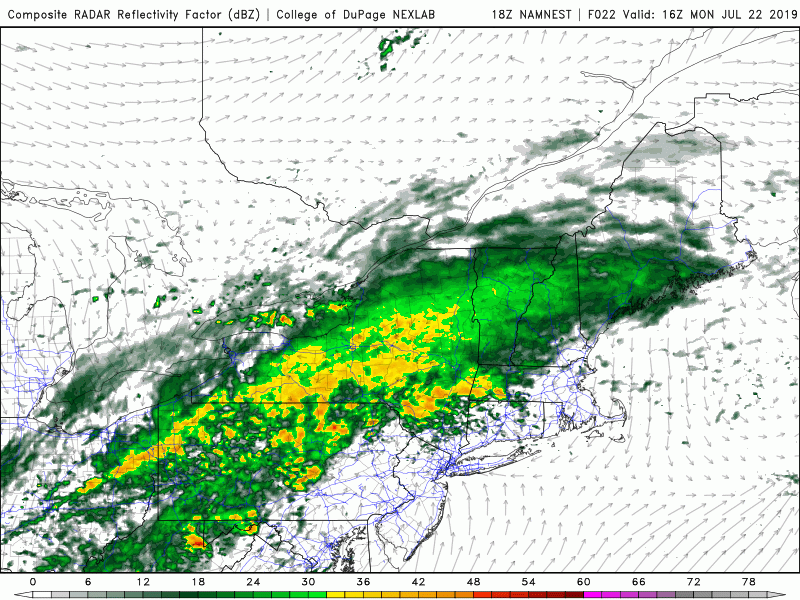 A cold front is now passing through the region, and the humidity has dropped. We have two waves of precipitation that will affect us over the next couple of days as they ride along this frontal system just to our south. This means there will be developing areas of showers later today and overnight, and again for Tuesday.
Because there is so much humidity along this frontal system, there could be some downpours as well as some thunder. Certain areas could receive 1 to 2 inches of rain, a continuation of the adequate rainfall this summer has brought.
As the final area of rain departs later Tuesday, high pressure will build into the region and provide us with seasonably warm temperatures and comfortable humidity for the rest of the week. Presently, I don't see any extreme heat or humidity on the horizon, so we have some time to recover.
You can follow my updates here and on Twitter @growingwisdom.
---
Monday: More warm weather with sunshine and clouds, then showers developing. Highs 80-84.
Monday night: Clouds and showers. Some thunder and downpours. Muggy. Lows 65-69.
Tuesday: Much cooler, still some showers the first part of the day. Highs 72-75.
Wednesday: Sunny and pleasant. Highs in the lower 80s.
Thursday: Continued sunny and warm. Highs 79-84,
Friday: More humid and very warm. Sunshine and clouds. Highs 81-86.
Saturday: Sunshine and some clouds. Highs in the lower to middle 80s.
Sunday: Continued summer pattern. Highs in the 80s.