Today's Weather: Heat Wave Could Last Another Day, But Rain Is Coming
If Norwood reaches 90 degrees this afternoon, it will be the 19th time this month. This will be the highest number of 90-degree days the city has ever seen since records have been kept. In Boston, it would make 12 if we reach 90 degrees. No matter what, this has been a very hot month, especially from Portland, Maine down to New York.
Boston will end up with the hottest month on record. The nights have been very warm as well.
There is some good news if you don't like this current stretch of heat: a cold front will slice through the area late this afternoon and overnight, putting an end to the heatwave.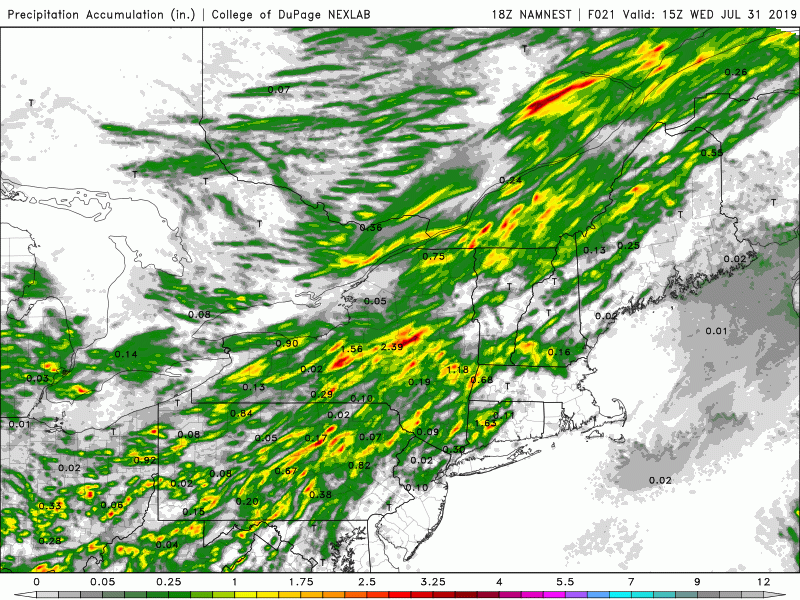 If you don't receive any rain, it will be several more days before the next chance arrives.
This means that lawns are going to start to get quite brown if you don't have irrigation. It doesn't take very long without regular rainfall in all the strong sunshine for things to start getting crispy.
The weekend is looking fabulous with plenty of sunshine and temperatures well into the 80s. Unlike the past few days, when it's really been too hot to enjoy the summer, the weekend will be much more conducive to outdoor activities.
If you're wondering, I don't see any extreme heat for the first week of August. As we get deeper into the month, the odds of a prolonged heat wave slowly begin to decrease, but don't really drop significantly until close to Labor Day.
You can follow my updates here and on Twitter @growingwisdom.
---
Wednesday: Humid with sunshine and some clouds. A shower or storm in a few towns in the afternoon. Highs within a few degrees of 89. Cooler Cape.
Wednesday night: Early showers and perhaps a storm early.  Then, partly cloudy and mild. Lows in the upper 60s to near 70.
Thursday: Slight shower chance. Partly sunny, turning less humid at night. Highs 82-86.
Friday: Warm and dry. Sunshine and clouds. Highs 80-86.
Saturday: Sunshine and some clouds. Highs in the mid-80s.
Sunday: Continued summer pattern. Highs in the mid- 80s.