Today's Weather: Still Humid, But Heat Is Less Brutal
Resume
On Wednesday afternoon, some wild weather moved through the area, with scattered pockets of damage and winds gusting over 70 mph at Logan Airport.
Thunderstorms have air that rises rapidly and helps create them, but they also have air that sinks rapidly, and this can create a downburst or microburst. These winds, which come down from the higher levels of a thunderstorm, can actually be just as damaging as other types of winds in a storm.
The good news is that today is going to be less hot. There will still be humidity in the air, and we'll have to wait until tomorrow for things to dry out to more comfortable range. It's not going to become cool; as a matter of fact, temperatures will remain above normal for the foreseeable future. But they won't push 90, as they have been for the past few days.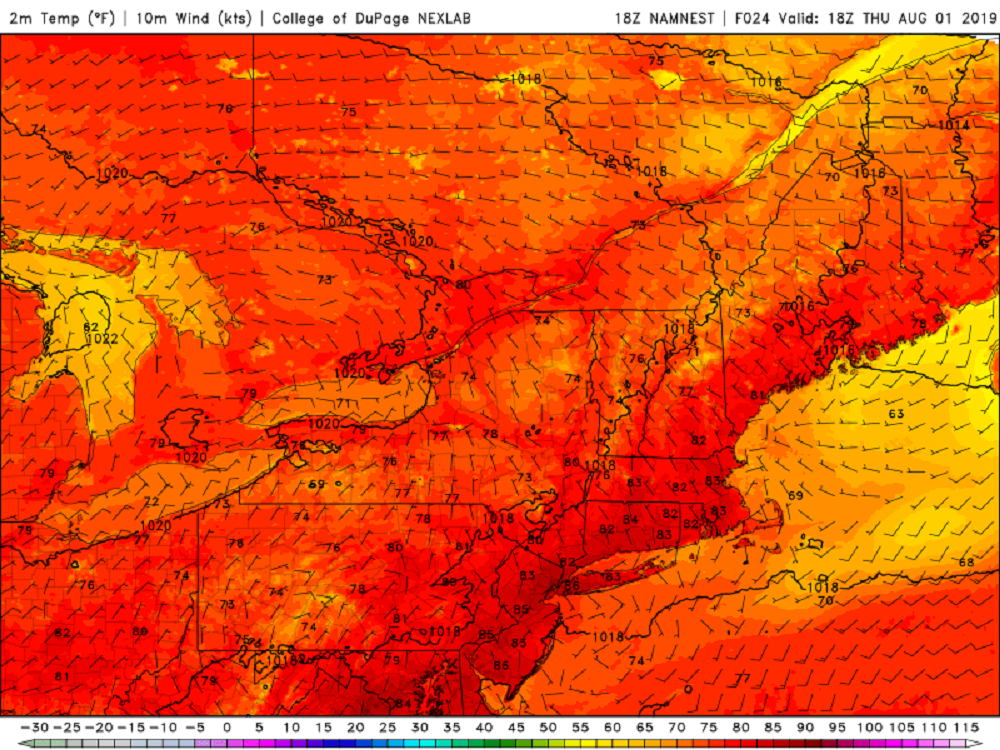 If you are headed to northern New England this weekend, you can expect plenty of sunshine and warm temperatures. Winds will be light and the chance of any precipitation is virtually nil.
Here in the southern part of the region, it also looks like a nice weekend. However, because there will be a little more humidity in the air, I'm going to at least mention the chance for a shower or thunderstorm in the afternoon over the weekend. It's unlikely that you will see it but not impossible, so just keep an eye to the sky and the latest forecast.
Finally, as you perhaps realized, July ended up as the warmest month on record in the city of Boston. Not only was the average temperature the hottest ever recorded, but the overnight lows were also in record warm territory. Hopefully, we get a little less heat this month so we can enjoy the final month of meteorological summer.
You can follow my updates here and on Twitter @growingwisdom.
---
Thursday: Humid still. A slight shower chance. Partly to mostly sunny, turning less humid at night. Highs 82-86.
Thursday night: Mainly clear and mild. Lows in the mid-60s.
Friday: Warm and dry. Sunshine and clouds. Highs 80-86.
Saturday: Sunshine and some clouds. Small risk of a storm. Highs in the mid-80s.
Sunday: Continued summer pattern. Very small shower risk. Highs in the mid-80s.
Monday: Mainly sunny and warm. Highs in the mid-80s.
Tuesday: Sunshine and clouds, could shower. More humid. Highs in the 80s.