Today's Weather: Showers And More Humidity
Yesterday was the final day without humidity for a little while. Today, we find low pressure approaching the region and this will bring an increasing chance of showers along with more humidity. Although the morning should be dry, I expect showers to move through the region for the evening.
Because there will be an increase in humidity, some of these showers could contain heavier downpours and I can't rule out the chance for thunder. There will be areas that see only a 10th of an inch of rain; other areas could see a full inch. This means there may be some street flooding temporarily in those heavy downpours.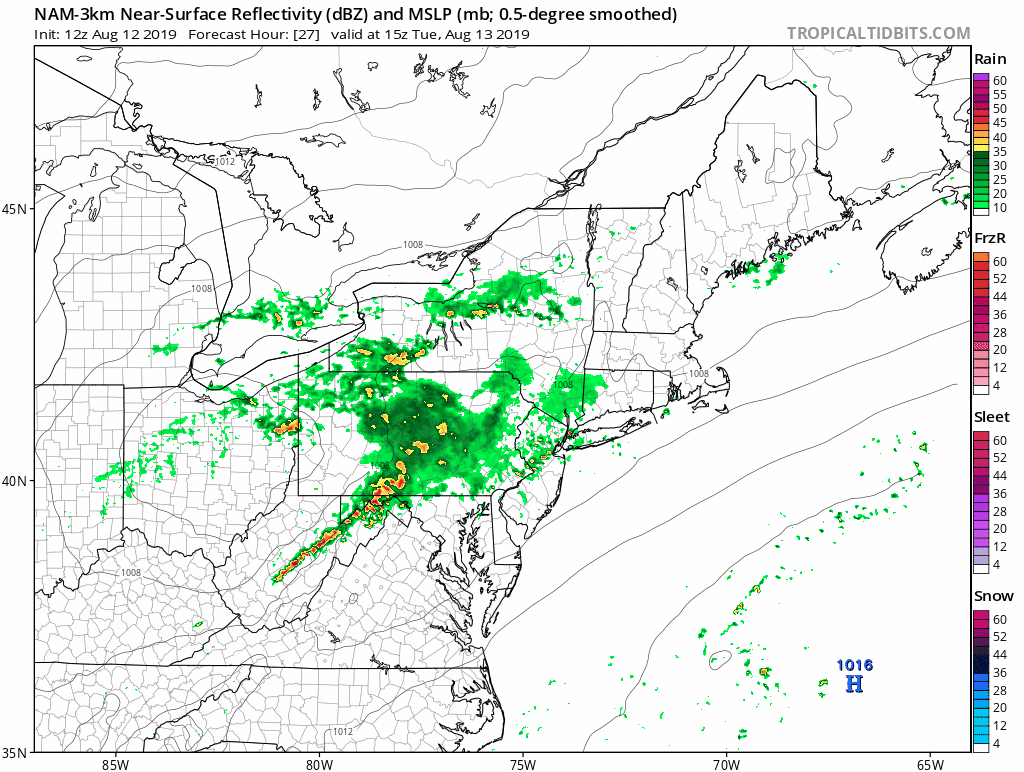 This is not a prolonged bout of precipitation, with clearing skies moving back in for Wednesday. Temperatures will be near 80 today.
With increasing sunshine, dew points will fall somewhat tomorrow. This will not be the super dry air we had the past few days, but still more comfortable than this afternoon.
There's a bit of a question as to how fast humidity returns over the upcoming weekend. Most of the models agree that it's going to become a lot more uncomfortable as we head through Saturday and Sunday. It would not be out of the ordinary for us to go through a solid week of very humid conditions.
We could need to wait that long before significantly dry area arrives sometime that final week of the month. Last year, almost the entire month of August was humid. Already, it won't be as bad as that because of the dry days we've had.
I'm also already starting to peek at September. There was really no fall weather last year until October, so nights continued to be warm well past Labor Day. We'll have a better idea of how the pattern looks for next month in another week or two.
You can follow my updates here and on Twitter @growingwisdom.
____
Tuesday: Warm and humid. Developing showers. Highs around 80.
Tuesday night: Evening showers, muggy. Lows 63-68.
Wednesday: Less humid, sun and clouds. May shower early. Highs 75-80.
Thursday: Partly sunny. May shower. Highs in the mid- to upper 70s.
Friday: Sunshine blended with clouds. Highs 75-80.
Saturday: Sunshine and some clouds. Highs in the upper 70s.
Sunday: Continued summer pattern. Highs within a few degrees of 83.