5 Things To Do This Weekend, From A Multicultural Festival To A Nick Cave Installation
This article is more than 3 years old.
Leo season should be infusing you with the energy it takes to enjoy these last few weeks of summer. With two weeks of August behind us and autumn to look forward to, now is the time to take advantage of the warm days and cool nights. It's up to you to take the kids with you or leave them at home but no matter the choice, we've got a lineup of things you should check out this weekend in Boston and beyond.
Saturday, Aug. 17
Roxbury and Dorchester are home to vibrant, growing diverse communities. For the past 30 years, DSNI has celebrated this diversity through its Multicultural Festival. This year, join the nonprofit for a day of music, food and cultural exploration that focuses on empowering residents of the area. Acts like Michelle Smallie and Samba Viva will take the stage. For those with kids, there's a "tot lot" on site as well as plenty of board games for children and adults to partake in. And who doesn't enjoy a chance to have their face painted?

---
Through mid-September
These aren't your run-of-the-mill holiday inflatables. Artist Nick Cave stitched together a multitude of inflatables to create colorful, whimsical sculptures that inspire as much joy as they do curiosity. Cave, an internationally-renowned artist well known for his sound suits, seeks to bridge the gap between art and community engagement. "Augment" is free and open to the public and is on view at the BCA until mid-September, when the inflatable sculptures will be marched through the streets of Boston. (Read Amelia Mason's piece on Nick Cave and "Augment.")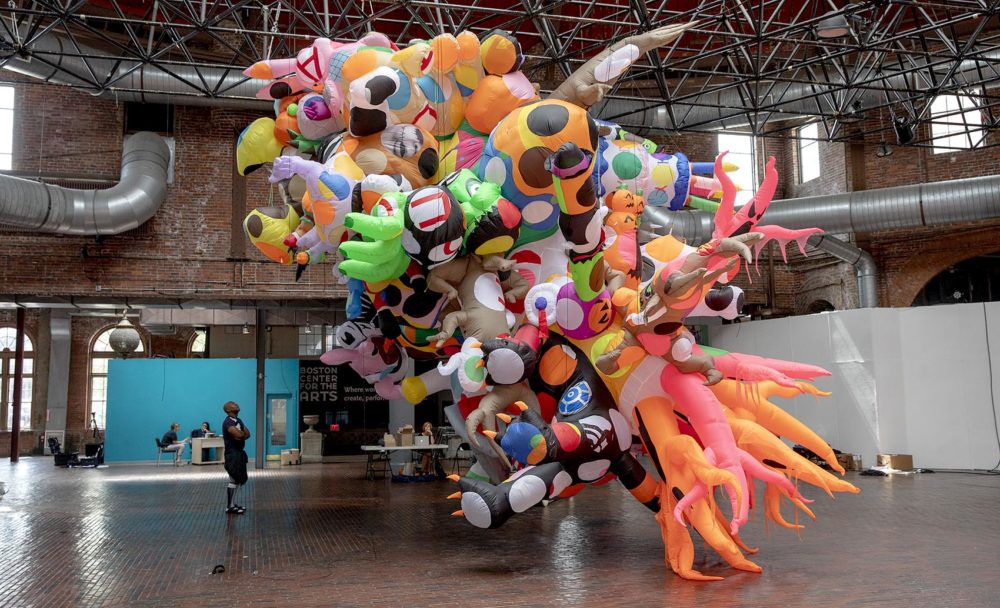 ---
Freedom Through Art Collective Exhibit
CultureHouse, Cambridge
Through August
For many, art acts as a vehicle of freedom. But what if there are barriers to creating art? The Freedom Through Art Collective is comprised of 26 artists across Massachusetts who were or are currently incarcerated. For the incarcerated artists, creating artwork behind bars is difficult — often, art making materials are considered contraband and are forbidden. This exhibit is a way for the collective to showcase its work to the general public without the weight of their convictions hovering over them. The exhibit is on view through August and is free and open to the public. (Read Jacquinn Sinclair's piece on the Freedom Through Art Collective.)

---
Sunday, Aug. 18
I've written before about my hometown of Mattapan and its negative reputation that's perpetuated by the media and the general public. #MattapanLove is dismantling these uninformed perceptions of our neighborhood through a series of summer festivals at the Ryan Playground. Combining outdoor activities like Zumba and Afrobeats dance classes with music and access to fresh, locally grown foods, #MattapanLove seeks to establish the neighborhood as a conduit and destination for art and culture. This is their last one so catch it before it's over for the summer. Rapper Red Shaydez takes the stage and Design Museum's "Mobile Exhibition: We Design" will make an appearance.

---
Through Sept. 29
Playwright Cliff Odle's "The Petition" interrogates the problematic history of Massachusetts. The play features historical figure, Prince Hall, and his push in the late 1700s to end slavery in the Bay State. As America was fighting for its independence from the British crown, black Americans were enduring enslavement and discrimination in Massachusetts. This immersive theater experience thrusts audience members into the room where Prince Hall met with the Royal Governor to champion the end of the slave trade. The audience will have the opportunity to offer testimony, standing in for the Boston colonists who would've been in the room as Hall was delivering his speech.