Today's Weather: Hot And Humid
This article is more than 3 years old.
A few showers crossed the area on Sunday evening, but for the most part, it's a warm and humid pattern over the next several days.
With the air flow basically moving west to east, there could be some embedded energy that may produce a shower or thunderstorm the first half of this week.
The National Weather Service has issued heat advisories for certain areas of the region, including portions of eastern Massachusetts and Springfield and surrounding towns, in effect until 8 p.m.
The best chance for these storms will be in the afternoon, and if you get one, you can expect some heavier downpours. I'm not looking for any widespread rain, but humidity levels will remain high. On Tuesday, a cold front is going to try to slip south but won't make it very far. The one thing this may do is lower dew points temporarily for a few hours in the afternoon. This would allow us to feel slightly better, although temperatures will still be very warm.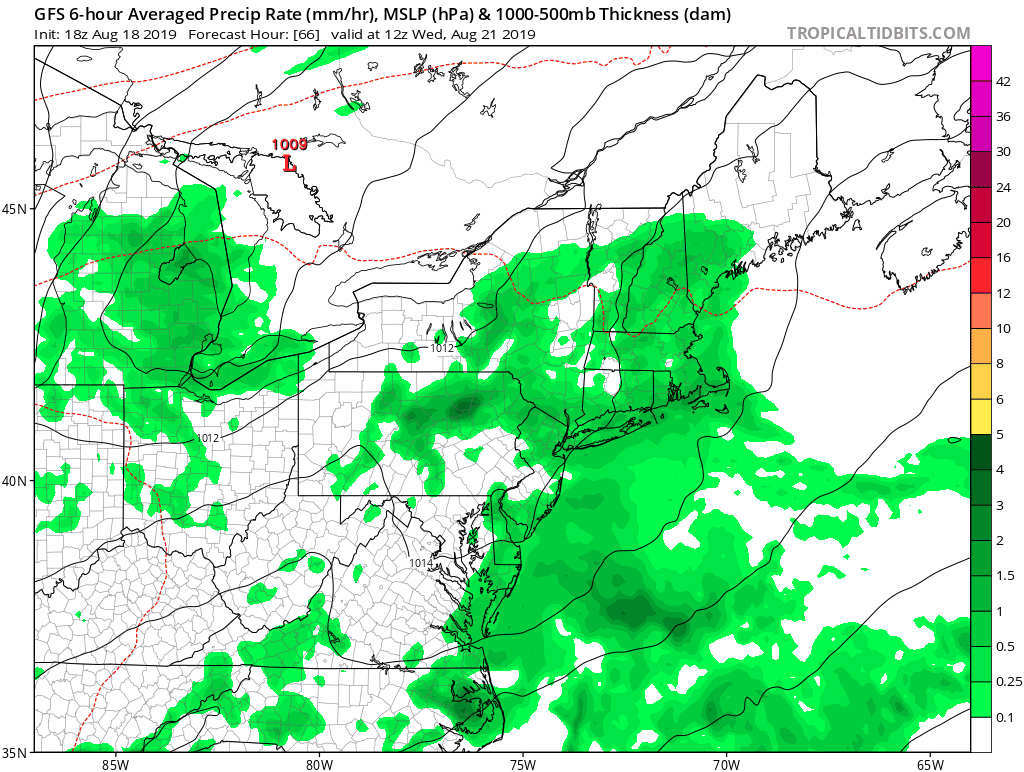 On Wednesday, the heat and humidity are high with temperatures well into the 80s and a few isolated 90-degree readings.
Finally, on Thursday, a stronger cold front will move into New England. As this front passes offshore cooler and drier air will filter in from Canada.
This means the end of the week and the weekend are looking quite nice with temperatures in the 70s to near 80s Friday and Saturday. All told, it's likely a few degrees warmer as we approach Sunday.
Several of us have not had much rain over the past 10 days. The best chance for shower activity will be with this cold front Wednesday into Wednesday night and early Thursday. If you miss the rainfall, the next chance does not come until sometime next week.
You can follow my updates here and on Twitter @growingwisdom.
---
Monday: More warm weather with sunshine. High humidity. Slim risk of a storm. Highs 88-92; 80s Cape Cod.
Monday night: Muggy and warm. May shower/storm. Lows 65-70.
Tuesday: Warm and humid. Sunshine. A few developing showers. Highs around 90.
Wednesday: Humid, sun and clouds. A few showers and storms. Highs 83-87.
Thursday: Partly sunny. Possible shower. Highs in the mid 80s.
Friday: Sunshine blended with clouds. Highs 75-80. Much drier.
Saturday: Sunshine and some clouds. Highs in the upper 70s.
Sunday: Continued sunny and dry. Highs within a few degrees of 80.