5 Things To Do This Weekend, From A Play In A Cemetery To A Block Party
This article is more than 3 years old.
If you faithfully read these introductions, you already know my spiel. I comment on the weather or on the approach of fall to convince you that you should be enjoying the multitudes of arts and culture happenings as a way to enjoy the last bits of sun. But seriously, if you want some interesting and unique things to do to this weekend while you enjoy the crisp, biting tongue of autumn, keep reading.
Sunday, Sept. 22
Calling all Trekkies! If you grew up watching "Star Trek" like I did (my mother was obsessed), then this event is for you. Ever wonder who was behind the creation of the some of the most memorable jewelry and adornment pieces of the Klingons or Vulcans? Hear designer and artist Maggie Schpak speak on her five decades of experience creating jewelry and adornments for Hollywood films and television shows. The event kicks off with a talk with Schpak, followed by a reception where visitors have the chances to meet and speak to her in person. In addition, there's a fabrication workshop where visitors can make "Star Trek" influenced jewelry and body adornments.
---
Sunday, Sept. 22
This free annual block party celebrates the vibrant and growing arts community in Salem. Suitable for all ages, Fiesta en la Calle gives visitors a chance to view the work of international and New England based artists who'll be creating new city murals through the Punto Urban Art Museum. Local food trucks on the premises provide a wide array of choices for sustenance. Need a drink after dealing with your kids and in-laws all weekend? The beer garden on site has you covered.

---
Through May 3, 2021
What does it mean to create an exhibit showing no artwork created by men? This newest exhibit at the MFA does just that. "Women Take the Floor" wrests back the spotlight that's highlighted male artists for far too long, instead concentrating on the female artists who've been underappreciated and undervalued in the art world. The exhibition also coincides with the 100th anniversary of the ratification of the 19th amendment. Pieces by artists like Sheila Hicks, Toshiko Takaezu and Carmen Herrera are showstoppers, positioned next to interactive exhibits like poet laureate Porsha Olayiwola's poetry display and a quote wall curated by feminist organization, The Cauldron. (Read Cristela Guerra's piece on "Women Take the Floor.")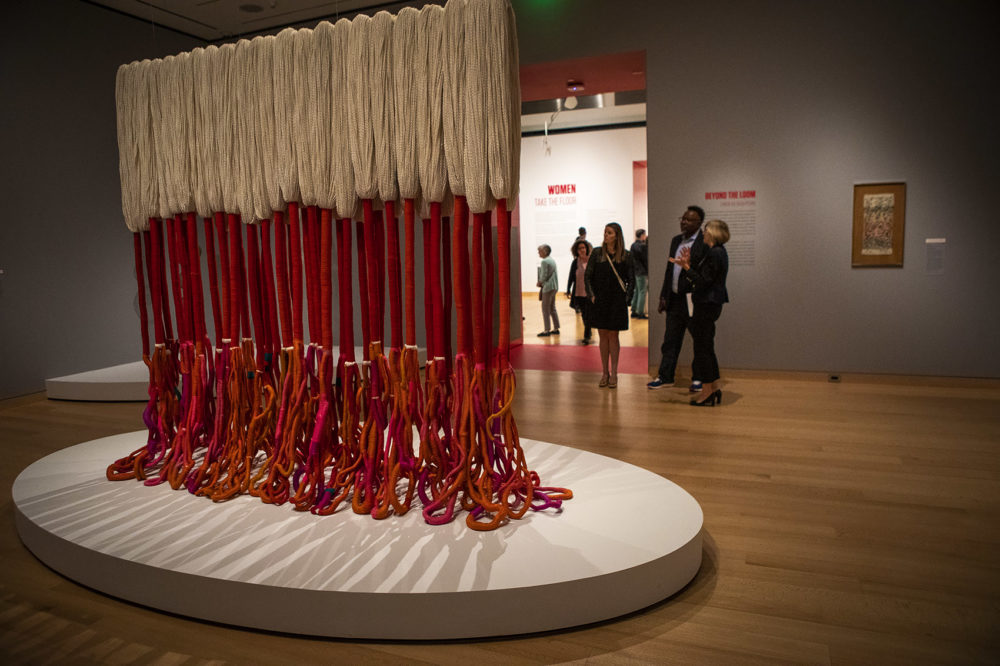 ---
Friday, Sept. 20 - Sunday, Sept. 22
This weekend-long festival takes advantage of MASS MoCA's sprawling campus in North Adams. The music gets off to an early start in the museum's courtyards and the performances move to a large field and finally to the Hunter Center as the night cold closes in. The lineup is incredibly varied, featuring a multitude of indie, rock and folk artists like Mavis Staples, Andrew Bird and Iron and Wine. Saturday and Sunday are accompanied by workshops on art, music and culture.
---
Thursday, Sept. 19 - Sunday, Sept. 22
Cemeteries get a bad reputation. They're often the subject of fear inducing horror film scenes or spine tingling ghost stories but cemeteries can be quite scenic. Mount Auburn Cemetery in Cambridge is well known for its breathtaking beauty. The cemetery, built in 1831, is the setting for "The America Plays," a site-specific performance that takes viewers into the life, happenings and philosophies of figures like Mount Auburn founder Jacob Bigelow, sculptor Edmonia Lewis and women like Harriot Kezia Hunt — all buried at the cemetery. The play shines a spotlight on the history of the cemetery while grappling with some of its problematic past.