Forecast: Mild Veteran's Day, Colder Midweek
This article is more than 3 years old.
After a nice weekend our Veterans Day is going to feature mild conditions, but a lot of clouds. Colder air is trying to work in from the north today, but it won't really get here until tomorrow afternoon.
A storm system will move into northern New England, bringing several inches of snow and even a few spots getting over 6 in across the higher terrain.
If you are traveling north tomorrow, be aware of changing weather conditions in the evening. Tuesday morning will feature some icy conditions in northern New England perhaps down to an along the coastline of Maine.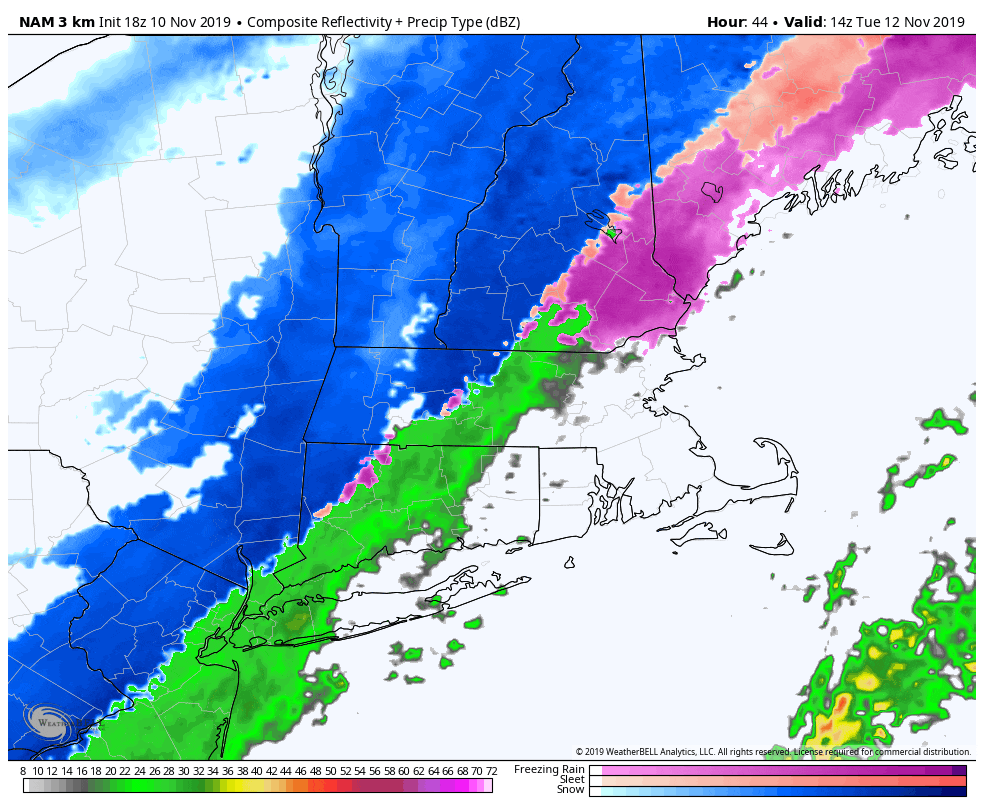 Here in southern New England look for a few showers developing Tuesday and these could end as a brief period of  snow showers. Any accumulation will be relegated to the grass.
What's interesting about Tuesday is that temperatures will be the warmest in the morning and then actually cooling off throughout the day so by the time you had home Tuesday evening it will either be just above or just below freezing.
Speaking of freezing, Wednesday, temperatures won't even break the 32 degree mark for many areas. Those who do will only reach the lower 30s. You can thank a blast of Arctic air for this cold weather.  This is record cold for the daytime high temperatures and the record in Boston goes back to 1874.   If we don't reach 36, a new record will be set.
Things will moderate somewhat by Thursday and Friday as the core of the coldest air moves away.
Early indications are that the second half of the month will not feature a lot of below average air,something to keep in mind as we get nearer to Thanksgiving.
You can follow my updates here and on Twitter @growingwisdom.
---