'Unjustifiable And Unneeded': Lawmakers Urge Halt On Weymouth Compressor
This article is more than 3 years old.
Clark: Impeachment Hearings 'Are Doing Exactly What I Hoped They'd Do'

The public impeachment hearings taking center stage on Capitol Hill this week are a culmination of a careful plan by House Democratic leadership to present a focused, clear case to the American people, and caucus Vice Chair Katherine Clark says the message is landing.
Clark told me she believes the hearings make clear that President Trump, in an effort to boost his re-election bid, abused his power with a scheme to pressure Ukrainian officials to announce an investigation into potential political rival Joe Biden.
Privately, some Democrats on the Hill have told me they are concerned that the flood of information coming from the impeachment probe — and the frenzied counter-messaging from congressional Republicans and Trump's White House — may be overwhelming, leaving the American people feeling more overloaded than informed. Or, they said, it could do more damage than good, galvanizing Trump's supporters and boosting his re-election efforts.
But Clark said the live testimony of career diplomats, civil servants and other officials whom she called "patriots" is delivering. And she said Democratic lawmakers are doing their constitutional duty to hold the president accountable.
"The hearings are doing exactly what I hoped they'd do: put the facts out there for the American people to judge," Clark told me.
She also has strong words for her Republican colleagues, who have almost in unison defended the president and blasted the impeachment process as unfair.
"The complicity with this president, choosing this president and loyalty to him over everything else is not only disappointing, I feel it's dangerous," Clark said.
For more from Clark, including what her political future may hold, see my feature here.
Lawmakers Urge Halt On Weymouth Compressor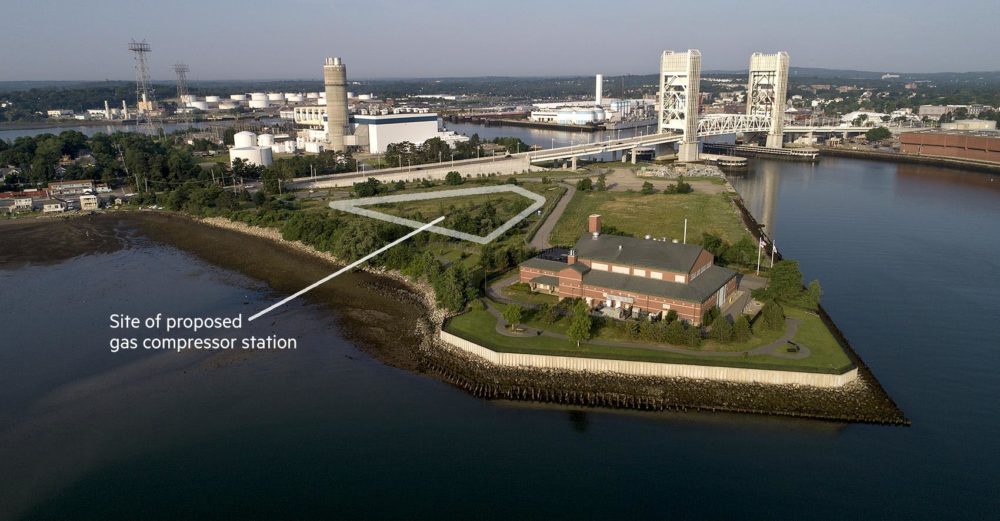 Rep. Joe Kennedy and Sens. Ed Markey and Elizabeth Warren are again pressing federal officials to stop the proposed Weymouth compressor station.
After a site visit this week, Kennedy asked the Federal Energy Regulatory Commission (FERC) to halt the project.
"The unique risks this project poses to the surrounding community of homes, schools, and a water treatment site, compounded by the recent revelations that there's not even demand for it, should be taken seriously," Kennedy said in a statement Monday.
Warren and Markey wrote a letter to FERC calling for it to reopen the decision to approve the project, citing statements from National Grid and Eversource — and first reported by WBUR — that the utilities don't need the compressor to fulfill customer energy needs.
"The construction and operation of this facility would cause significant residual adverse effects in the Weymouth community, and we urge FERC to acknowledge in its review of the needs assessment that this facility is unjustifiable and unneeded by natural gas customers," the letter stated.
Last week the project passed one of its final regulatory steps for completion, despite the objection of opponents who say it doesn't meet public safety, health and environmental standards.
Bill To Boost Pipeline Safety After Merrimack Disaster Advances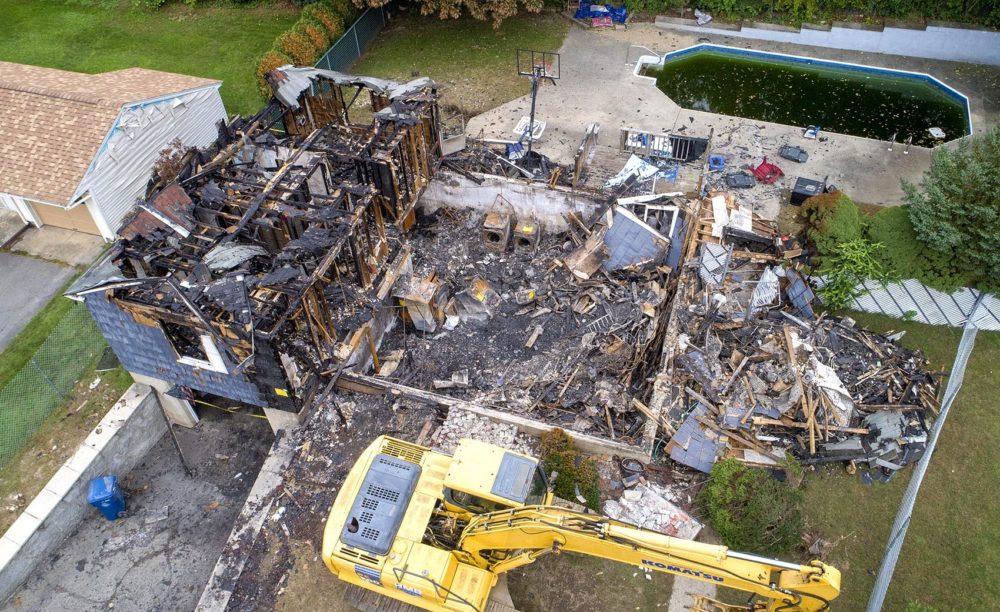 Key provisions of pipeline safety legislation filed by Massachusetts lawmakers in the wake of last year's deadly Merrimack Valley explosions were included in a bill that passed out of a House committee this week.
Parts of the Leonel Rondon Pipeline Safety Act — named after the Lawrence teen killed by the explosions, which resulted from faulty pipe work on a Columbia Gas line — were included in the Safer Pipelines Act of 2019 advanced by the House Energy and Commerce Committee.
The measures were introduced by Reps. Lori Trahan and Seth Moulton, Warren and Markey, and would boost oversight and regulatory authority over pipeline construction and maintenance, and require stronger emergency response protocols. The provisions were offered as an amendment to the larger bill by Kennedy, a member of the committee.
"A top priority of mine is making sure that no other community in the United States has to go through the sort of disaster that Lawrence, Andover, and North Andover experienced thirteen months ago," Trahan said in a statement.
3 More Things:
1. Kennedy Files Transgender Remembrance: Kennedy commemorated International Transgender Day of Remembrance with a resolution honoring the nearly two dozen transgender people killed in the country so far this year.
"With this resolution, we raise a unified voice to ensure that all transgender Americans know that they are seen and heard," said Kennedy, who chairs the Congressional Transgender Equality Task Force. "But more than that, we recommit to a nation and a world where their lives are valued equally by their government and that this crisis of violence against trans Americans, particularly trans women of color, is seen for exactly what is."
2. Markey Takes On Airline Fees: Ahead of the holiday travel rush, Markey reintroduced the Forbidding Airlines from Imposing Ridiculous (FAIR) Fees Act, legislation that would curb disproportionate flight cancellation, change and bag fees.
"It should not cost more to change an airline ticket than the original cost of the ticket, period," Markey said in a statement. "Airlines should not bilk passengers just because they need to check a couple of bags."
3. Trahan Draws Support In Baseball Battle: Trahan's efforts to halt a move by Major League Baseball to cut ties with 42 minor league teams — including the Lowell Spinners — has the bipartisan support of more than 100 other lawmakers.
In a letter to MLB Commissioner Rob Manfred, Trahan and other members of Congress urged the league to abandon the move, saying it would deal economic and cultural blows to communities across the country.
"Reducing the number of Minor League Baseball clubs and overhauling a century-old system that has been consistently safeguarded by Congress is not in the best interest of the overall game of baseball, especially when Major League Baseball's revenues are at all-time highs," the letter said.
---
WHERE'S WARREN?
A look at where the senator's presidential campaign is taking her next:
On Thursday night, Warren will again appear on the road with Rep. Ayanna Pressley, this time at Clark Atlanta University. Pressley endorsed the senator for president earlier this month and then stumped with Warren in North Carolina. Warren's campaign tweeted a preview video of the Thursday event in Georgia.
On Saturday, Warren is in New Hampshire, in Salem and Manchester, and then she will take advantage of the Senate break to travel to Iowa twice — once before and once after Thanksgiving. Next week she'll be in Des Moines, and the weekend after Turkey Day she'll campaign in Waterloo, Marion and Iowa City.
---
TWEET OF THE WEEK
Former Gov. Deval Patrick, who last week launched his late-entry presidential bid, was met this week with small but receptive audiences in South Carolina, as my colleague Anthony Brooks reports.
But an event in next-door Georgia Wednesday underscored his challenge:
---
QUOTATION OF THE WEEK
"I could do some real mischief. And nothing would give me greater pleasure to create enough trouble for Trump that he wouldn't win. It wouldn't be winning, but it's fine with me."

Former Gov. Bill Weld, on why he's waging an admittedly long-shot Republican primary challenge to Trump, at a Dartmouth College roundtable
---
ON MY RADAR
— Pressley and Abigail Spanberger of Virginia were part of a wave of Democrats who took office this year full of hope. Maintaining it has not been easy. (New York Times Magazine)
— How America's Elites Lost Their Grip: America loves a capitalist reckoning the way the NFL loves Colin Kaepernick. But it is having one anyway. (Time)
— The Invention of Thanksgiving: Massacres, myths, and the making of the great November holiday. (The New Yorker)