Today's Weather: Temperatures Will Stay Below Freezing, Before Rising To 60s This Weekend
This article is more than 3 years old.
As we start Thursday, we will be stuck in cold Arctic air for about a day before things start getting mild again. Then, it turns unseasonably warm for the weekend.
Temperatures today will stay under the freezing mark, making for one of the colder days we've had so far this winter. The average temperature for the month of January continues to be well above where you'd expect, and it's going to get even higher.
Tonight, we'll still be chilly with clouds arriving, as warmer air moves at high levels of the atmosphere. During daylight hours Friday, I expect temperatures to get into the 40s — nearly 15 degrees higher than we will see this afternoon. As a warm front moves north, we will bump into the warm sector Saturday and remain there for much of the day Sunday.
Temperatures over the weekend will reach into the lower 60s Saturday, and could even reach the mid-60s Sunday, before the cold air comes back down from northern New England.
There could be a few showers either day, with a better chance for Sunday. If you're driving from north of New England down to Boston that day, or from southern New England up toward Maine, you can expect an incredible change in temperature. As a matter of fact, if you went from Boston to say, Caribou, Maine, you could experience a 60-degree drop on your way north.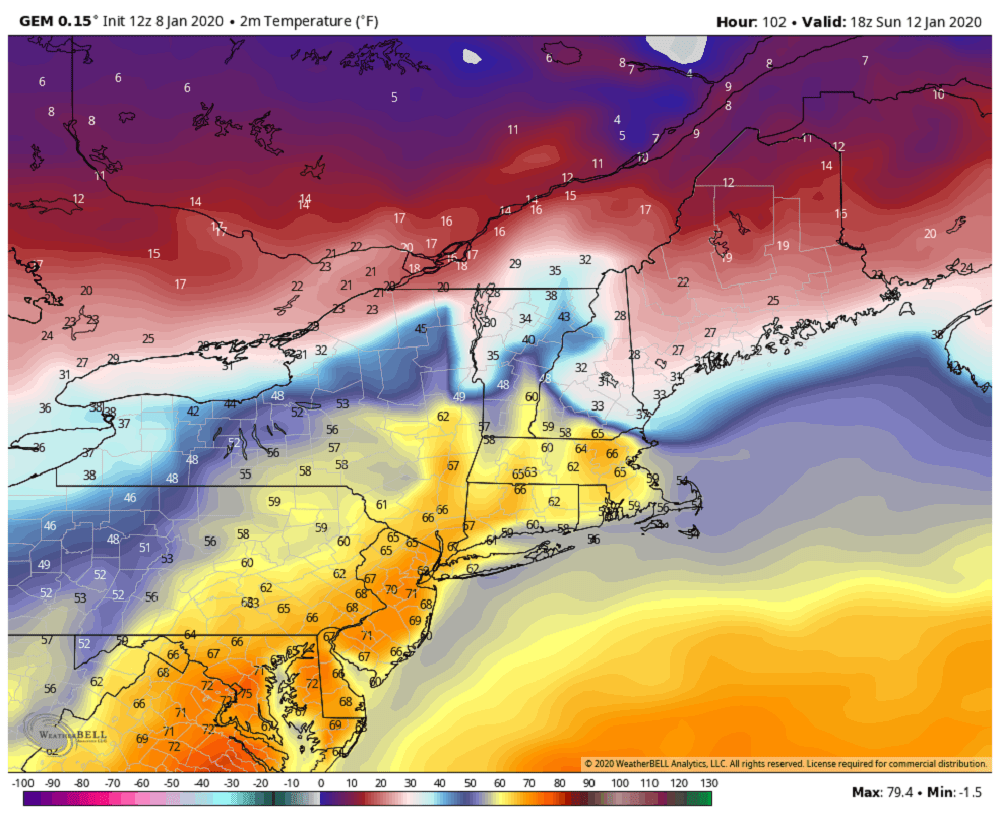 Sunday night returns temperatures to slightly more seasonable levels, although I still don't see any Arctic air in sight.
Monday through Wednesday of next week, I expect temperatures to get into at least the 40-degree range, or a little bit higher. Overnight lows in Boston may actually stay slightly above freezing and the suburbs will probably have readings just below.
The bottom line is that the first half of January is going to end up in the books as exceedingly warm, and perhaps the warmest start to January ever on record. We will have to see whether this pattern continues.
You can follow my updates here and on Twitter @growingwisdom.
---
Thursday: Sunshine and colder. Low wind chill early. Highs 25-30.
Thursday night: Clouds increase, still cold. Lows 15-20.
Friday: Cloudy, late rain showers. Highs 43-48.
Saturday: Mild with near-record warmth and a few showers. Gusty breeze. Highs 60-65. Cooler Cape/Islands.
Sunday: Mild early. Highs 60-65. Some showers. Turning colder northeast to southwest late in the day.
Monday: Dry and seasonably cold. Highs around 42.
Tuesday: May shower late in the day. Highs 42-46.