WBUR Analysts: 'Warren and Sanders Should Stick to the Issues' In Iowa Dem Debate
08:09
Play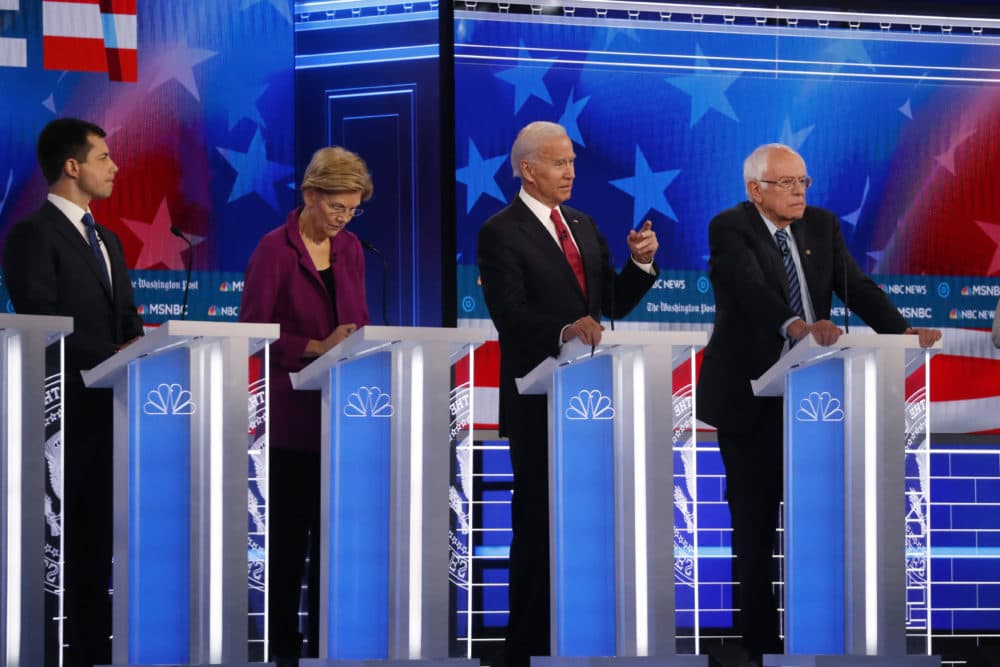 Just six Democratic presidential candidates are set to take the stage Tuesday for the presidential debate in Iowa.
While the top contenders are clearly Sens. Bernie Sanders and Elizabeth Warren, former Vice President Joe Biden and former South Bend, Indiana Mayor Pete Buttigieg, polls show no clear front-runner among them, with less than a month to go until the Iowa caucuses.
U.S. Sen. Amy Klobuchar and billionaire businessman Tom Steyer will also be on tonight's debate stage.
All eyes tonight will be trained on Warren and Sanders, whose longstanding non-aggression pact looks set to crumble under increasing pressure from just several days of inter-campaign conflict.
In the wake of a Monday CNN report, Warren now says Sanders told her in a private 2018 meeting that a woman could not win the presidency — a claim Sanders vigorously denies.
This comes after a leaked Sanders campaign script made waves over the weekend. Politico reports that the script instructed door-knocking Sanders volunteers to argue that Warren's supporters are "highly educated, more affluent people" and that Warren will not be able to expand the base of the Democratic party.
WBUR Morning Edition host Bob Oakes sat down with Democrat Michael Curry, former president of the Boston NAACP and former Republican Gov. Jane Swift to discuss the upcoming debate.
Interview Highlights
On whether the Sanders-Warren truce is over
Michael Curry: "I think it's predictable at this point in the race that there would be some jockeying, some tension, even among friends. You know, I find it troubling that many people in America might think that a woman can't win ... I think that's real; people believe it. Like they thought an African-American couldn't become president. Even some African-Americans thought that, like some women may believe that a woman can't be president. It's troubling. ... It doesn't sound like something he [Sanders] would say. But I know Sen. Warren and I know she would not lie about that. So I think it is disturbing."
Jane Swift: "... I think the opportunity that emerges on a smaller stage tonight is, from my standpoint, the most electable candidate is one who hasn't really emerged yet, although she had a little glimmer. And that's Amy Klobuchar ... I think both Amy Klobuchar and Tom Steyer ... get legitimacy because they made it there. And we'll see what they have to say."
On why Warren appears to be falling in the polls
Swift: "I think that there's this electability issue, and I don't think it has anything to do with being a woman. I think it has to do with [the fact that] she is extremely liberal. ... folks are worried about who can beat Trump. And I think that will be the focus tonight."
"I will say I've heard that Elizabeth Warren is extremely organized in Iowa. And I went to Iowa four years ago. I didn't fare well with the candidate I was trying to help. But I can tell you, being organized matters there."
Curry: "I actually would disagree a little bit in that I think there is an element of, 'Can a woman win?' People believe that."
On what to expect from fellow Democratic front-runners Biden and Buttigieg 
Curry: "I think Buttigieg — I mean it's actually impressive. Many of the folks like myself who did not think Buttigieg had a chance now see him really at the top of the polls, both in New Hampshire and Iowa. I think his goal is to continue to climb, is to really differentiate himself. ... you have to make the argument that I'm a candidate with with the more practical policies and I can advance and become the nominee."
"Biden has to not lose ground. You know, it's often said about Iowa in particular that there's only three ways out: first class, coach and standby. ... So Biden wants to be in first class when he leaves Iowa. And we'll see some people dropping out probably after this debate."
Swift: "[Buttigieg] really has caught fire. I've been surprised how many Democrats have quietly said to me without mentioning why, 'Gee, not sure he's electable.' And he's got to continue to appeal because he really is the ... middle America candidate, and he has to get over a level of prejudice that people aren't even willing to name."
On how foreign policy may come up in the debate in the wake of conflict with Iran 
Swift: "I think that's a real opportunity for Klobuchar and Buttigieg, who have some real experience — personal experience for Buttigieg. ... I was helping John McCain many years ago, and he had all the foreign policy experience in the world. And then Lehman Brothers hit and it was all about the financial crisis, and that really evaporated his campaign. So events can change the composition of races quickly. And there's the chance that international issues may do that this time."
This article was originally published on January 14, 2020.
This segment aired on January 14, 2020.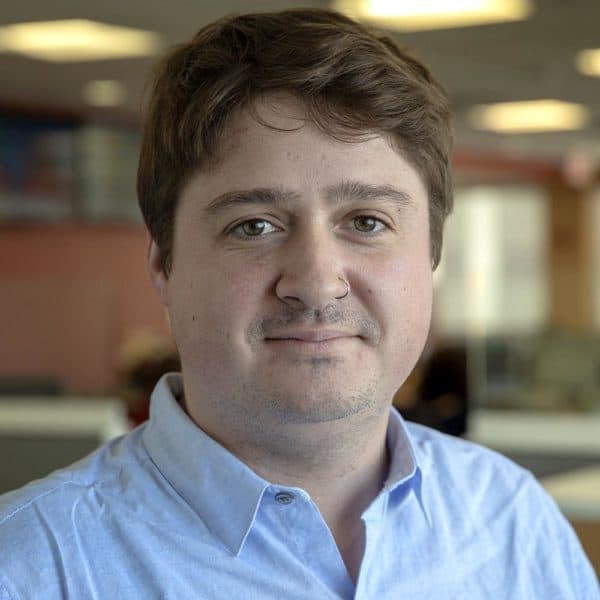 Wilder Fleming Political Producer
Wilder Fleming is a political producer at WBUR, focused on the path to November 2020.