Weekend Weather: Very Cold Today, Snowy Saturday Night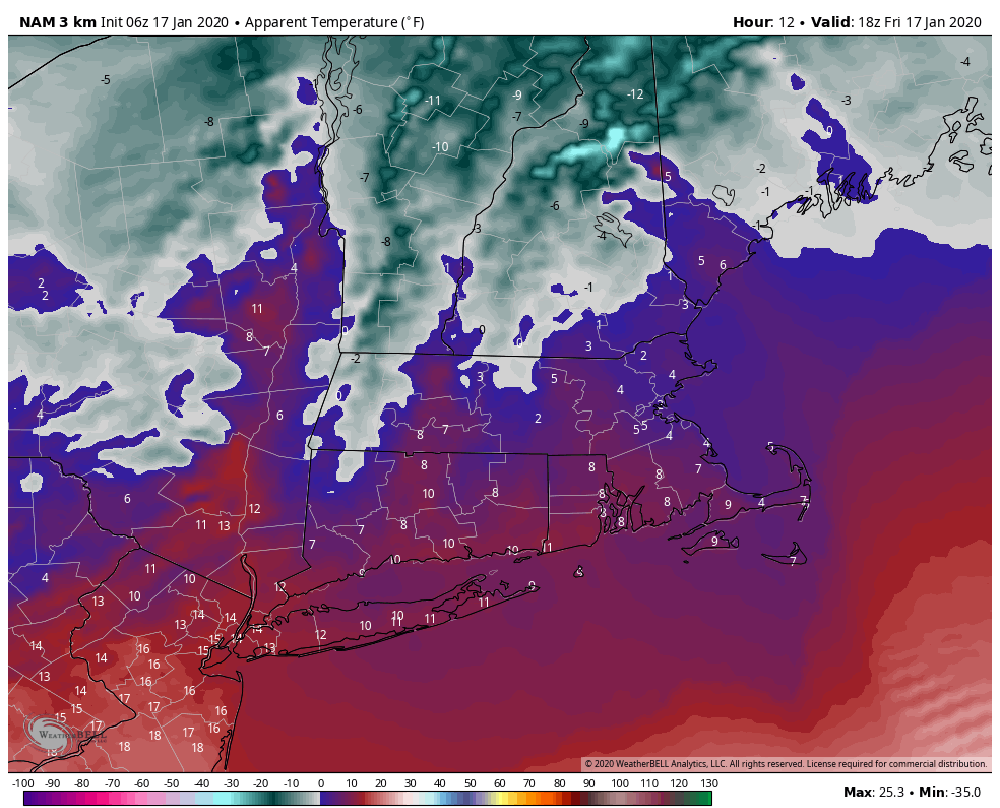 Low pressure moved up into the Canadian maritimes last night, allowing a brief blast of Arctic air to arrive. Overall, this hasn't been a cold and snowy winter, and we haven't seen a lot of Arctic air.
So far, nearly every day this month has been above-average, and this will be one of the rare days that's below. This is also likely the first day where temperatures have stayed under freezing this month.
The Arctic air is a key factor in the snow that's arriving tomorrow evening. It looks to me like we will have several hours of snow, starting between 4 and 6 p.m.
Eventually, the snow will mix with and change to rain along the coastline, but much of the storm could end up being snow north of Route 2 and west of Route 495. It is in this region that there is the possibility for up to 6 inches of snowfall. There is a winter storm watch posted west of the coastline. This is likely going to end up being a winter weather advisory in some areas, and a winter storm warning for the areas most likely to see 6 inches of snow.
The storm will pull away Sunday, leaving us with clearing skies and breezy conditions. The skiing will be much better than it has been and it's amazing to think that last week at this time, we were looking at 70-degree weather.
I don't see any more snow for a bit after Saturday, but I also don't see a lot of melting. I suspect that whatever snow is on the ground Sunday evening will still be there for several more days next week.
We are going to have a couple of chilly days for Monday (Martin Luther King, Jr. Day) and Tuesday with readings mainly in the 20s or 30s.
You can follow my updates here and on Twitter @growingwisdom.
---
Friday: Partly to mostly sunny and cold. Highs 23-29. Low wind chill near 0 this morning.
Friday night: Clear and cold. Lows 5-15.
Saturday: Partly sunny, then cloudy with late day snow. May change to rain at night. 2-4 inches in Boston. More north and west, less Cape/Islands. Highs in the 30s.
Sunday: Leftover snow or rain showers. Then partly sunny and blustery. Highs in the 30s.
Monday (MLK Day): Mostly sunny, mid-20s.
Tuesday: Mostly sunny. Highs 21-27.