Today's Weather: Below Average Temps Bring Chilly Day Ahead Of Showers
Sunshine graced the area all weekend long, with seasonably cool temperatures. You might have noticed how dry it got Sunday, as high pressure continued to build in from Canada. This brought in modified Arctic air, which in turn, meant the relative humidity was quite low. That continues today.
Today, we find one more day of dry and relatively sunny conditions with temperatures very chilly this morning. There are teens and 20s across the region. This afternoon, we will find readings staying mainly in the 30s. This is of course below average for this time of year, and I suspect I might find some damage to some of my early flowering trees after the sun gets higher.
A small area of low pressure will approach the region overnight and bring some clouds, keeping temperatures from getting quite as cold as last night.
Some precipitation starts to arrive Tuesday. While the main area will be rain, at the very start of Tuesday morning there could be a bit of snow north and west of Route 495 toward Route 2, with a brief coating on some of the grassy surfaces.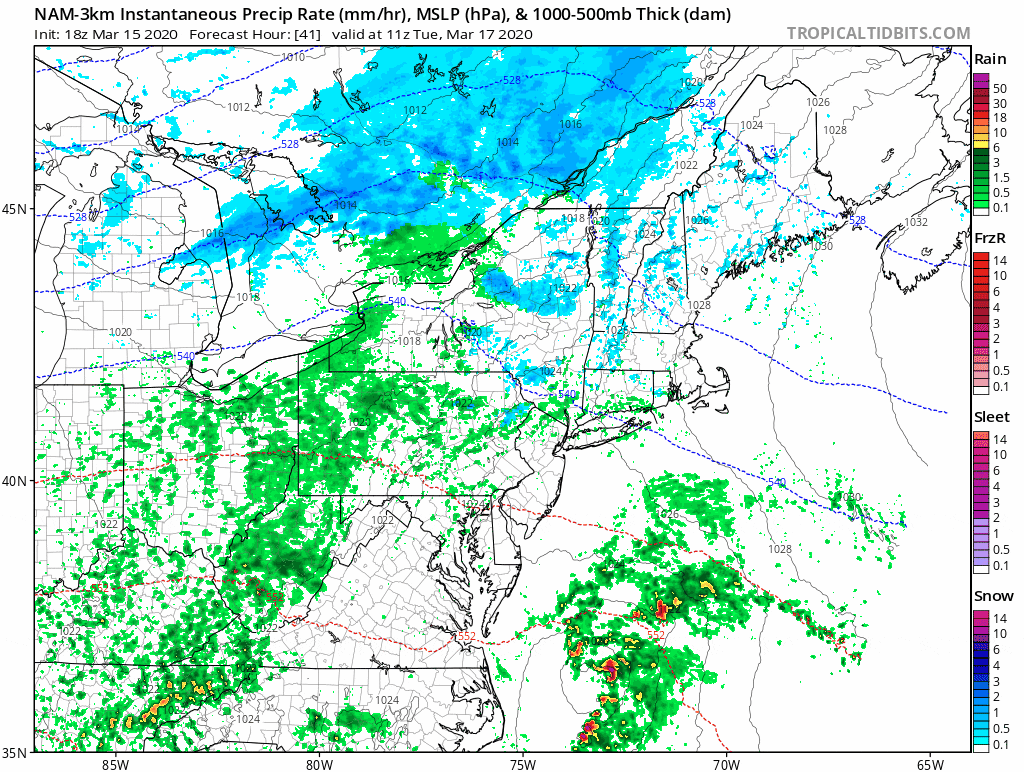 Thursday and Friday bring a renewed chance for showers. Once again, at the very beginning of this weather system, there could be some wet snow inland — but I'm not expecting any significant accumulation. As a matter of fact, Friday could be back into the 60s before we clear out and cool off for the upcoming weekend.
You can follow my updates here and on Twitter @growingwisdom.
---
Monday: Sunshine, few clouds. Highs 35-40.
Monday night: Clouds. Lows 29-35.
Tuesday: Cloudy, some rain showers developing. Could be some snow to start far north and west. Highs 45-50.
Tuesday night: Any showers end, clearing. Lows around freezing.
Wednesday: Sunshine and a few clouds. Highs 45-50
Thursday: A chance of snow showers early, then rain showers likely. Mostly cloudy, with temperatures in the mid to upper 40s late day.
Friday: Chance of showers. Highs 60-65.
Saturday: Sunshine and seasonable. Highs near 50.
Sunday: Partial sunshine. Highs 43-48.