WBUR Photographers Share Their Tips For Taking Great Photos On Your Phone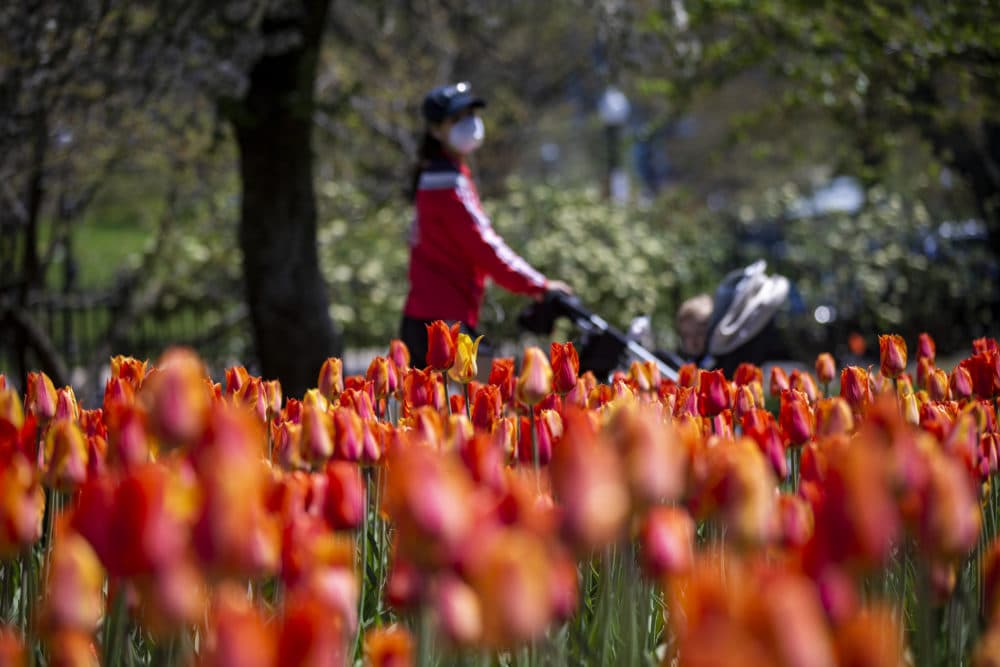 During the coronavirus outbreak, I didn't expect to be taking more photos and videos on my phone. But I am. I'm stopping to grab a shot of the flowering trees, my freshly baked banana bread, my sister hard at work in our home office, my workouts. Taking and sharing photos has become a glimpse into my new reality, and it's the same for many Bostonians. Photography has become a way to stay connected, do something creative and document this extended time together with family, friends or just ourselves.
WBUR photographers Jesse Costa and Robin Lubbock shared some tips for anyone looking to sharpen their photography skills during this extra time at home. Don't worry; you don't need any supplies for your new at-home pastime. Costa and Lubbock said all you need is your phone and an understanding that there are no real rules.
"You know, there's just life and your camera,"Lubbock said. "And then there's these sort of ideas that might help you."
This interview has been lightly edited for clarity. 
Keep it interesting
Costa: Look for color. Look for shadows. You know, anything that would look sort of compelling or different.
Lubbock: And make sure you have a good picture. What I mean is: If it wasn't you, would you be interested in seeing it? Is it something that's really interesting that people are going to want to see?
When in doubt, follow the rule of thirds.
Costa: Basically you can break up your view finder or the photograph you're taking into nine spaces, like a tic-tac-toe board. If you position your subject and whatever is in the background, along the lines or within one third of the squares, you'll wind up with a good basic composition for your photo. It doesn't always apply; it's just a basic rule, but it's a good one to follow.
Lubbock: Another suggestion is to think about whole things. So a whole tree, a whole house. A whole person. Don't lose one little bit of it. You can take their face or that sort of top half, but don't take all of them and then chop off their feet.
Hold your camera still until after you've finished taking the photograph.
Lubbock: Don't kind of hit the thing and pull your camera away. You've got to hold that thing still, hit the button, then think about moving it. 
Costa: Lean up against a tree, lean up against a pole, use a fence. Use anything that you can. We get in situations where we're shooting in such low light that we have to shoot at a really slow shutter speed and it's not always ideal to have to do that. I usually try to find something that's stationary so you can sort of prop yourself up and give yourself that extra stabilization.
Scan the background for any distractions before you take your shot.
Lubbock: Just before you hit the button, run your eyes around the edge of the frame and make sure there's nothing coming in that maybe you don't want or something going out that you do want... And if something ends up in your shot, cropping is certainly a good way to get rid of distractions.
Get the lighting right.
Costa: Don't shoot into your window. Make sure you have a good light source that's not behind the person that you're shooting. And with food photography, bring your dish – or whatever it is that you're cooking – toward the window or outside. Natural light from the window is your best friend for food photos. It's primarily what we do at the station because we don't have any type of fancy lighting setup for that type of stuff.
Make sure your focus is in the right place.
Lubbock: You can always do that by just putting your finger on the face of the person or thing you're trying to shoot [on the screen]. For video, making sure you're capturing the right thing and focused means following the action. Figure out where the exit is going to be, frame it up and let the action play out in your frame.
Stop shooting vertical images.
Costa: I know that it's native to Instagram and a lot of those social media platforms, but I hate it – especially with video. I feel like I'm getting whiplash because people are moving around so much because they're not able to get as much into the frame as they would like. In my mind, the only reasons you should be shooting vertically is if can't get everything you want in a photo or you're shooting a magazine cover. If you turn the camera horizontally, you will wind up getting far more stuff in your photo and you'll actually portray more of the peripheral vision that every person has.
Learn how to use the editing tools on your iPhone.
Costa: You don't have to use what you get after you shoot it. You have all the tools necessary right on your phone. You can increase the contrast, you can adjust the saturation, you can alter the highlights and all that stuff. So just play around with those tools and get to know them because they're fairly easy to use. Once you start playing around with them, look at some other photography and see what types of things that you like about other photographs. You can then try to emulate that in your own photographs, too.
---
Have you taken any good photographs showcasing where you are or what you've been doing during the pandemic? Share them with us on Twitter or Instagram.