Across Massachusetts, Gatherings To Remember Ruth Bader Ginsburg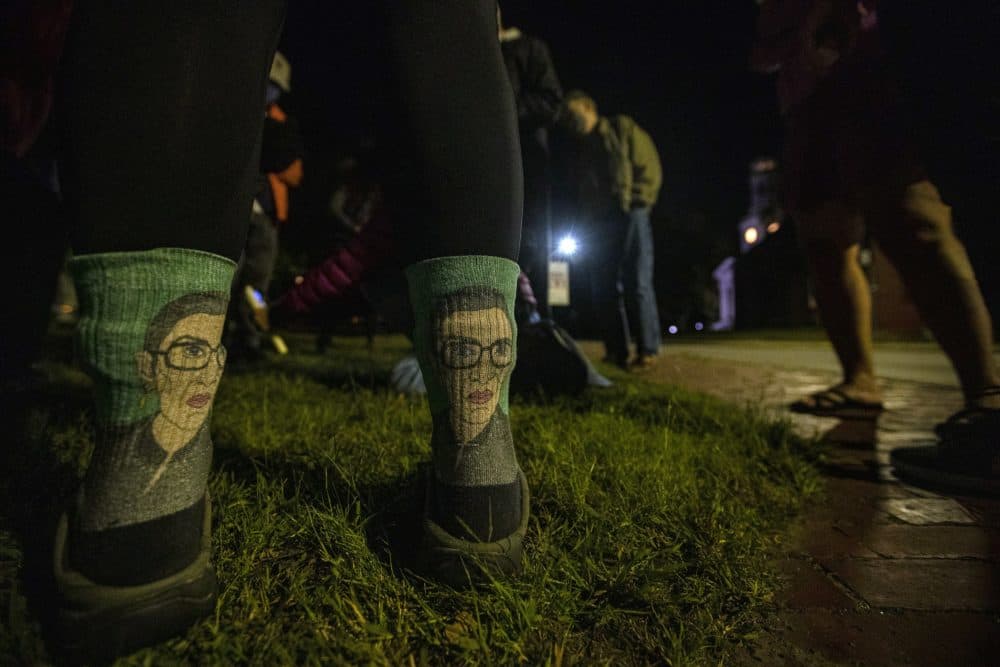 This article is more than 1 year old.
Throughout the weekend, public gatherings took place in communities across the state to honor the late Supreme Court Justice Ruth Bader Ginsburg, who died Friday night.
In communities including Cambridge, Concord, Medford and Lowell, people came together to mourn the loss of the legendary jurist.
On Sunday night, just before sunset, about 40 people gathered in front of Trinity Church in Copley Square in Boston. They lit candles, and at one point during the brief gathering, participants vented their pain into the chilly air, joining together in a sort of primal scream. The gathering was organized by the nonprofit Boston Sisters of Perpetual Indulgence.
"Just because we never met her, doesn't mean our pain is invalid," said Sister Sandra Music. "For many of us, she stood as an example of what we can and should be."
To honor Ginsburg's legacy, Music urged people to make their voices heard by voting.
Gail Miller, an East Boston resident, came to the vigil to pay her respects to Ginsburg, who she said was "someone who has led us to paths we never before realized we could walk down."
Looking ahead, Miller said that she feels "fear" about the vacancy Ginsburg leaves on the country's highest court, and how that person may change the country.
"I only hope that people in the Senate will come to their senses and not be so partisan," Miller said, "and just really work together to put a decent jurist there, whether it's now or after the election. But it's just got to be somebody decent."