Dael Orlandersmith's Wrenching Return To Ferguson, Via Merrimack Repertory Theatre
Monumental anger. That's what Edna Lewis, a universalist minister remembers most about the day protesters spilled into the streets of Clayton, MO, after police killed Michael Brown in 2014. Lewis, played by Maiesha McQueen of Broadway's "Waitress" fame, sought to pray with and for folks who gathered in front of the courthouse while the jury deliberated that day. She is one of several composite figures in Merrimack Repertory Theatre's digital version of the one-woman show "Until the Flood" written by Dael Orlandersmith.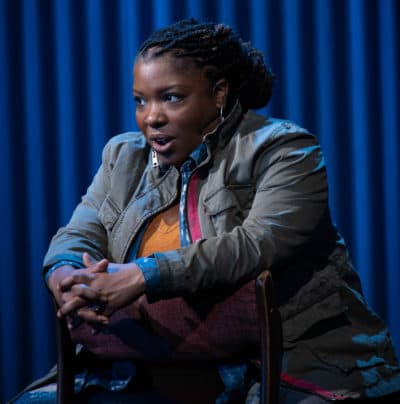 "Until the Flood" was commissioned and produced by The Repertory Theatre of St Louis and opened in 2016. Later the show was produced in several cities across the nation and in Ireland, Scotland, and England. Merrimack's version available now through May 5, marks its New England premiere.
To develop the script after Brown's death, the Pulitzer-prize nominated playwright traveled to Missouri to learn more about how this tragedy affected the community. "What does it invoke or provoke in you?" and "How does this shooting affect you?" are questions she considered. She interviewed a wide cross-section of community members whose stories shaped the fictional characters. The result of Orlandermith's work ("Yellowman," "Beauty's Daughter") is a stunningly painful portrait of a community rife with racism and violence. But also full of family, entrepreneurship, hopes, and dreams.
McQueen masterfully portrays each character, changing her cadence, the timbre of her voice or body language. Under Timothy Douglas' direction, the camera zeroes in on the emotional impact of her delivery — the raising of an eyebrow here, a squint of an eye there. Even slight pauses furthered the power of her delivery.
Admittedly though, it's hard to watch. At certain moments, my eyes stung with angry, often sad tears. As McQueen talks in front of a memorial made of candles, balloons and flowers by a fence, the dimming light signals the emergence of a new character, and music composed by Lindsay Jones punctuates each narrative.
A mix of white and Black, young and old, cop and civilian, share their beliefs, upbringing and innermost feelings about race. There's a young Black teenager who dreams of studying art history who talks his way out of a situation with police; a white property owner who rents to Black families, patronizes a local Black-owned restaurant yet refers to "those dark people, those evil people," as a racial slur to his son; and a teacher who regrets the dissolution of her interracial friendship that bloomed before the killing of Brown.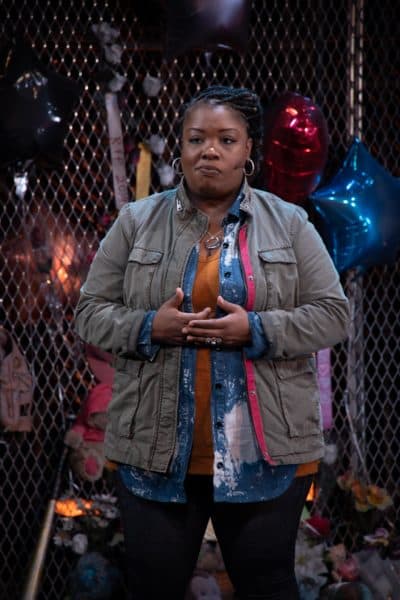 Two older characters, Louisa Hemphill and Rusty Harden, are still at the forefront of my mind. Hemphill, a Black woman in her 70s, talks about how little has changed since her childhood. She remembers her family being "passive racially" and her father as "a man who did not outstep his bounds." In Hemphill's world, everyone knew their place, but she refused. Her annoyance with her dad's stance reminds me of the fictional friction between father Cecil Gaines (Forest Whitaker) and son Louis Gaines (David Oyelowo) in Lee Daniels' "The Butler." In the 2013 film, the younger Gaines, an activist, wrestled with his father's quiet dedication to his job as a butler in the White House. But what about staying alive so the next generation can become a little freer? Should the older generation be begrudged?
Harden, a pro-white 75-year-old retired policeman worked on the force for 30 years. He recalls being surrounded by Black people while wielding a gun. Harden said all they could see was a white man with a gun. At that moment, he had to bear the brunt of every racist thing that's happened to the Black people encircling him. But Harden isn't afraid to die or to shoot, but he'll undoubtedly take someone with him.
What struck me was how both Black and white characters talked of being surrounded, of the blood-thirsty venomous look in each other's eyes, and about wanting to inflict pain on the other during the 90-minute show. There is no easy to way to end such deep-seated wrath. Post show, Courtney Sale, MRT's Nancy L. Donahue artistic director, hosts an arts educator panel and afterward director Timothy Douglas interviews Orlandersmith. Prior to Brown's death, Orlandersmith said in 2013 there were roughly 750 racially themed crimes and in Ferguson, there had never been any Black policemen. Her process for this documentary-style work differs from that of Anna Deavere Smith's approach. Instead of verbatim interviews, she employed a "healthy sense of boundary," when developing the composite figures.
Unlike big-budget movies that can wrap up their tales neatly, this story echoes a real-life tragedy that has no such end. It's been six years since 18-year-old Michael Brown and his friend Dorian Johnson were confronted by police. Though reports differ on what happened next, white police officer Darren Wilson shot 12 bullets after a short interaction, six of which hit Brown. In 2014, witnesses couldn't agree on precisely what happened and Wilson was cleared of any wrongdoing.
Since then, the killings have continued. Before this digital broadcast premiered, Daunte Wright and Adam Toledo were both killed by police. Just after, so was Ma'Khia Bryant. And, though 98.3 percent of killings by police from 2013-2020 haven't resulted in charges, according to mappingpoliceviolence.com, there's still hope.
Just this week a historic guilty verdict was rendered against Derek Chauvin, former white police officer for the murder of George Floyd. Maybe, things will continue to move in that direction.
Either way, Orlandersmith wonders if by the end of "Until the Flood," whether she's delineated the characters enough to help audiences understand the characters even if show-goers don't like them. "Will it evoke empathy?" she asks aloud.
Perhaps working toward empathy might help us move past the tears and the anger of the moment we're in.
---
Merrimack Repertory Theatre's on-demand video of "Until the Flood" is available online now through May 5.