A Pandemic Silver Lining: Fewer Kids Are Getting Sick
Play
This article is more than 1 year old.
The season of sickness starts every September in Alexandria Waldron's home, right after her three boys ages 9, 11 and 14 go back to school.
"They haven't been around a lot of other kids," Waldron says, "and always, two weeks later, almost exactly to the day, our first kid would get sick. Then it would spread through the family. "
It might be strep throat, a stomach bug, a cold, fever or an earache. Once winter hits, Waldron, who lives in Stowe, Mass., would take someone to the doctor once a week. But since a year ago March?
"We just did not get anything. The kids did not get sick once," she says.
"For me, it's kind like, 'eh, who cares,' " says Waldron's 11-year-old son Thomas, but he knows his parents are happy about the change.
"In spite of all of the difficult aspects of having to live through this pandemic and all the things society had to face, this was the one silver lining," says Alexandria Waldron.
Numbers confirming a mild flu season for adults and kids are already out. Now, a study in the journal Academic Pediatrics shows a dramatic drop in all pediatric sick visits in the early months of the pandemic. Researchers reviewed medical claims for more than three million children. By early October 2020, preventive care bounced back to 8% higher than prior years, but sick visits for some common viral infections remained way down: 80% fewer gastrointestinal infections and 63% fewer respiratory viruses.
"It makes sense. We're in the middle of a global pandemic," says Dr. Ateev Mehrotra, an associate professor at Harvard Medical School and study co-author. "All of the precautions that we've done to try to prevent the spread of illness in the community would lead to fewer children becoming ill because they don't go to school to pass on the illness or they're wearing masks."

Study authors expect the trend will continue as long as wearing masks, physical distancing and an emphasis on hand washing remain.
"It's temporary to some degree," says Dr. Kristin Ray, study co-author and associate professor of pediatrics at the University of Pittsburgh Medical School. "That will change on a different time scale in different communities."
School nurses say absences are still way down, as are visits to their offices, even as children return to school in person.
"I think we're onto something here," says Doreen Crowe, president of the Massachusetts School Nurse Organization.
Crowe supports giving students the option of continuing to wear masks, especially in the winter months.
"Masks, along with all these other mitigation strategies, have significantly decreased the spread of illness," she says, "so why wouldn't we want to look at that?"
A school year without masks could produce a temporary surge in common childhood illnesses.
"If we do go back to all of the old ways, then we're going to have two years of kids who have not been exposed to viruses who are experiencing them for the first time," says Ray. "Some of this may still depend on us and how we think about opportunities to how we can reduce spread."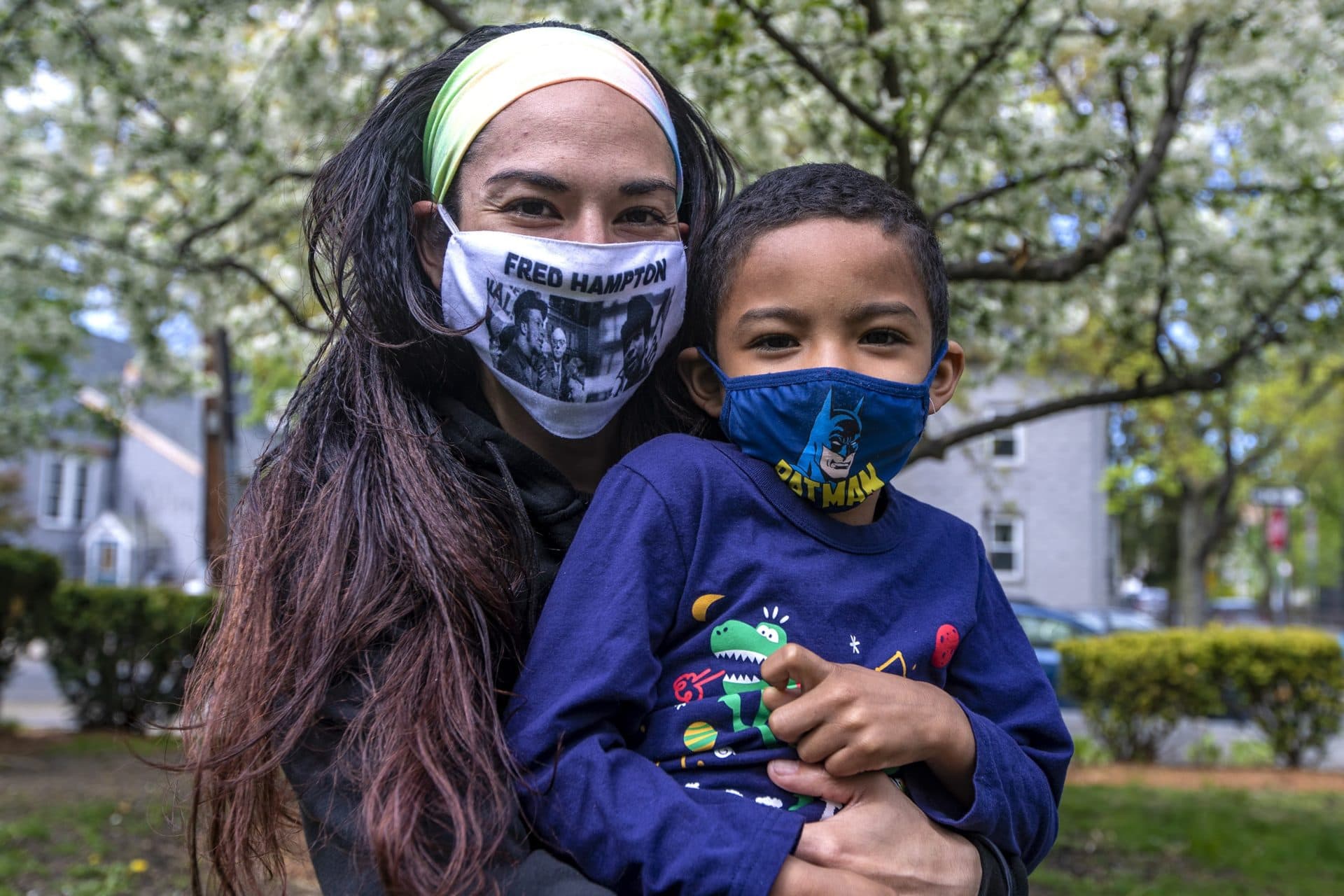 Some children have adjusted to wearing masks and plan to continue.
"They can be annoying when I'm playing soccer," says Thomas Waldron. But "until the entire COVID pandemic's over, I think we should keep wearing masks because they're keeping us safe and making us not get sick."
Gloria Cunningham of Cambridge, says that with the pandemic safety measures, her 4-year-old hasn't missed a day in more than a year.
"Even his allergies right now are a lot better than they usually are," she says.
And Cunningham, a single mom, hasn't had to miss any work at the restaurant she manages. That's especially helpful during the pandemic, because if her son had needed a test, she might have been home with him for days before he could return to daycare.
"Instead of missing one day — where last year's that what would have happened, you miss a day or two — now it's, you're really going to miss about a week," she says.
Fewer sick kids is a good thing, but pediatricians are taking a financial hit because they reserve time for — and bank on — seeing a lot of sick kids.
"I think of pediatrics as the Walmart of health care," says Dr. Suzanne Berman, a pediatrician from Tennessee who chairs an American Academy of Pediatrics committee on independent practices.
But that high volume, low price model doesn't work when kids don't get sick. Berman says some independent pediatricians are retiring early or moving to hospital groups. Many are trying to pivot to doing more mental health care, where the study finds demand for appointments rose 13%.
"There's an incredible need to treat children with anxiety, depression and panic attacks but that requires training in psychology or psychiatry that many pediatricians don't have," Berman says.