Friends Hope Webster COVID Victim's Regret Spurs More Vaccinations
Resume
Bill O'Hare III, of Webster, had friends galore — old friends, from when he went to Westborough High School and what was then Framingham State College, and newer friends from his longtime job at an insurance company.
O'Hare's friends and family are now bereft. He died from complications of COVID-19 three weeks ago, at St. Vincent Hospital in Worcester.
He was 56 years old. He had not gotten vaccinated. And before he died, O'Hare made clear he wished he had made a different decision.
Melissa Paris Houston, of Oxford, and O'Hare were neighbors in Westborough growing up. They re-connected as adults. She spoke with WBUR's All Things Considered host Lisa Mullins.
"[Bill] was a great guy," she said. "He was always in a good mood. He loved to go out and see live music. He was sort of a walking encyclopedia of anything about music or movies, and he probably had more friends than anybody I know."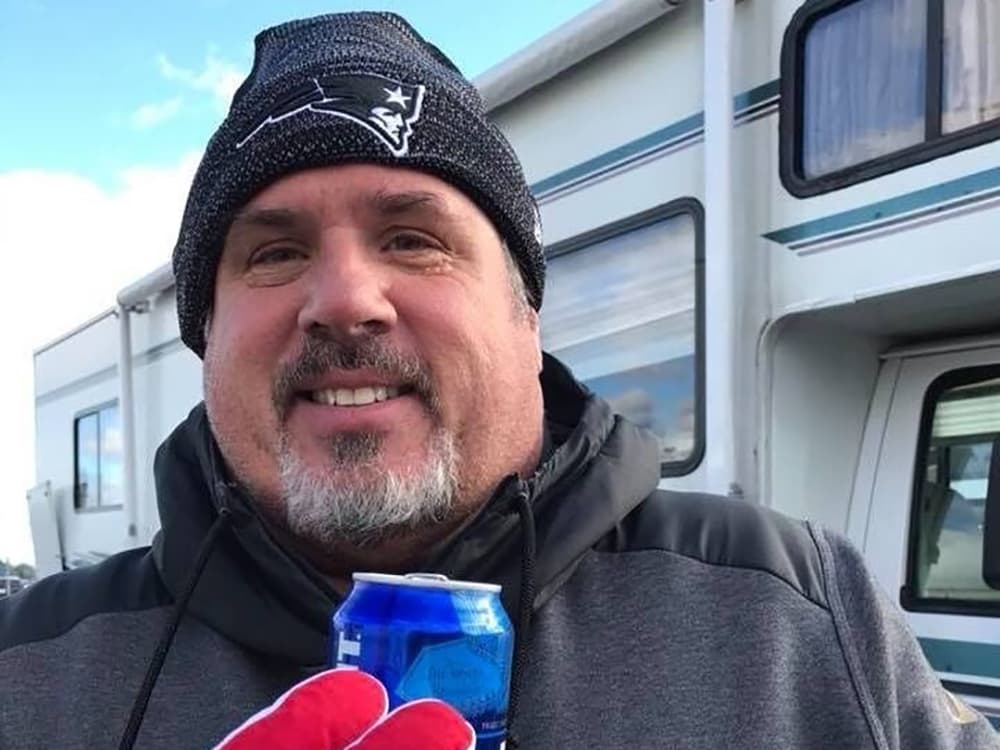 Interview Highlights
On her friend's decision to not get vaccinated:
"Well, initially, he was on board with it. But I ran into him, probably in the beginning of June, and we were out seeing music at an outdoor venue. And he said, 'I don't think I'm going to get the vaccine.' And I was really surprised. And I said, 'Why not?' And he said, 'Well, I think I have a strong immune system.'
"And I just sort of shook my head, and I wasn't going to get into an argument with him about it. But I didn't think it was a smart decision, considering that he was very social. He liked to go out a lot ... I think what changed, kind of, was that he had been going out. He had been around a lot of people that had come down with COVID, and he hadn't caught it. And something about that gave him a false confidence that he would beat it if he got it, or that he wouldn't even get it at all."
On her exchanges with O'Hare after he fell ill with COVID:
"On July 2, I texted him that a cookout that we were going to go to was canceled. And he says, 'OK, I wasn't going. I have COVID, so I'm homebound.' And I asked him how he was feeling. He said he felt good, but his [oxygen was] falling into the not good range. And then I ... brought him over some soup and just left it at his door. I checked back in on how he was on July 3. He said, 'Good, the soup helped. It gave me some energy.'
"Then the next time I contacted him was on July 4, and he said, 'I'm in the E.R. at St. Vincent's.' And he said when he woke up at 4 a.m., his oxygen was [dangerously low].
"And so he went into the hospital ... I kept checking in with him each day ... and he said he wasn't breathing well, so he moved from a bed to a lounge chair. They had him on a certain machine, a BiPAP machine that gives [pressurized air]. And when he was on the machine, he could finally breathe."
On whether O'Hare indicated that he felt he might not recover:
"He definitely — from what I was hearing from other people — he was scared. And another friend, he had messaged back and forth with, he said, 'I really regret not getting the vaccine.' And he had said that to several people. And then on the 13th of July, he said, 'I started this morning as close to death as I have become with this. My numbers plummeted, the nurses and doctors [were] all around me. I kept gasping for breath.' And by the 15th of July, he was in ICU. That was the last time he texted me, on the 15th, because once he went into ICU and they eventually intubated him, obviously he couldn't message anyone."
On the cautionary note he sounded with friends and the impact it had:
"There were other people that had messaged him, and one woman said, 'Did you get the shot? Just curious.' He said, 'Nope.' And then this person said, 'Me either. That's why I'm on the fence. That's why I asked.' And he said, 'I regret I didn't. This is a struggle.' And then there was another person who posted on his memorial page. She said, 'I got vaccinated because of Billy. The private messages that we shared before he went on the ventilator traumatized me. Get vaccinated, people. Bill should still be with us.' "
On how she processes the loss of her friend:
"I'm obviously extremely sad my friend is gone. But I'm really more angry, because I feel like it was so unnecessary. This amazing person who left behind so many people that are missing him — it didn't have to happen like this ... [It's] such a simple thing to do, to get the vaccine, and this great guy would still be around."