5 things to do this weekend, from a play about an infamous tabloid crime to an 'Alice in Wonderland' ballet
In case you need a reminder — now is probably the best time to switch out your summer clothes for your fall gear. For me, that means taking out my favorite Doc Martens, my light jackets and the rest of my hoodies. The weather lately has been making me want to go out and enjoy the outdoors before it gets too frigid. This week's events include some of the last outdoor ones of the season, like the Somerville Flea and the Island Moving Company's "Alice in Wonderland." In case you'd rather be indoors, there's also an exhibit at the Abigail Ogilvy Gallery and a play at the Boston Playwright's Theatre for you to check out. And if you'd prefer to be in your own space, there's also the multi-day Boston Book Festival.
Thursday, Oct. 14- Sunday, Oct. 24
"LORENA: A Tabloid Epic" explores the media frenzy surrounding Lorena Bobbitt, a woman who became infamous when she attacked her abusive husband with a kitchen knife in 1993. The play is part of Boston University's New Play Initiative, produced by Boston Playwrights' Theatre and the Boston University College of Fine Arts School of Theatre. The event will be at the Boston Playwright's Theatre. TW: Descriptions of sexual assault and domestic violence, strobe lights.
---
Through Oct. 17
This is your last weekend to check out Marlon Forrester's solo exhibition at the Abigail Ogilvy Gallery, a retrospective of the Boston artist's work over the last five years. Working in chalk and paint, Forrester explores his favored themes of basketball and the Black male body in black-and-white abstractions with the occasional a pop of red or blue. Forrester is a recipient of this year's James Audrey Foster Prize, awarded by the ICA.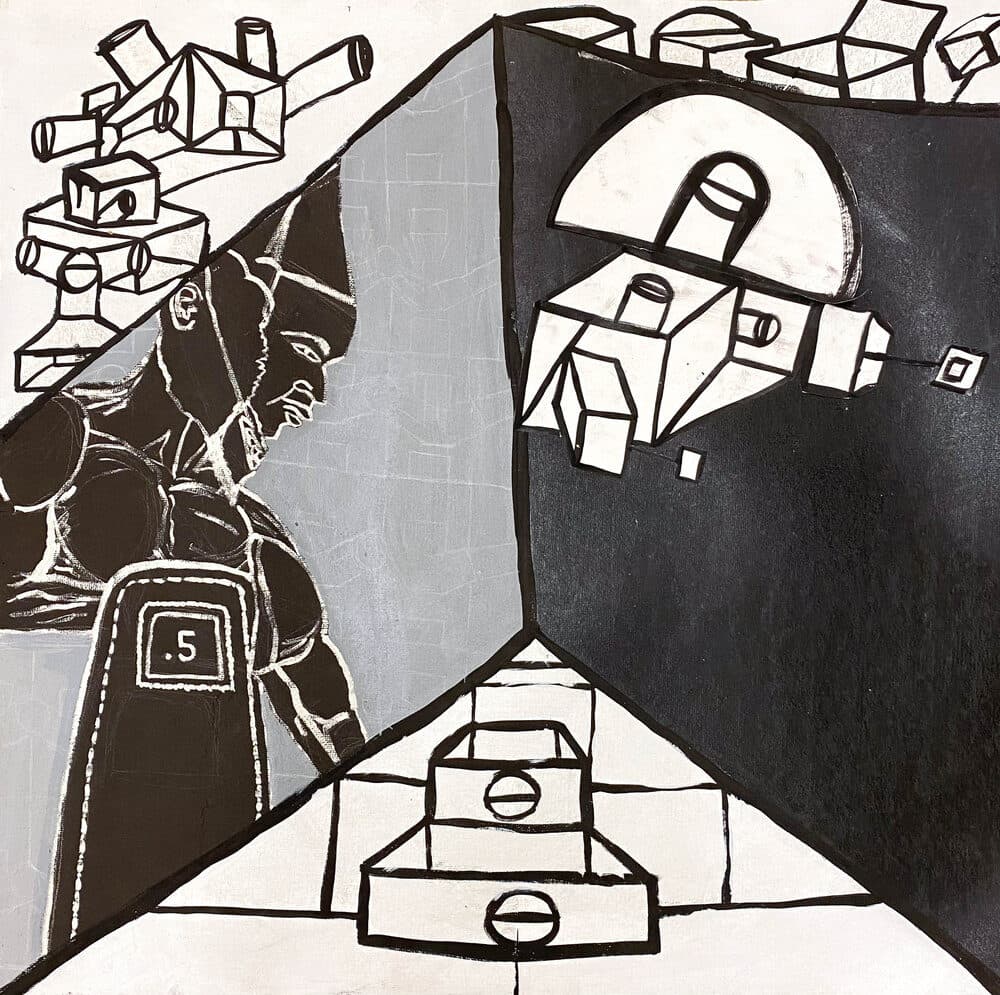 ---
Sunday, Oct. 17
In August, the Somerville Flea made its way back after a year-long break, for its 10th season. This market will be the last one of the season — so if you didn't get a chance to check it out before, now's your chance! It's a great way to support small businesses and find cool gifts. Throughout the market, you'll find plants, jewelry, vintage clothes, records, candles and more. It's also located right next to the Davis Sq. train station. The flea got my attention when I saw that they sell vinyls!
---
Saturday, Oct. 16 - Saturday, Oct. 23
You can imagine that this multi-day festival has lots to offer — and it does! The mostly online event schedule is posted here. It includes everything from online storytelling events to a virtual marketplace to in-person family activities. The talk I am most looking forward to is "The Enduring Legacy of Slavery," a virtual event moderated by WBUR's Meghna Chakrabarti. The conversation will be with one of my favorite poets, Clint Smith, with Harvard historian Annette Gordon-Reed. They will explore the history of slavery and how deeply buried it is inside of the collective American psyche.
---
Friday, Oct. 15-Sunday, Oct. 17
The Island Moving Company will stage the children's ballet "Alice in Wonderland" as part of their family series. The company promises to put a spin on the classic story that the whole family can appreciate. Physical distancing is required between groups during the performance at the outdoor stage at The Great Friends Meeting House in Newport, Rhode Island. Children above the age of 3 are welcome! Keep in mind that the show will run for an hour, with no intermission.