5 things to do this weekend, including an opera about grief and a play exploring Crispus Attucks
Want to know how my week is going? I finished my "Spooky" scented candle before Halloween. So it's not going too well. Good thing I still have spiced apple cider in my fridge and fresh apples from the orchard I went to this past weekend. And the colder weather has me pulling out my sweaters and scarves. I'm still very much in my fall vibes. But if being cozy in the cold isn't your thing, that's fine! There are no outside events included in my weekend picks, and even some at-home options for those who really don't want to venture out. From a play to a jazz performance and a "boo-tanical" garden for children, there's something for everyone to enjoy, whether you're in the spooky spirit or not.
The Huntington: 'Witch'
Through Nov. 14
"Witch" is production about a devil who makes his way to a village to entice
community members with outlandish promises in exchange for their souls. When the devil encounters Elizabeth Sawyer, she surprisingly refuses his deal. The play will be performed at The Huntington Calderwood/Boston Center for the Arts. All attendees must present proof of vaccination or a negative COVID-19 test. There will also be a digital rendition of the play available to stream. The play is about 100 minutes with no intermission.
---
Through Oct. 31
The Boo-tanical Garden will showcase unusual plants at the Boston Children's Museum. There will be two options to choose from that include a "Lights on Experience" that is more hands-on and recommended for younger children and a "Spooky Experience." The latter is recommended for ages four and up. Some of the wacky plants include Venus flytraps, snake plants and mandrakes. Tickets for timed-sessions must be purchased in advance online.
---
Thursday, Oct. 21
Grammy-winning trumpeter and composer Terence Blanchard will play with The E-collective — Charles Altura on guitar, Fabian Almazan on piano and synthesizers, Oscar Seaton on the drums, and David "DJ" Ginyard on bass in tandem with Grammy-winning Turtle Island Quartet. The performance will honor the legacy of jazz musician Wayne Shorter by including his original arrangements that date all the way back from 1982. The event will take place at Mechanics Hall in Worcester.
---
Friday, Oct. 22-Saturday, Oct. 23
Enigma Chamber Opera presents "Curlew River," a drama originally composed by Benjamin Britten that retells the "Sumidagawa (Sumida River)" story that takes you through a journey of loss, grief and healing. The story focuses on The Madwoman whose son disappeared and is on a mission to find him. On her journey, she comes across a man who tells her of a shrine built on the opposite side of the Curlew River. When she finally arrives at the shrine, she learns what happened to her son and begins her journey to healing. The performance will take place live at the Cathedral Church of Saint Paul in Boston on Saturday and Sunday, and if you don't feel comfortable attending in person, the production will be available to stream Oct. 29-Nov. 5.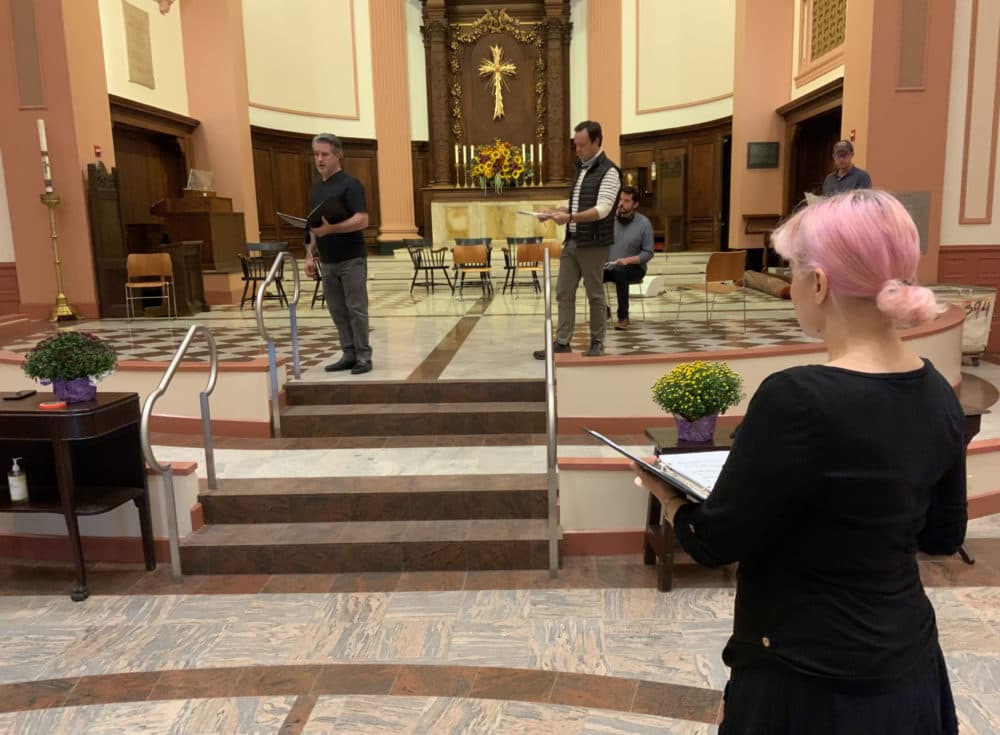 ---
Saturday, Oct. 23-Sunday, Oct. 24
From playwright Miranda ADEkoje, "I Am This Place" touches on the history of survival and resistance and examines the legacy of Crispus Attucks — the African and Indigenous man who was the first to die during the Boston Massacre. In this play, actors Marian Hendricks and Dominic Carter play nine characters over the span of 100 years. ADEkoje imagines what the life of Attucks, his family and ancestors were going through during the time of slavery and war. The 25-minute performance at the Old South Meeting House is produced in partnership with Plays in Place, an organization that helps museum and historic sites create site-specific theatrical presentations. ARTery 25 featured artist Pascale Florestal directs.